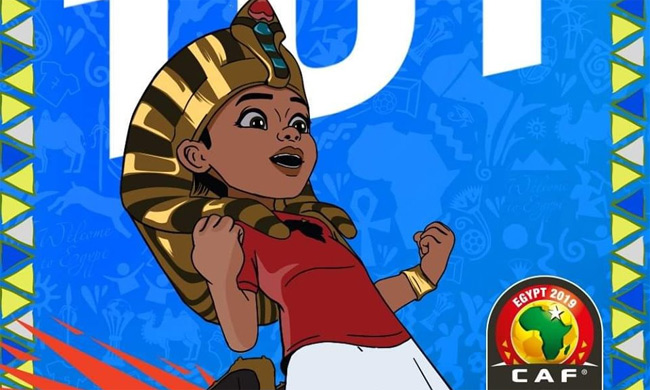 Egypt's Football Association revealed the 2019 mascot for the African Cup of Nations: a young Tutankhamun.
The mascot was officially revealed on Sunday through the EFA's Facebook page where the ancient royal, in a youthful form, is seen playing football tricks.
He is adorned in modern football attitude all while wearing the nemes, an ancient egyptian royal wig alluding to royalty.
In April, the organizing committee of the 2019 Africa Cup of Nations (AFCON) in Egypt announced the prices of tickets for the tournament which range between EGP 200 and EGP 2500 and are expected to go on sale around mid-May 2019.
The 2019 Africa Cup of Nations (AFCON) ticket prices received a wave of major criticism from social media users and Egypt's very own footballer Mohamed 'Mo' Salah, especially the third-class tickets, which ranged from EGP100 to EGP200 which are considered too expensive for the majority of Egyptians.
In January, the Confederation of African Football (CAF) announced that Egypt has been granted the hosting rights of the 2019 African Cup of Nations after winning the majority of votes.
After Cameroon was stripped of the right to host in December due to delay in the preparations, the remaining spot was given to Egypt and South Africa.
The African Cup of Nations is scheduled to start on 15 June and end on 13 July 2019.
Egypt previously hosted the African Cup of Nations in 1959, 1974, 1986 and 2006, and claimed seven AFCON victories.
In July 2018, Minister of Youth and Sports Dr. Ashraf Sobhy announced that the Ministry of Sports aims to organize the 2030 World Cup, as well as the 2032 Olympic Games.
---
Subscribe to our newsletter
---