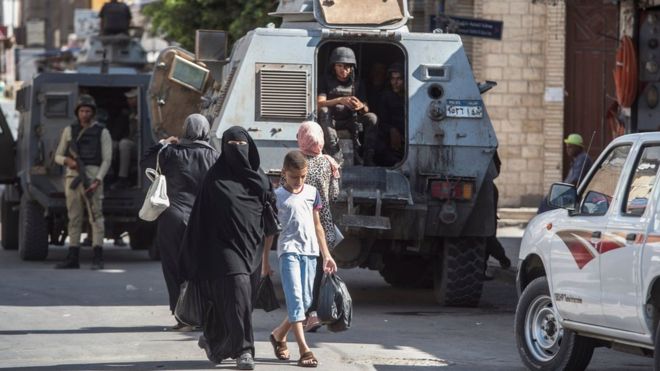 According to the BBC, Egypt's Ministry of Interior revealed that eight Egyptian policemen were shot dead on Wednesday in a militant raid at a checkpoint in the northern Sinai city of El Arish.
"Terrorist elements targeted a checkpoint west of El-Arish early this morning… The exchange of fire killed five terrorist elements and eight police were martyred," the ministry statement said.
Five terrorists were killed by Egyptian forces during the attack. Other terrorists fled the scene and were chased by security forces. It is unclear whether any of those who fled were captured or killed by security forces.
It is a well-known fact that Egyptian military forces have been combating terrorist elements and extremist at the North of Sinai for the last years. As such, Northern Sinai is considered a closed military zone.
Egypt's military operation 'Sinai 2018' began on 9 February aiming to eliminate terrorism in the province, which has been troubled by an Islamist militant insurgency since 2013. The city of Arish has been particularly affected.
In late May, Egypt's military denied a report by Human Rights Watch in which the non-governmental organizations accuses the military apparatus of committing war crimes such as 'forced kidnappings', 'executions' and 'torture' in Sinai.
The report in particular attributes "mass arbitrary arrests, extrajudicial killings and possibly unlawful air and ground attacks against civilians" to the Egyptian military and police forces, not withholding the blame on extremist militants who are also blamed for horrific crimes inflicted on both security forces and civilians.
"It is based on unverified sources," Col Tamer al-Rifai, a military spokesman, told AFP news agency, adding that "some politicized organizations are intent on tarnishing Egypt's image and its armed forces with baseless claims".
*Cover photo credits: Reuters