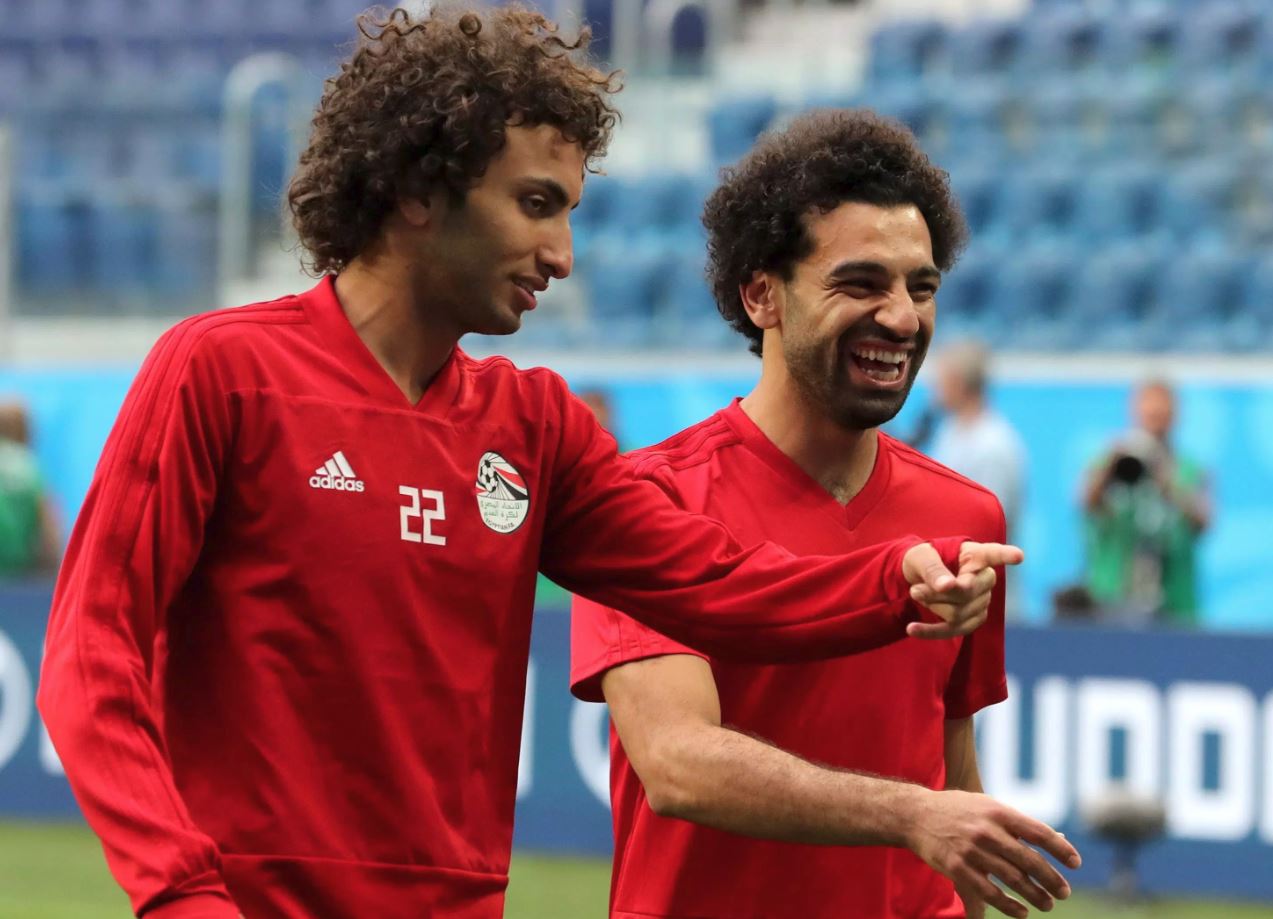 Egyptian football sensation Mohamed 'Mo' Salah tweeted "shunning is not the answer" less than a day after footballer Amr Warda was dismissed from the national football team following claims of sexual harassment.
Talking to Twitter after Egypt secured a 2-0 victory against DR Congo at the African Cup of Nations (AFCON), Salah stressed that women must be treated with the utmost respect and that "no means no".
"Women must be treated with the utmost respect. "No" means "no". Those things are and must remain sacred," said Salah in a tweet, before adding that he believes those who make mistakes can change.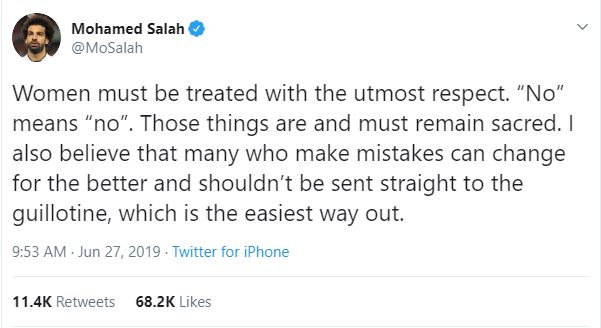 "I also believe that many who make mistakes can change for the better and shouldn't be sent straight to the guillotine, which is the easiest way out."
In a separate tweet, Salah, who scored his first goal at AFCON earlier in the day, said simply shunning those who make mistakes is not a solution.
"We need to believe in second chances… we need to guide and educate. Shunning is not the answer," tweeted Salah.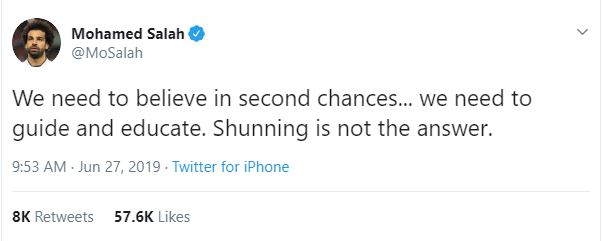 Though he did not name Warda in his tweets, social media users have assumed the Liverpool sensation is referring to Warda's expulsion from the national team by the Egyptian Football Association (EFA). While some social media users supported Salah's statement, others questioned how many second chances are too many given Warda has been the subject on numerous occasions, including in 2017.
Separately, Warda released a statement on Facebook apologizing for "upsetting" anyone.
"I apologize for what I did. I apologize to my family, I apologize to [my fellow] players, I apologize to the Egyptian Football Association and to anyone who is upset at me or anyone I have upset, I am sorry," said Warda in a short video posted after Egypt played against DR Congo in Warda's absence.
What Happened?
Warda was dismissed from the national team by the EFA after he was accused of cyber sexual harassment by a number of women.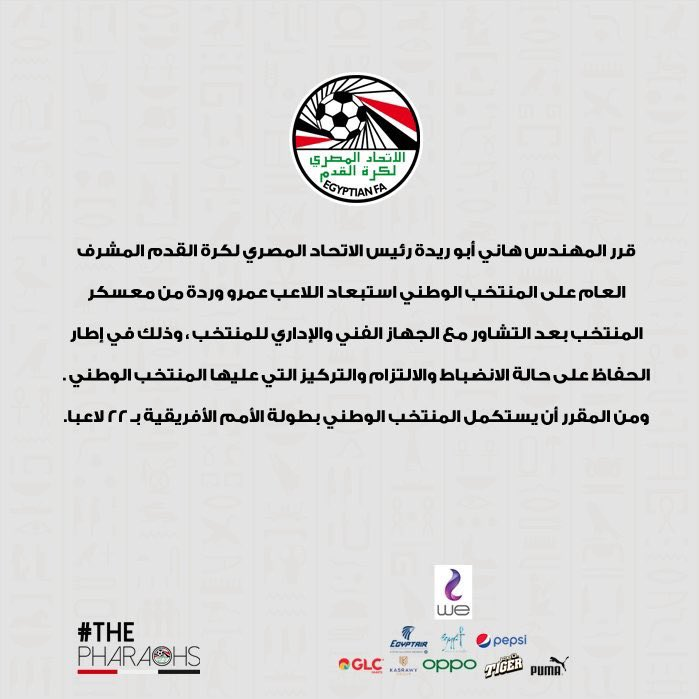 The expulsion resulted in mixed reactions on social media. While many users praised the EFA for taking a stance against sexual harassment, others defended Warda and accused women of exaggerating the claims made against the player.
During Egypt's match against DR Congo, some Egyptian footballers, including Baher El Mohamady, showed support for Warda.
باهر المحمدي يرفع قميص عمرو وردة أثناء احتفاله بالهدف الأول لمنتخب مصر

عدسة علا أحمد

برعاية @Samsung_Egypt #مصر2019 pic.twitter.com/7KXNdzGb0V

— FilGoal (@FilGoal) June 26, 2019
The sexual harassment claims against Warda were first sparked by Egyptian-British model Merhan Keller, who alleged that Warda had sent her inappropriate and aggressive messages.
Keller followed up on her claims by later sharing testimonies of a number of other women who contacted her saying they had received unwanted and inappropriate messages from the Egyptian footballer.
Warda's alleged misbehavior became a top trending topic on social media in Egypt, with a number of women posting privately of their encounters with the footballer who plays for Greek club PAOK.
On Twitter, screenshots of messages and videos allegedly sent by Warda to women on Instagram spread with social media users calling for the EFA to take action. Dozens of women claimed to have been victims of Warda's cyber sexual harassment, with some messages allegedly showing Warda becoming aggressive when rejected by women.
One Twitter user, @cryindivaa has been sharing some of these testimonies on her timeline.
What are the statistics?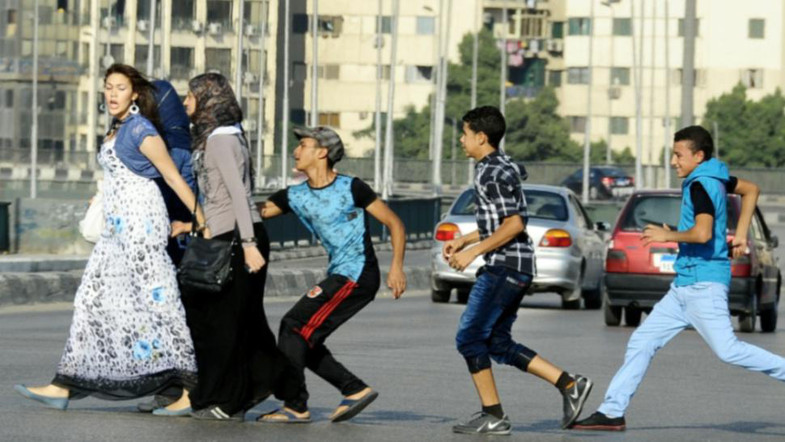 Warda's dismissal has placed sexual harassment back in the spotlight in a country that has been reeling from the issue in recent years.
For many years, international reports sanctioned by the Egyptian government have placed the sexual harassment rate at 98 percent. The majority of women in Egypt have reported being sexually harassed – whether verbally or physically – on Egypt's streets.
However, in 2017, President of the National Council for Women (NCW), Maya Morsi previously told Egyptian Streets in an interview that the rate of sexual harassment in Egypt is only 9.6 percent.
Morsi's statements came in response to a 2017 poll conducted by Thomson Reuters Foundation that suggested that Cairo is the most dangerous megacity for women to live in.
Morsi criticized the methodology on which the report of Reuters Foundation's poll was based, stating the NCW report methodology was a national representative sample survey held in partnership with CAPMAS and the UNFPA.
Nevertheless, there have been no new studies to confirm whether sexual harassment rates have indeed dropped dramatically, or whether it continues to be an issue that plagues women across the country.
---
Subscribe to our newsletter
---