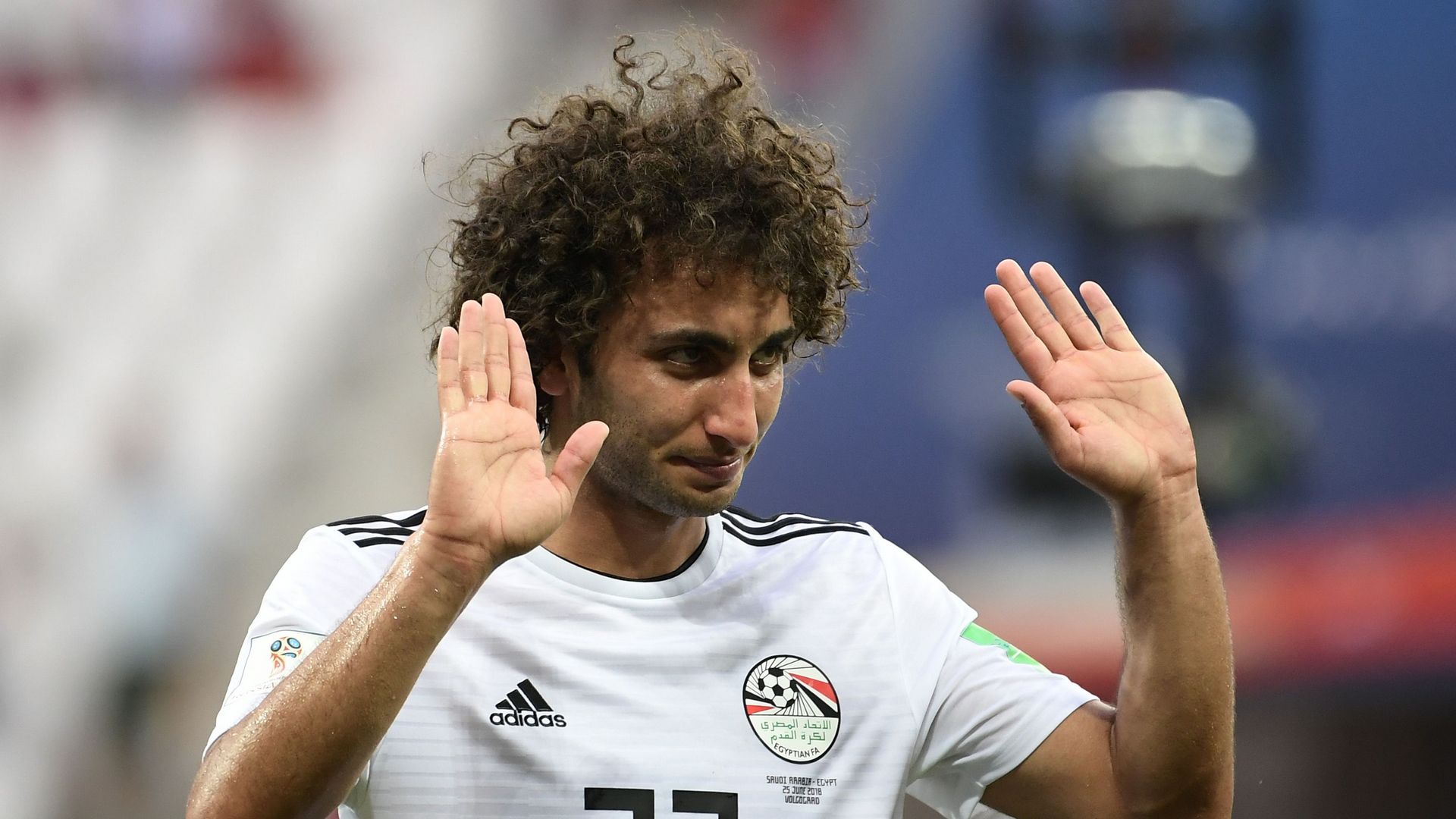 The Egyptian Football Association (EFA) announced on Friday that it had accepted Amr Warda's "apology" and reinstated him to the national football team.
In a statement, EFA said Warda will continue with the national team for the duration of the African Cup of Nations (AFCON) after the end of the group stage. This means Warda will miss Egypt's third group stage match against Uganda that will be held on Sunday 30 June, but will appear in the round of 16 knockout stage which Egypt has already qualified for.
According to the EFA meeting was held on Thursday at the camp of the Egyptian team participating at AFCON, where a number of players reportedly called for Warda's return and forgiveness. The meeting was held in the presence of Egypt's Minister of Youth and Sports Ashraf Sobhi and EFA President Hany Abo Rida.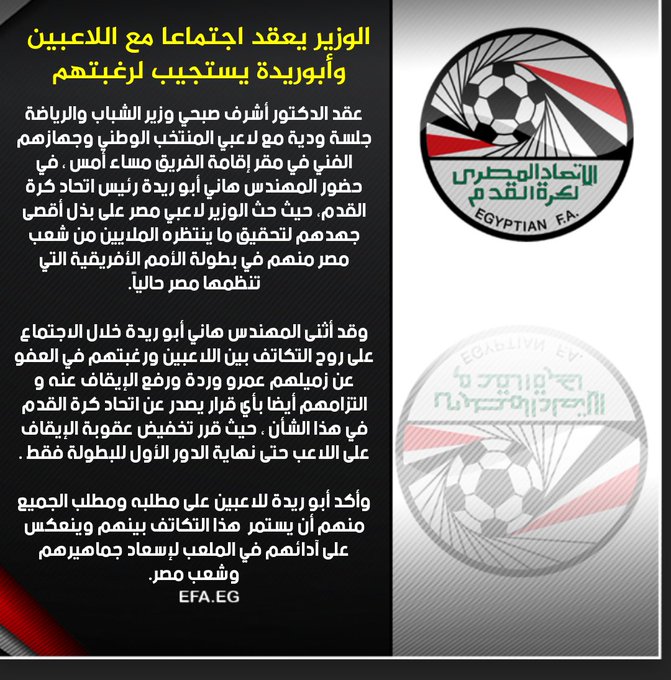 Following the meeting, the EFA decided to revert on its decision to expel Warda from the national team, limiting the expulsion to the AFCON group stage.
Reports had been swirling on social media for the past 24 hours of Warda's return, with many on social media criticizing the decision.
On Twitter, one hashtag "#منتخب_المتحرشين" (Team of Harassers) is the number one trending hashtag, with many social media users exclaiming their shock and disappointment at the support Warda has received from fellow players and at his reinstatement.
Salah's support and Warda's apology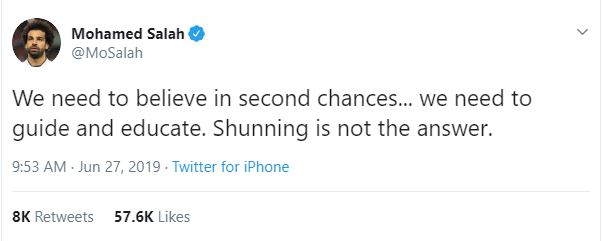 On Wednesday night, Mohamed 'Mo' Salah stirred outrage and debate after tweeting his apparent support for Warda. Salah tweeted "shunning is not the answer" less than a day after footballer Amr Warda was dismissed from the national football team following claims of sexual harassment.
"Women must be treated with the utmost respect. "No" means "no". Those things are and must remain sacred," said Salah in a tweet, before adding that he believes those who make mistakes can change.
"I also believe that many who make mistakes can change for the better and shouldn't be sent straight to the guillotine, which is the easiest way out."
In a separate tweet, Salah, who scored his first goal at AFCON earlier in the day, said simply shunning those who make mistakes is not a solution.
"We need to believe in second chances… we need to guide and educate. Shunning is not the answer," tweeted Salah.
Many social media users questioned Salah's tweets, demanding that he recognize Warda's string of actions as inappropriate.
Separately, Warda released a statement apologizing for his actions, although he did not mention any of his alleged victims directly.
"I apologize for what I did. I apologize to my family, I apologize to [my fellow] players, I apologize to the Egyptian Football Association and to anyone who is upset at me or anyone I have upset, don't be upset, I am sorry," said Warda in a short video posted after Egypt played against DR Congo in Warda's absence.
What happened?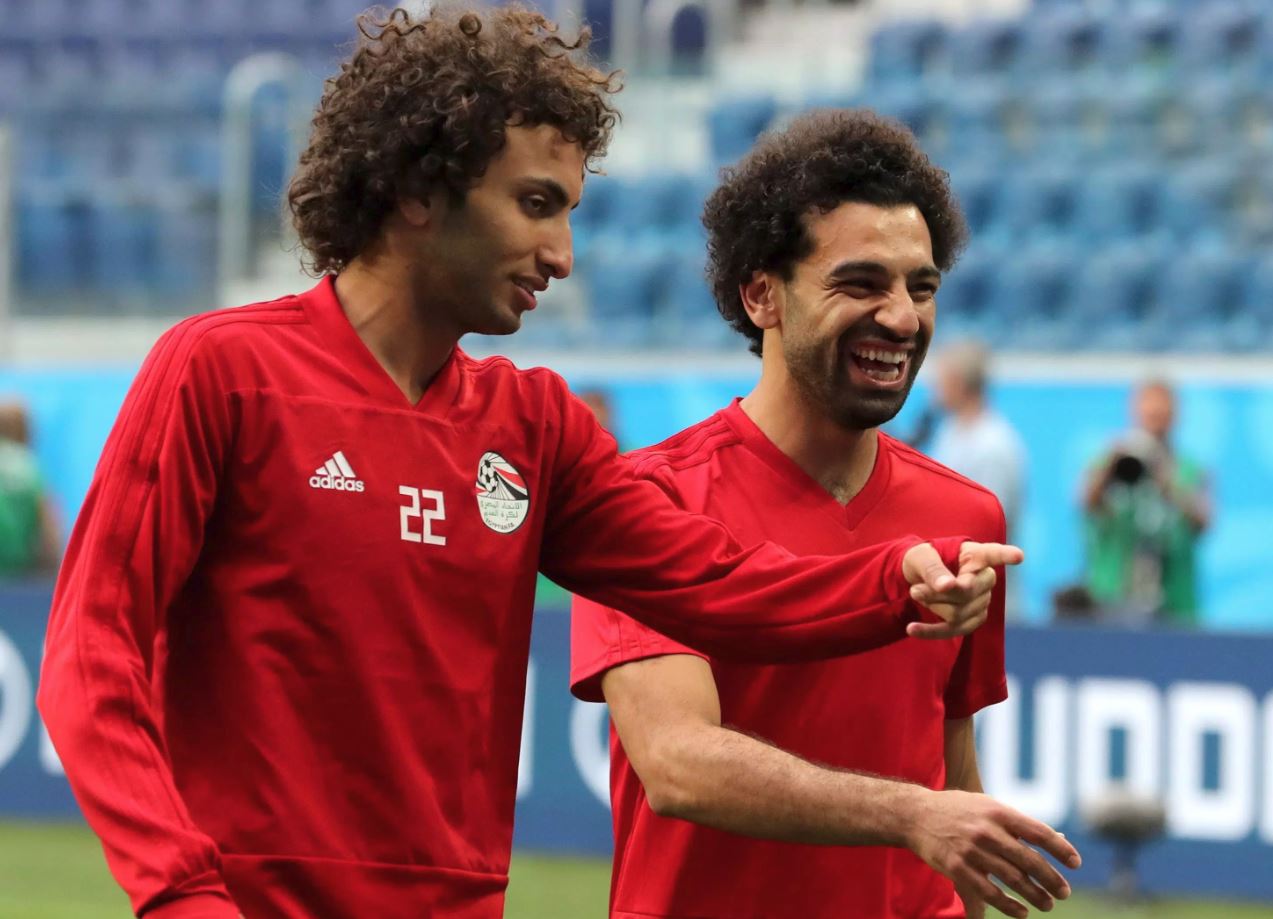 Warda was initially dismissed from the national team by the EFA after he was accused of cyber sexual harassment by a number of women.
The expulsion resulted in mixed reactions on social media. While many users praised the EFA for taking a stance against sexual harassment, others defended Warda and accused women of exaggerating the claims made against the player.
During Egypt's match against DR Congo, some Egyptian footballers, including Baher El Mohamady, showed support for Warda.
The sexual harassment claims against Warda were first sparked by Egyptian-British model Merhan Keller, who alleged that Warda had sent her inappropriate and aggressive messages.
Keller followed up on her claims by later sharing testimonies of a number of other women who contacted her saying they had received unwanted and inappropriate messages from the Egyptian footballer.
Warda's alleged misbehavior became a top trending topic on social media in Egypt, with a number of women posting privately of their encounters with the footballer who plays for Greek club PAOK.
On Twitter, screenshots of messages and videos allegedly sent by Warda to women on Instagram spread with social media users calling for the EFA to take action. Dozens of women claimed to have been victims of Warda's cyber sexual harassment, with some messages allegedly showing Warda becoming aggressive when rejected by women.
---
Subscribe to our newsletter
---