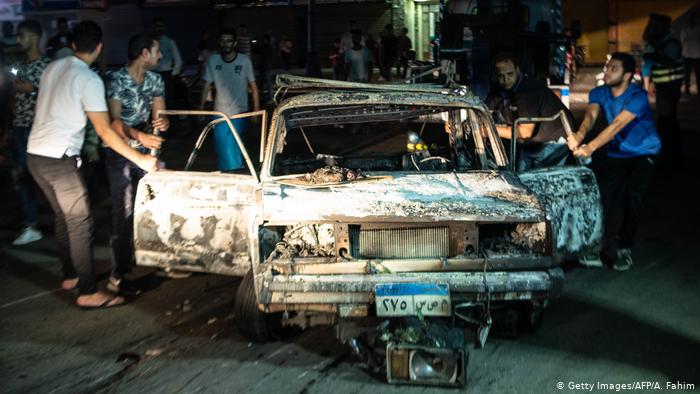 Egypt's Ministry of Interior has revealed that the vehicle which caused a large explosion in the surroundings of the Cairo Cancer Institute was packed with explosives.
A blast caused by the car collision on midnight Monday in front of the NCI building in Manial neighborhood killed 20 people and injured 47 others, with many victims still in critical condition as per the Ministry of Health.
Severe damage was also caused to the facilities inside the Institute.
The vehicle itself had been stolen from Menoufiyah, a governate north of Cairo, months prior to the incident and was en route to carry out a terrorist attack said the Ministry of Interior.
The Ministry has also stated that Hasm, a terrorist group, was behind the attack. Hasm, an Islamist militant group named Harakat Sawa'd Masr (the Arms of Egypt movement) commonly know as Hasm, has been active in the country since 2016. It has taken responsibility, over the years, for attacks specifically targeting security forces.
In  a statement, Egyptian President Abdel Fattah Al Sisi sent his condolences and wished for recovery of the injured victims of the attack on his official Facebook page.
"I offer my condolences to the Egyptian people and the families of the victims of the cowardly terrorist attack which took place yesterday evening in the area of Kasr El Eini," the statement said.
"I wish the victims a speedy recovery and I reiterate that the Egyptian nation is determined to defeat brutal terrorism and pull it by its roots with the power and the willpower of Egypt's great population."
Victims from the NCI were transferred to other hospitals due to the severe and unsafe conditions caused by the explosion.
Moreover, Egyptian Prime Minister Mostafa has tasked Arab Contractors, a well-known construction company, with starting repairs of the building immediately.
The Egyptian government qualifies Hasm as affiliated to the now-banned Muslim Brotherhood; however, the MB has staunchly rejected any association to terrorist group or violent group activity.
Hasm is labelled as a terrorist entity in both the United Kingdom and the United States.