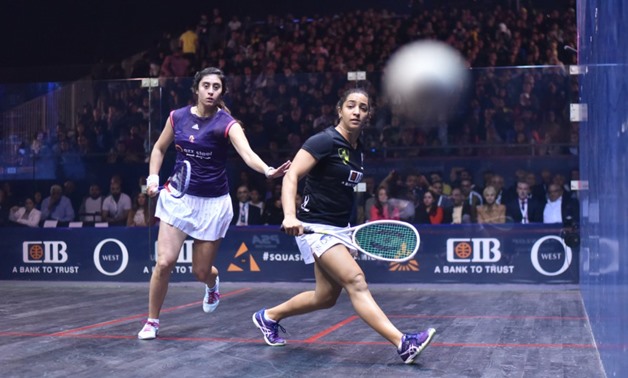 Egypt's Nour El Sherbini became the youngest woman to win the Women's World Championship, receiving her fourth World Championship trophy in squash on Friday at the Great Pyramids of Giza after defeating Raneem El Welily in the 2019-20 CIB PSA Women's World Championship.
El Sherbini clobbered her compatriot El Welily, who currently holds the 'World No.1' title, 3-1 by scoring  11-4, 9-11, 11-5 in 41 minutes, 11-6. According to PSA World Tour press release, this win is considered "all the more incredible" as she is suffering from a knee injury.
"The last couple of months for me have been really hard," El Sherbini said after winning the 20th PSA title of her career. "I didn't know what I was going to do… but I took the risk and took the decision that I wanted to play this tournament badly, and I wanted to come and try and see how it goes. I was getting better every match and I'm very grateful and happy to be standing here right now."
El Sherbini's knee injury has lead to a drop in her ranking, as she currently stands at 'World No.4' in this month's PSA Women's World Rankings.
Despite her misfortune, she continued competing in Cairo throughout the past week until she competed against El Welily in a third World Championship title decider.
In 2016, El Welily became the first woman to win a professional squash title in front of the Pyramid after defeating El Sherbini.
El Sherbini's latest win comes on her birthday. In PSA World Tour's press release, she says "I missed playing with all the top players and especially Raneem. She is closest to my heart and it's very hard to play her mentally and emotionally, but we try to leave the emotions and focus on squash once we get inside the court. I think because today is my birthday, I was making sure not to be sad. I was very relaxed and it took a lot of pressure off thinking about the messages, so it helped me a lot."
Alexandria-based 23-year-old El Sherbini is not only the youngest woman win the Women's World Championship, but also a three times World Champion winner. In March, she won the PSA World Championship in Chicago after defeating her compatriot Nour El-Tayeb 3-1.
---
Subscribe to our newsletter
---