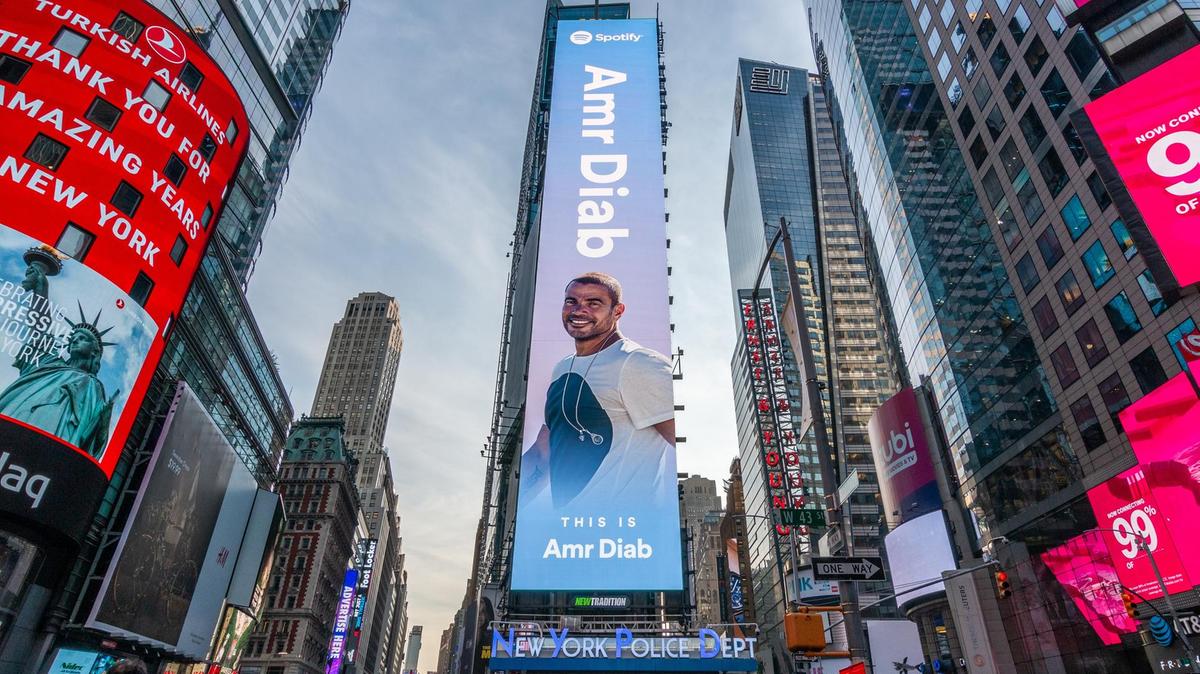 Egyptian superstar Amr Diab was featured by Spotify on a massive billboard in the heart of Times Square as part of the music streaming company's attempts to promote music and culture of the Middle East and North Africa.
Diab, who in 2016 became the first Egyptian and Arab artist to break a Guinness World Record for breaking the record number of World Music Awards achieved, featured solo in the Spotify advertisement in New York City's Times Square with the tagline 'This is Amr Diab'.
View this post on Instagram
According to Spotify, this is the first time an Egyptian or Arab artist has appeared so prominently on a Times Square billboard.
In statements quoted by The National, Spotify MENA's Managing Director Claudius Boller praises 58-year-old Diab's legacy.
"Experiencing Amr Diab's devotion to Arabic music for nearly four decades straight and witnessing his fan base expand across the world is beyond incredible," said Boller, reports The National.
"Today we are celebrating Diab's legacy and we are proud to see him shine so brightly – literally – on the global stage."
Spotify also revealed that Diab's music is most popular in the United States, Sweden, Germany, the United Kingdom and Canada. Spotify added that Bayen Habeit is Diab's most streamed track on Spotify.
Responding to the billboard, Diab said he is "blessed to have touched people around the world with my music".
"Spotify has allowed so many artists to connect with fans beyond borders and I am glad for that," said Diab.
Photographs of Diab's billboard were widely shared by Spotify and everyday social media users and have since gone viral.
This is amr diab live from time square ♥️ pic.twitter.com/PCgoJOv8C0

— Shēعoo (@she3oo) November 12, 2019

One video by a Twitter user shows Diab's music playing on the streets of New York in the vicinity of the billboard.
Diab continues to be wildly popular around the world and will be releasing his 33rd album soon.
---
Subscribe to our newsletter
---