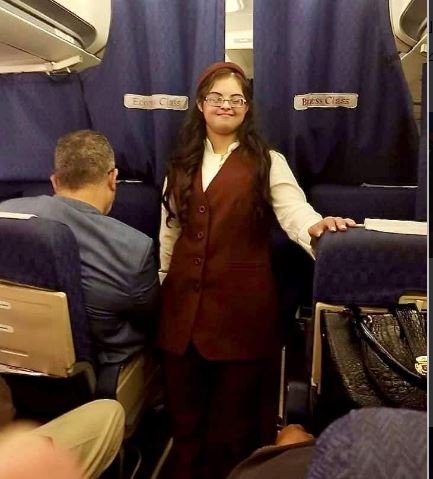 Heba Atef, an Egyptian university student, has just made history, becoming the country's first person with Down syndrome to ever serve as a flight attendant, Egypt Independent reports.
Atef's historic feat came as part of The Journey of Humanity flight, an initiative by Sudanese carrier Badr Airlines and the Smart Mind Training Center in Khartoum, in collaboration with the UN Committee on the Rights of Persons with Disabilities.
The Journey of Humanity initiative, launched to mark the 2019 International Day of Disabled Persons, which falls on the 3rd of December, consisted of a special flight from Cairo to Khartoum, which ran from the 30th of November until Thursday the 5th of December.
The initiative saw a group of passengers with Down syndrome accompanied by their families attend a number of events and workshops to support the differently abled and persons with disability.
Atef, who studies at the Arab Open University's Radio and Television Department, is also believed to be the first Egyptian woman with Down syndrome to pursue higher education. She made her career debut as a presenter at the Bokra Ahla (Tomorrow Is Better) Conference, where she addressed attendants with disabilities and earned accolades from the Port Said chapter of the Rotary Club and the 57357 Hospital (Children's Cancer Hospital).