Upon searching for 'recycling plastic' and other environment-related keywords, the social enterprise Greenish appears on the first page of Google's results.
Greenish aims to build a green movement in Egypt and mobilize individuals and organisations who want to adopt sustainable solutions, and through the program 'Maharat Min Google', its online presence was refined. The NGO was better able to run a social business using online strategies and Search Engine Marketing, reach more clients looking for a company like Greenish on Google, and better its website content .
Greenish's website visits increased by 40 percent.
On Tuesday, Google made a series of announcements which promise more helpful services to the Arab world at its largest event to date in the Middle East and North Africa. One of these announcements was a $US 1 million grant for the Arabic digital skills learning program 'Maharat min Google'.
Looking forward to our renewed partnership and promising venture with @GoogleArabia filled with high hopes and aspirations for the youth of the MENA region#google4mena #believeininjaz pic.twitter.com/JuPzNHgJnx

— INJAZ Al-Arab (@INJAZAlArab) December 10, 2019
Google.org is regranting Injaz Al-Arab, an NGO that specializes in youth training, the fund to scale digital skills trainings in Arabic, to reach a further 100,000 people in 2020.
Since its launch in April 2018 "Maharat min Google" has reached more than 500,000 young people, women and underprivileged students in the MENA region.
It got a 50 percent female participation, the highest number of women across all languages of Google's digital skills program. In addition, most of the participants are Egyptian, Zain Masri, "Maharat min Google" Lead in the Marketing team in Dubai, told Egyptian Streets.
Based on an independent research with Ipsos, 130,000 (or 26 percent) of trainees reported that they found a job, accelerated their career or grew their business by hiring new staff or increasing revenue, according to a Google press release.
The curricula of the 100 classes are developed in cooperation with Interactive Advertising Bureau (IAB), an entity that looks at marketing and media, Masri said to Egyptian Streets. IAB did a survey to understand what the skills that are missing in the workplace. They talked to employers and job seekers, and they identified the top skills that the official education does not offer them and that they need to learn themselves, and through that they put together the curriculum of Maharat, she explained.
"You may ask: Why the Middle East? If you look at the people that are going to create change, they are the people that are ambitious, they are the people that have a vision, they are the people that have the energy, they are the youth," said Minister of Artificial Intelligence in the United Arab Emirates Omar Sultan Al Olama.
He added that while 110 million people in the Middle East are within the youth age bracket, there is also a youthful mindset in MENA.
Another announcement was the enhancement of Google Search in Arabic. There is now a new display of information in a simple one box related to movie timings, music and sports – three of the top things people search for in Arabic.
"Overtime, we began to better understand the types of questions you have , and we progressed into something that we call 'structured answers'," said Marvin Chow, Vice President of Global Marketing at Google.
For example, if you search for Egyptian footballer Mohamed Salah, you will see an overview of him based on previous searches, Chow said. If you click on the stats tab, you will see all of his numbers from his Liverpool career as well as his time on the Egyptian national team. If you would like to watch some videos of his recaps, they are also available in the same overview.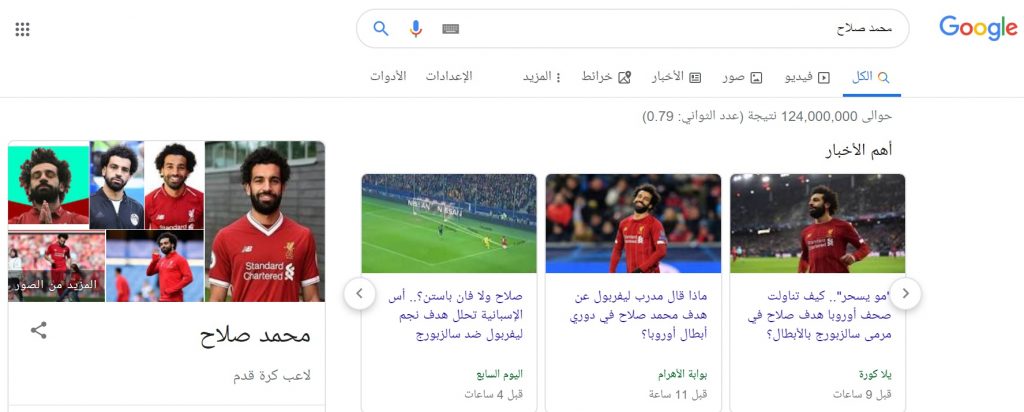 A 2019 research by Public First research company estimates that 89 percent of people in the UAE and Saudi Arabia use Search once a month to learn a new skill, and 80 percent of online Egyptians use Google Search because it provides new information not available by other means, according to a Google press release.
Google also launched Cameos, a new feature that allows public personalities, actors and artists to post videos on the Search homepage where they answer popular questions addressed to them.
Google Assistant, Google's virtual assistant, will be available in Arabic and will understand the local dialects in 15 countries: United Arab Emirates, Yemen, Oman, Kuwait, Bahrain, Qatar, Iraq, Morocco, Algeria, Tunisia, Libya, Lebanon, Jordan, Palestine and Mauritania.
Designed to help people get things done like making calls, playing music and navigating  traffic, the Assistant was launched earlier in 2019 in Egypt and Saudi Arabia.
Rola Najm, UX content strategist at Google Assistant, said that with Egypt being the biggest market in the MENA region, the service gained a lot of insight through machine learning since its launch in April.
Najm said that her personal favorite element is voice command. "It empowers people with disabilities, and the less educated people can get information easily," she said.
Some of the funniest questions Google Assistant got was people asking if the AI loves them, and if it would marry them. "Google Assistant is not only interacting [with users] but also exchanging emotions," Najm said.
When it comes to privacy, the Google Assistant only sends audio to Google after your device detects that you're interacting with your Assistant – for example, by saying "Hey Google" or by physically triggering the Google Assistant by a long press on Android, Communication Manager at Google MENA Salma El Shahed told Egyptian Streets.
The Assistant only activates when you use it or when it hears a hot-word. This helps with personalizing your Google Assistant experience, if you want to turn off personalization, you can turn off Web & App Activity at any time. Also, when you first set up your Assistant, Google asks whether you want to opt in to have your audio recordings stored to your account. Voice and Audio Activity is not required to use the Assistant.
As a user, you can choose to set your Web and App Activity to auto-delete every 3 or 18 months, and your Assistant activity—including voice recordings—will be deleted on an ongoing basis, El Shahed asserted.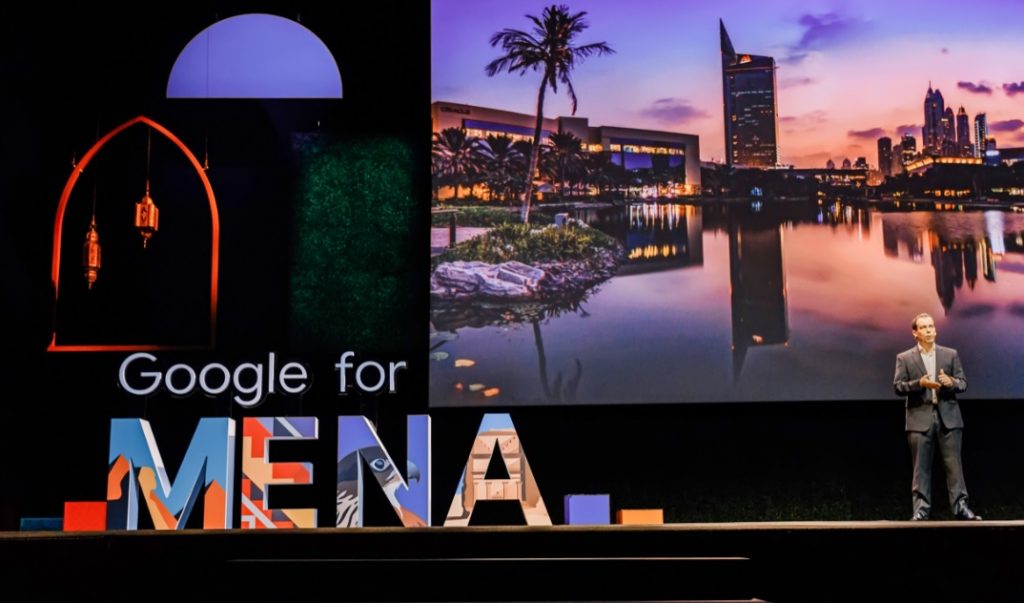 The later developmental stages of Assistant is gaining a sense of humor in Arabic.
Google also launched the time-saving Motorcycle Mode in Egypt for the first time in MENA, along with Maps' Stay Safe, which gives users an "off-route alert" when a driver has deviated from the suggested route by more than 500 meters, with an option to share live trip update with friends and family.
The Google for MENA event was attended by hundreds of people representing government, business leaders, developers and entrepreneurs.
"We are committed to the Arab world, and we are looking forward to doing much more together," Lino Cattaruzzi, Managing Director for Google in the Middle East and North Africa, said.