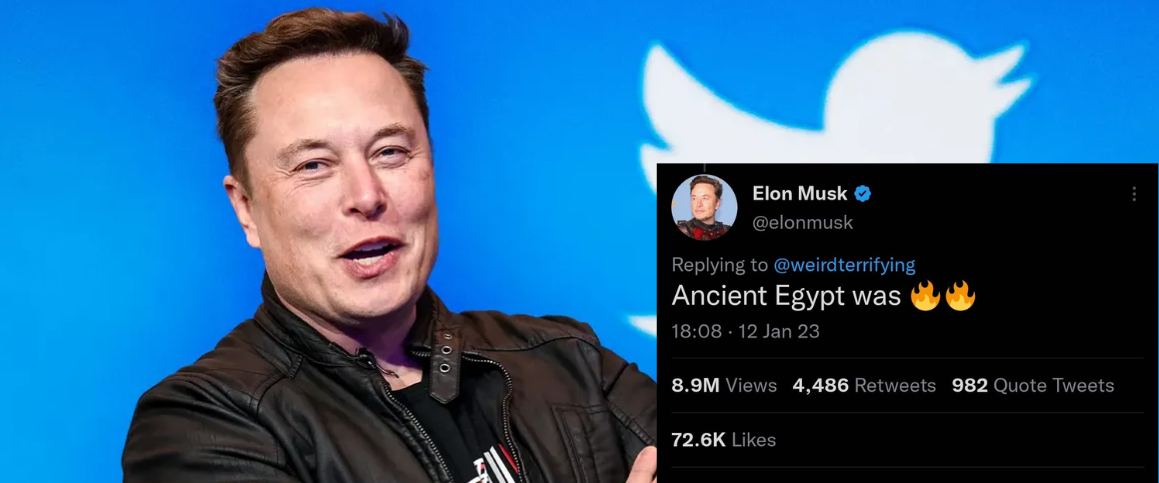 Egyptian Twitter experienced a stir on 12 January when business magnate and Twitter CEO Elon Musk tweeted "Ancient Egypt was 🔥🔥" in response to a video posted by the account @weirdterrifying, showcasing a 2000-year-old staircase in the Egyptian temple of Dendera.
Ancient Egypt was 🔥🔥

— Elon Musk (@elonmusk) January 12, 2023
Many invited Musk to visit and experience Egypt's unparalleled heritage, including the highly anticipated Grand Egyptian Museum (GEM) for himself, among them Minister of International Cooperation Rania Al Mashat. Several celebrities followed suit, with beloved comedy actor Mohamed Henedy even offering to serve as Musk's "personal tour guide".
.@elonmusk you bet! Come join us unravel more untold stories about #AncientEgypt at the Grand Egyptian Museum #GEM with the full & never-before-seen collection of king Tutankhamun…It's an unparalleled experience & #Egypt welcomes you 🇪🇬. https://t.co/sFYLs2CMrE

— Rania A. Al Mashat (@RaniaAlMashat) January 13, 2023
Come to Egypt man, I'll be your personal guide

— Mohamed Henedy (@OfficialHenedy) January 13, 2023
A number of prominent personalities, including businessman Naguib Sawiris and TV anchor Sherif Amer, also flooded the replies and quote tweets expressing excitement over the praise and the prospect of Musk visiting the country.
Speaking before the Tourism committee at the House of Representatives, Amr El-Qady, Chairman of the Egyptian Tourism Promotion board, said on 14 January that an official invitation would be extended to Musk to visit Egypt at the time of his choice.
However, while many were excited that the country could host as high-profile a visitor as Musk, others were less enthusiastic. Criticism ranged from humorous comparison of Musk's eager respondents to suit salesmen in Downtown Cairo, to more outspoken opposition to the business tycoon's visit.
فيه حد على فيسبوك كاتب ان المنشنز شبه محلات البدل في وسط البلد وأقسم بالله ما فيه حاجة حقيقية كدا https://t.co/4fPn6ceITv

— Hesham Esmail (@Etshhh) January 13, 2023
Stay away from our ancestors https://t.co/AumKO3OMwR

— ESLAM (@eslamokayy) January 14, 2023
GO AWAY https://t.co/0shNeYt2yG

— hanna⁷ メ (@hannasbordersz) January 13, 2023
Musk has come under intense fire since his acquisition of social media company Twitter, Inc. last October. Points of contention include his controversial decision to fire Twitter's entire board of directors along with many of its engineers, the suspicious closure of accounts critical of his policies, his ongoing battle with journalists on the platform, and his introduction of "Twitter Blue," a paid verification system which many feel takes away from the trustworthiness and legitimacy previously afforded by a blue tick.
Some of Musk's other ventures have also been criticized. These include automotive company Tesla's full self-driving vehicles, which some believe pose a lethal threat to child pedestrians; and spacecraft engineering corporation SpaceX's missions to Mars, described as an elitist, colonialist venture. Aspects of the business giant's past and family history have also come under scrutiny, including an ongoing rumor that his father owned an emerald mine in Apartheid South Africa.
So why do you want to go to Mars instead of figuring out how to conserve life here and the planet? https://t.co/6Q6fxOHQjf

— Winner (@Ulanda_so_Cred) January 12, 2023
Elon would have somehow made slave labor worse, if he was born a pharaoh. Sadly, he was born to a man that owned part of an emerald mine. Of which he still tries to cover up from a 2014 Forbes interview with Jim Clash, where Elon admitted to it. So strange.

— Evan Bowar Jr. (@BowarEvan) January 12, 2023
Some commentators, like Michael Meunier, founder of Xtenfer Consulting and the Egyptian Al Haya party, acknowledged the controversy surrounding Musk, specifically his perceived loss of credibility following Tesla's stock crash, while still conjecturing that the businessman could become a potential investor in Egypt's economy.
Elon, I will forgive you screwing up $TSLA stock if you setup a factory in #EGYPT. At least a battery factory. Think about it. Cheap labor, natural resource and central shipping hub with the Suez Canal.

— مايكل منير (ن) (@MichaelMeunier) January 13, 2023
This is not the first time Musk has tweeted about ancient Egypt, though his previous comments were more controversial.
In 2020, the businessman tweeted "Aliens built the pyramids obv [obviously]." He followed up the tweet with a link to a BBC article explaining the origins of the pyramids, indicating his initial comment may have been no more than a joke.
The original tweet nonetheless prompted outrage from many commentators including Egyptologist Zahi Hawass. At the time, Al-Mashat had similarly replied with an invitation for Musk to come to Egypt and "check out the tombs of the pyramid builders. Mr. Musk, we are waiting for you."
Aliens built the pyramids obv

— Elon Musk (@elonmusk) July 31, 2020
I follow your work with a lot of admiration. I invite you & Space X to explore the writings about how the pyramids were built and also to check out the tombs of the pyramid builders. Mr. Musk, we are waiting for you . @elonmusk https://t.co/Xlr7EoPXX4

— Rania A. Al Mashat (@RaniaAlMashat) August 1, 2020
Musk, who is known to frequently and sometimes aggressively respond to his critics on Twitter, did not address Hawass' comments nor Al-Mashat's invitation in 2020.
Following his tweet of 12 January, the business tycoon has yet to respond to officials' eager invitations or to those opposing his visit.
---
Subscribe to our newsletter
---