After the devastating 7.8 magnitude earthquake that struck Turkey and Syria on Monday, 6 February, various entities and organizations from the international community pledged their support to the countries affected.
Foreign emergency aid, alongside thousands of medical and on-ground response teams were sent to Turkey, but for war-torn Syria, receiving help is fraught with political and logistical challenges.
The hurdles facing Syria have been in place since long before Monday's deadly earthquake that has left a combined death toll surpassing 11,000 people on Wednesday, 8 February—the deadliest earthquake worldwide in more than a decade.
There is a race to find survivors under the rubble of collapsed buildings as international aid from China, the United States, Germany, France, the United Kingdom, and other governments pour in Turkey. However, Syria has been struggling to acquire any help from the international community.
What is slowing down aid to Syria?
According to aid workers, getting aid into Syria is hampered by the country's internal political and sectarian divisions as well as international tensions and imposed sanctions.
Syrian president Bashar Al-Assad's government is in conflict with other parties and groups within Syria, as well as with the international community. As a result, Syria is under sanctions from the United States and some European governments.
In August 2011, the United States placed sanctions on Syria in response to the Syrian's regime's exercise of 'violence and repression' in the region. The sanctions prohibit any new investments, exportations or sale of services, or any involvement in transactions.
Similarly, in May 2011, the European Union adopted targeted restrictive measures against the Syrian regime to stop its violent repression. The EU's sanctions target the Syrian regime's finance networks: a total of 70 Syrian entities and 289 individuals are targeted by the EU's restrictive measures.
Although the EU's restrictive measures provide a large number of exemptions and derogations with regard to humanitarian assistance in Syria, aid related to the earthquake continues to face issues.
European Commission spokesperson Balazs Ujvari said that the EU has provided aid in all parts of Syria through the United Nations and Non-Governmental Organization (NGO) partners, and that it is trying to increase funding for humanitarian support.
"The Syrian government has not yet formally requested Europe send rescue and medical workers," Ujvari stated.
Despite the exceptions, banks can still block transfers to pay suppliers or local workers for aid organizations out of fear of running afoul of sanctions.
The sanctions imposed by the United States and some EU countries may not only impede the delivery of relief and aid, but may also prevent the rebuilding of damaged infrastructure and property, which can delay post-earthquake recovery.
"It would be ironic, if not even counterproductive, for us to reach out to a government that has brutalized its people over the course of a dozen years now," US State Department spokesman Ned Price told reporters on Monday, 6 February.
For years, foreign aid has been brought into Idlib – a city in northwestern Syria – by way of Turkey because it is difficult going through Syria's capital Damascus. However, the epicenter of the earthquake was largely concentrated in southern Turkey. Damaged roads and infrastructure have delayed aid from reaching northern Syria.
Delayed shipments have largely been due to the damage in the Hatay Airport and the road to Bab al-Hawa (an international border on the Syria–Turkey border). Under a United Nations mandate, aid delivered to Syria is to be directly and solely through the Bab al-Hawa crossing.
The United States has also designated the group Hayat Tahrir al-Sham (HTS), which controls certain earthquake-affected areas, in Syria, as a terrorist organization, which has led to increased reluctance to support those in such areas through financial assistance.
What can be done to help Syria?
Syrian Arab Red Crescent head Khaled Hboubati has urged the European Union to lift its sanctions on Syria.
"We are ready to deliver relief aid to all regions of Syria, including areas not under government control," Hboubati said in a press conference on Tuesday, 7 February.
Despite the lack of exceptions and support from certain governments, aid convoys and rescuers were sent to Syria from Russia, the United Arab Emirates, Egypt, Iraq, Iran, and Algeria.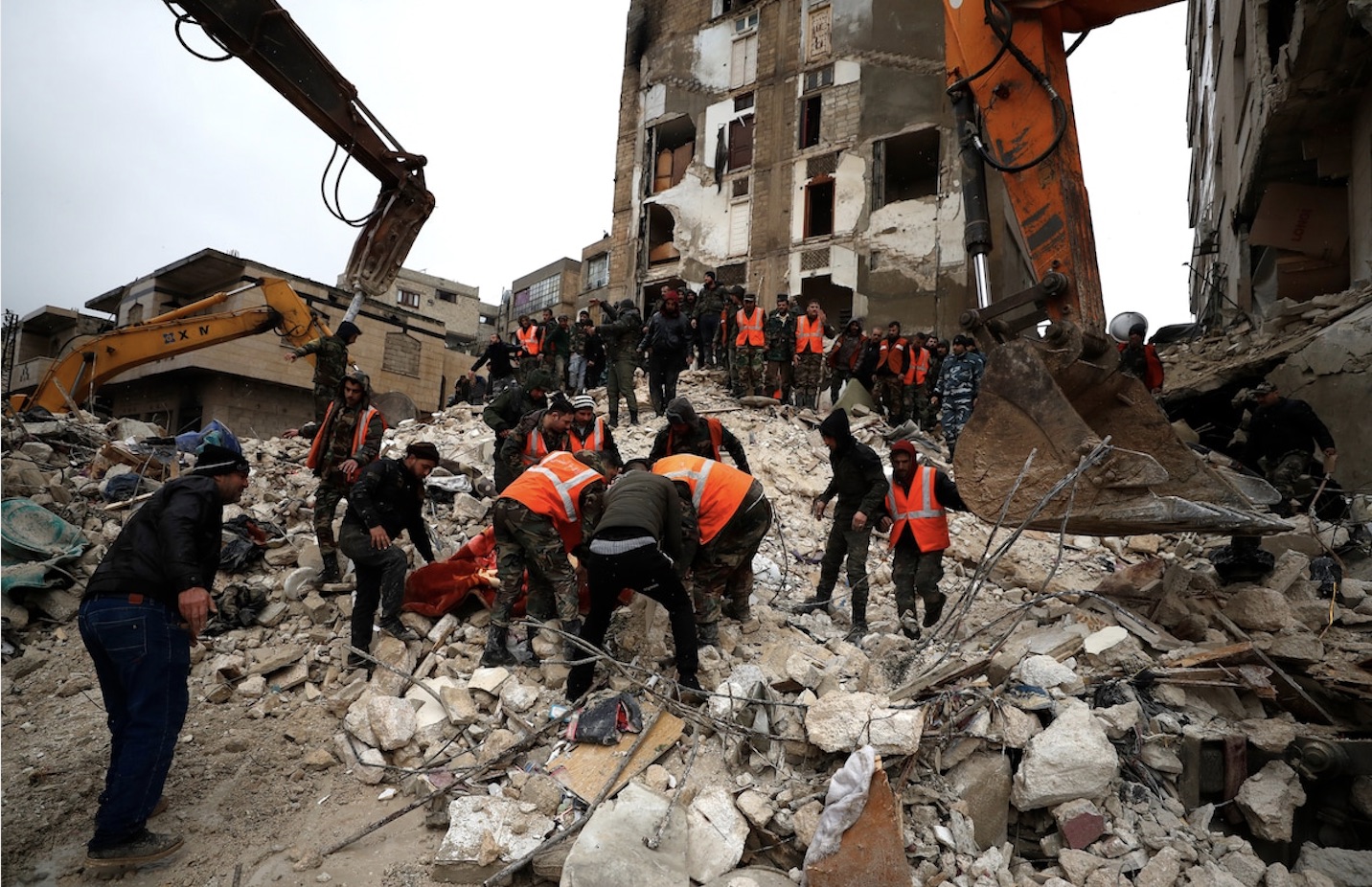 Egyptian President Abdel Fattah Al-Sisi spoke with Syrian president Bashar Al-Assad on Tuesday 7 February to offer condolences and support after the deadly earthquake. Al-Sisi's talk with Al-Assad marks the first-ever phone call between the two leaders since Al-Sisi took office in 2014.
Under the directives of Al-Sisi, five military planes carrying emergency aid were sent to Turkey and Syria to help alleviate the relief efforts following the earthquake that left more than 5,400 people killed in both countries on Monday, 6 February.
What can you do to help?
As humanitarian relief and needs soar in Syria, many trusted organizations are collecting donations – both monetary and non-monetary (blankets, medical supplies, winter clothes, and canned food) to help Syrians in the affected areas.
Additionally, continuing to raise awareness on social media and beyond and lobbying for support and fundraising is important.