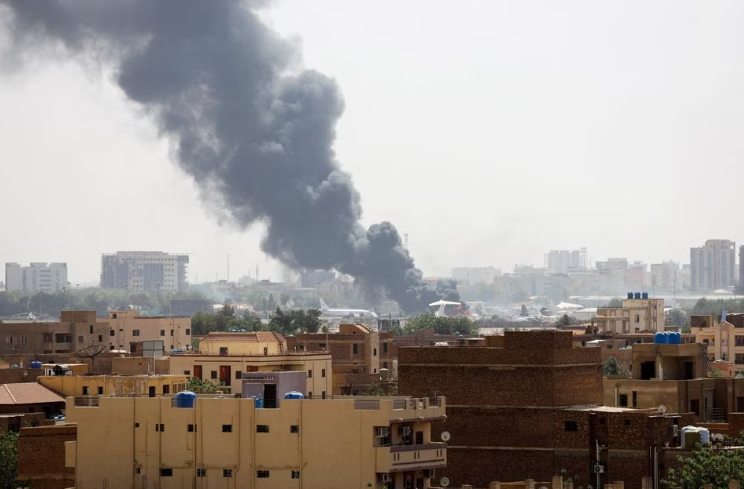 Early on Friday, 28 April, heavy explosions and gunfire were heard in the Sudanese capital of Khartoum and the city of Omdurman, despite the extension of a fragile ceasefire between the warring Sudanese Armed Forces (SAF) and Rapid Support Forces (RSF) paramilitary group. 
A US-brokered ceasefire between the two parties took effect on Monday, 24 April and was supposed to end at midnight on 28 April. Friday's escalation came hours after the two sides agreed to extend the ceasefire for a period of 72 hours, with mediation from the United States and Saudi Arabia, with the aim of allowing foreign governments to complete the evacuation of their citizens. 
Residents of the capital reported fierce clashes in the Khartoum neighborhood of Kafouri, near the military's headquarters, the Republic Palace, and the area surrounding the Khartoum international airport. Across the Nile, in Omdurman, a protest group reported "constant explosions" in the district of Karari, and called on residents to remain vigilant. 
The two rival parties have exchanged accusations of attacks violating the truce. The RSF claimed that the SAF launched airstrikes against its bases in Omdurman and Jabal Awliya, South of Khartoum. The SAF, in turn, accused its counterpart of beginning the attack, saying it repelled a "failed" offensive and destroyed many RSF vehicles. Neither party's claims could be verified, casting doubt as to which side instigated the fighting.
Amidst the fighting, the Turkish Defense Ministry reported in a tweet that "light weapons were fired" at an aircraft headed to evacuate Turkish civilians from the war-torn country, but nonetheless assured that the plane landed safely and no personnel were injured. 
Multiple ceasefire agreements have largely failed to bring complete cessation to the fighting since war first broke out on 15 April between the SAF, led by General Abdel Fattah Al-Burhan, and the paramilitary RSF, led by General Mohamed Hamdan Dagalo. 
Despite persisting violence, various operations to evacuate civilians have continued, and short truces have allowed tens of thousands of people to flee to neighboring countries. 
On Thursday, Egypt's Ministry of Foreign Affairs announced that 2,648 Egyptians had safely returned to the country from Sudan, bringing the total number of citizens evacuated from the war-torn country since 15 April to 5,327. Egypt's Minister of Emigration, Soha Gendi, stressed that the state's efforts will continue until all Egyptians return safely from Sudan.
Additionally, according to Egypt's General Authority for Land and Dry Ports (GALDP), more than 10,000 people of different nationalities have entered Egypt between 21 and 25 April through the land border crossings of Qastal and Arqeen. 
Other neighboring countries have also taken in thousands of refugees since fighting began. 
On Friday, Saudi Arabia announced the arrival of two evacuation ships in Jeddah, carrying more than 670 civilians of various nationalities. According to Saudi's Foreign Ministry, the country has evacuated a total of nearly 3000 people, including 119 Saudi citizens. Neighboring Chad and South Sudan, meanwhile, have respectively taken in 20,000 and 10,000 people. 
Those who remain in the country, however, are faring through increasingly dire conditions. 
Access to food, water, and fuel are now scarce in Khartoum and several other cities; and only 16 percent of hospitals and healthcare facilities are still functioning, according to the World Health Organization. 
Since 15 April, the fighting has killed at least 512 people, including civilians, and left another 4,200 wounded.
---
Subscribe to our newsletter
---