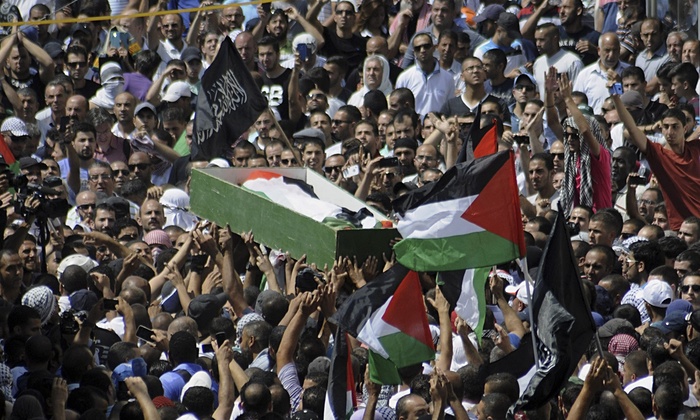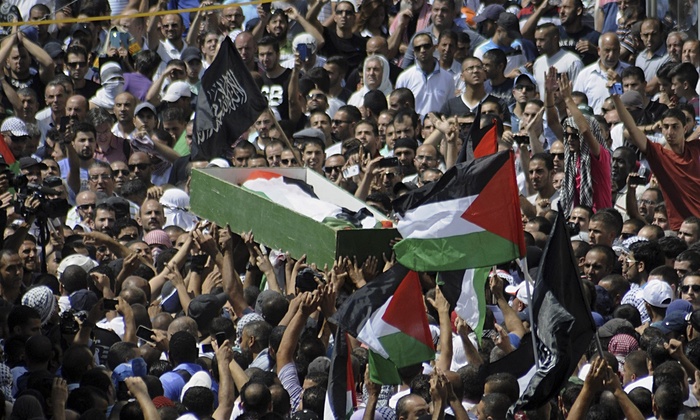 Update: Two more Palestinian teenagers were shot dead by Israeli police on Monday after carrying out two separate knife attacks in Jerusalem, injuring a total of three Israelis. 
Israeli forces shot dead a Palestinian teenager and airstrikes killed a toddler and a pregnant woman, bringing the total number of Palestinians killed in October to 27, with thousands more injured, the Palestinian Ministry of Health said in a statement posted to its Facebook page on Monday.
According to the statement, 14 of the casualties occurred in the West Bank and 11 in the Gaza Strip, while 1300 sustained injuries from live and rubber bullets during the same time period. Thousands more have suffered from non-fatal suffocation due to poisonous gases.
The statement went on to say that 8 of the 25 casualties – representing around a third of the total – were children, which the Minister of Health Jawad Awaad said indicates that Israeli forces are "directly targeting" children.
13-year-old Ahmad Sharake was shot dead on Sunday by Israeli forces during clashes near the West Bank city of Ramallah, where hundreds of Palestinians allegedly gathered to throw rocks at Israeli settlers' cars.
A pregnant mother and her 3-year-old daughter were also killed on Sunday when Israeli launched retaliatory airstrikes "targeting Hamas," causing the two victims' house to collapse.
The bloodshed has left Palestinians outraged and Hamas, the de facto ruler in Gaza, dubbed their retaliatory methods as a "third Intifada."
Palestinian President Mahmoud Abbas called for calm last Tuesday and asserted that the Palestinian people are not interested in "military and security escalations," while Israeli Prime Minister Benjamin Netanyahu vowed to "break this wave of terror like we broke previous waves of terror."
Since October 1, four Israelis have been killed and another 70 injured.
Tensions between Palestine and Israel have been steadily escalating since last month: On September 1, unidentified gunmen fatally shot an Israeli couple in the West Bank and on September 3, a 19-year-old member of the Islamic Jihad group stabbed to death a Rabbi and an Israeli citizen in the Old City.
Days later, a 13-year-old Palestinian boy and two others were shot dead in confrontations between Israeli forces and Palestinian protesters in the West Bank and East Jerusalem.
On September 13, clashes broke out between Palestinian youth and Israeli security forces in al-Aqsa mosque, where Palestinian eyewitnesses said Israeli police injured several worshipers after firing rubber-coated steel bullets inside the mosque, AFP reported.
Following the clashes, Netanyahu reintroduced a ban on Palestinian worshippers under the age of 50 and all members of the Knesset – Israel's parliament – from visiting the al-Aqsa compound. The ban was lifted again last week.
The al-Aqsa mosque, one of the main flash points between Muslims and Jews, has long been a point of contention between the two groups due to its holy significance in both religions. It is considered the most sacred site in Judaism and is the third holiest in Islam.
Due to its heavily contested nature, longstanding agreements between Palestine and Israel have prevented Jewish visitors from praying at the site, a measure meant to avoid provoking tensions. However, some Palestinians now fear that Israel will soon seek to change these regulations.
---
Subscribe to our newsletter
---