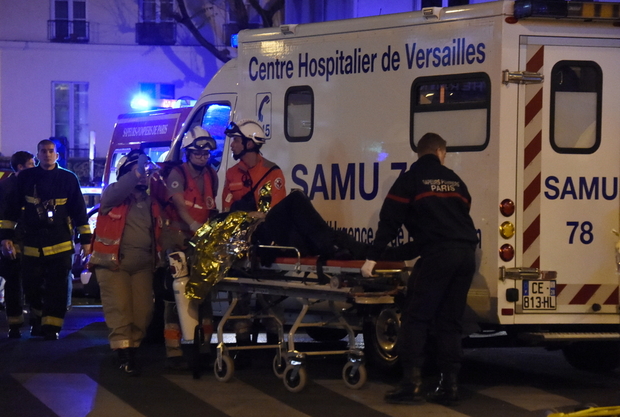 Two Egyptian citizens were killed in Paris on Friday in a series of shootings and suicide bombings that claimed at least 129 lives.
Lamia Mondeguer, 30, was killed at a restaurant on rue de Charonne in Paris' 11th arrondissement, a source close to Mondeguer's family told independent publication Enterprise. Mondeguer was a dual Egyptian-French national and was a communications manager at a Parisian talent agency, in addition to working in performance arts.
In a phone-in with MBC Masr television host Sherif Amer, Egypt's Consulate General in Paris Serenad Gamil said the second Egyptian victim, Salah Emad El-Gebaly, 28, is believed to be one of the victims of the attack on the Bataclan music theater, where dozens gathered to watch rock band Eagles of Death Metal perform. The theater attackers briefly held the crowd hostage, before opening fire and killing at least 89.
Gamil also stressed that no Egyptians were involved in the attacks.
French local media reported on Saturday that two passports, one Egyptian and one Syrian, were found near the bodies of two assailants from the attacks on the Stade de France that took place on Friday night.
However, Ehab Badawy, Egypt's ambassador in France said in a phone-in to television show Hona Al-Assema (Here is the Capital) that the passport belonged to Waleed Abdel Razek, who was at the stadium to watch the friendly soccer match between the French and German national teams. According to Badawy, there are no charges against Abdel Razek.
Abdel Razek is currently being treated in the Beaujon Hospital in Paris for injuries he incurred from the attacks, including a broken shoulder and arm, as well as shrapnel wounds leading to severe hemorrhage, Aswat Masriya reported. Waleed was in Paris to accompany his brother, Wael, through cancer treatment, Wael told Aswat Masriya.
Terrorist group ISIS claimed responsibility for the attack in a statement widely circulated on social networking sites. In the statement, the group hailed the "blessed" attacks on the "capital of prostitution and perversion," saying France and its allies will remain at the top of the terrorist group's list of targets.
In retaliation, France dropped 20 bombs on the Syrian city of Raqqa, which the extremist group claimed as the "capital" of its so-called "caliphate".
Following the attacks, French President François Hollande issued a state of emergency and closed the country's borders in the wake of what he called "unprecedented terrorist attacks".
Hollande promised to "lead a war which will be pitiless" against the terrorist group, declaring three days of national mourning following the attacks.
Meanwhile, the Eiffel Tower and the Louvre Museum, two of Paris' most popular tourist attractions, have been shut down until further notice.
Paris Prosecutor François Molins said on Saturday that the series of shootings and suicide bombings that hit Paris was carried out by three coordinated teams of assailants.
As one team of suicide bombers blew themselves up outside the Stade de France where Germany and France were playing a friendly soccer match, another stormed the Bataclan music theater, holding dozens hostage before executing them. In the third attack, armed gunmen killed 11 at two restaurants in the 11th arrondissement, the same neighborhood as the Charlie Hebdo office, where three gunmen killed several of the newspaper's staff in January of this year.
Reports indicate that eight attackers have been killed.
World leaders have all voiced their condemnation of the attacks and expressed solidarity with France.
In a statement, Egypt's President Abdel Fattah Al-Sisi condemned the attack and said that terrorism will be defeated. Egypt also lit the Giza Pyramids with the flag of France, alongside those of Lebanon and Russia, in a gesture of solidarity with all victims of terrorist attacks.
US President Barack Obama delivered a speech after news of the attacks broke, describing the incidents as an "attack on all humanity" and "an outrageous attempt to terrorize civilians".
German Chancellor Angela Merkel also expressed her condolences and "deep shock".
---
Subscribe to our newsletter
---