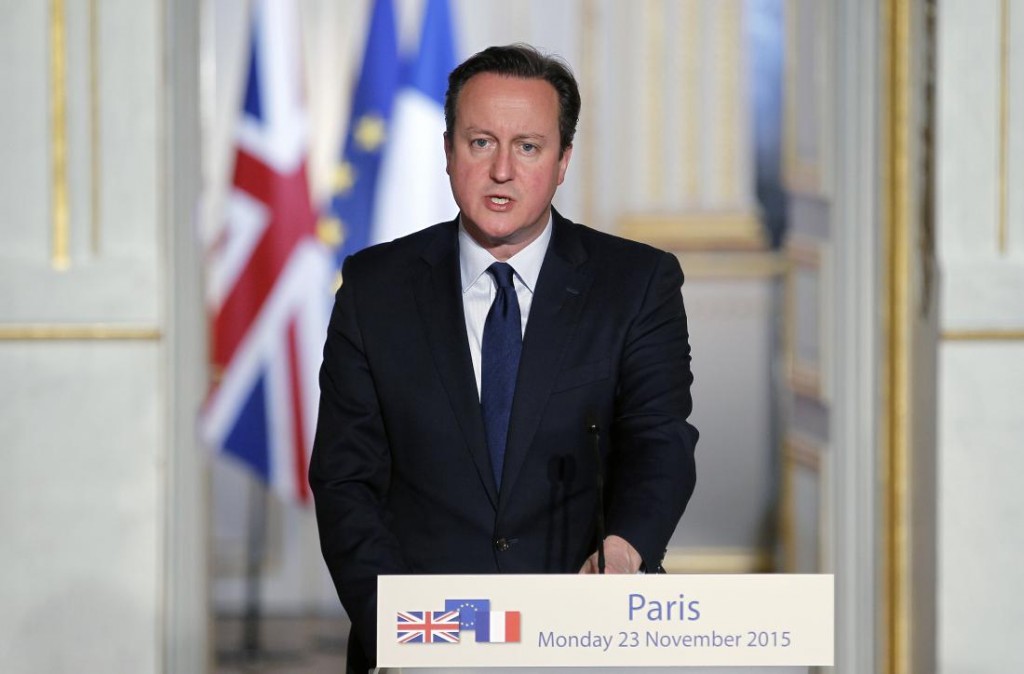 British Prime Minister David Cameron announced on Monday he will seek parliament approval for an aerial bombing campaign against terrorist group ISIS in Syria.
The premier's announcement came after he met with French President François Hollande in Paris to discuss cooperation on counterterrorism efforts.
"The United Kingdom will do all in our power to support our friend and ally France to defeat this evil death cult," Cameron said at a press conference following the meeting.
Cameron expressed his "firm support" of Hollande's decision to increase France's attacks against ISIS in Syria, saying he believes Britain should follow suit but that it is up to the kingdom's parliament to decide on the matter.
Although the Royal Air Force has carried out airstrikes in Iraq, the British parliament blocked Cameron's request to carry out an attack on Syria two years ago.
However, some analysts have suggested that the "mood has shifted" in the British parliament, particularly after the recent spate of deadly incidents in Paris, Beirut, Egypt and Nigeria, all of which were claimed by ISIS or one of its affiliates.
Earlier this week, the United Nations Security Council unanimously passed a resolution calling on member states to take "all necessary measures…to prevent and suppress terrorist acts" committed by ISIS, in compliance with international law and the United Nations Charter.
According to the Charter, member states are guaranteed the right to "individual or collective self-defence if an armed attack occurs" against it. While the article was initially viewed as applying to attacks by a state, this interpretation was developed to encompass action against non-state armed groups.
This resolution may therefore help Cameron secure the necessary votes from parliamentarians to green-light the airstrikes against ISIS.
International military action against the terrorist group has been increasing in recent months.
Following the deadly attacks in Paris, France dropped 20 bombs on the ISIS-held Syrian city of Raqqa, striking 30 targets. French jets also struck two ISIS targets in Iraq on Monday, Agence France-Presse reported.
Hollande is seeking to increase international cooperation and coordination on military actions against ISIS and said France will "intensify" its attacks in Syria.
In October of last year, the United States formed an international coalition aiming to destroy ISIS. One month after the coalition was formed, the US, along with Saudi Arabia, Bahrain, Qatar, Jordan and the United Arab Emirates began its strikes on ISIS targets inside Syria.
Last month, Russia began launching airstrikes in Syria at Assad's request, much to the US' dismay. Russia's military involvement also ruffled feathers in Turkey after some of its jets violated Turkish airspace.
The United States also recently launched airstrikes in Libya that killed the head of the Islamic State group in the North African country.
---
Subscribe to our newsletter
---