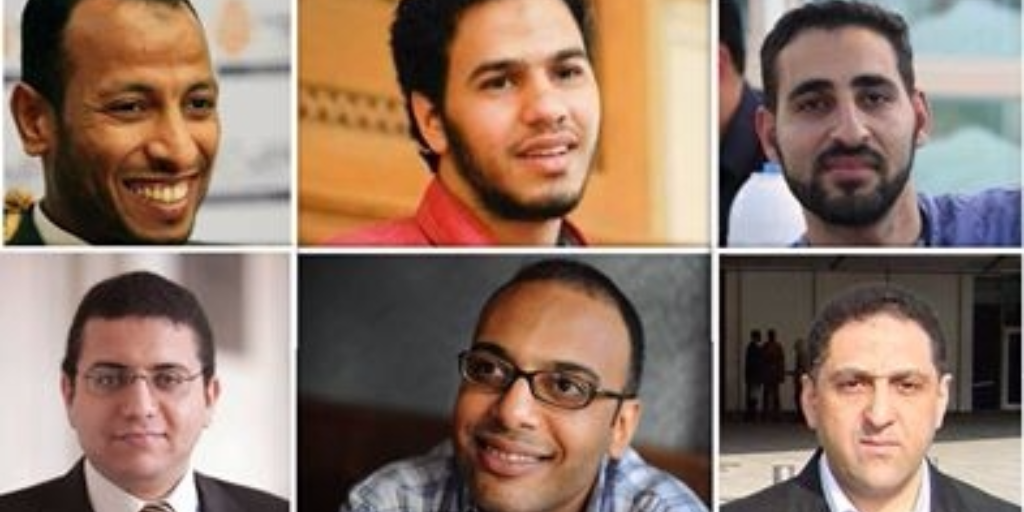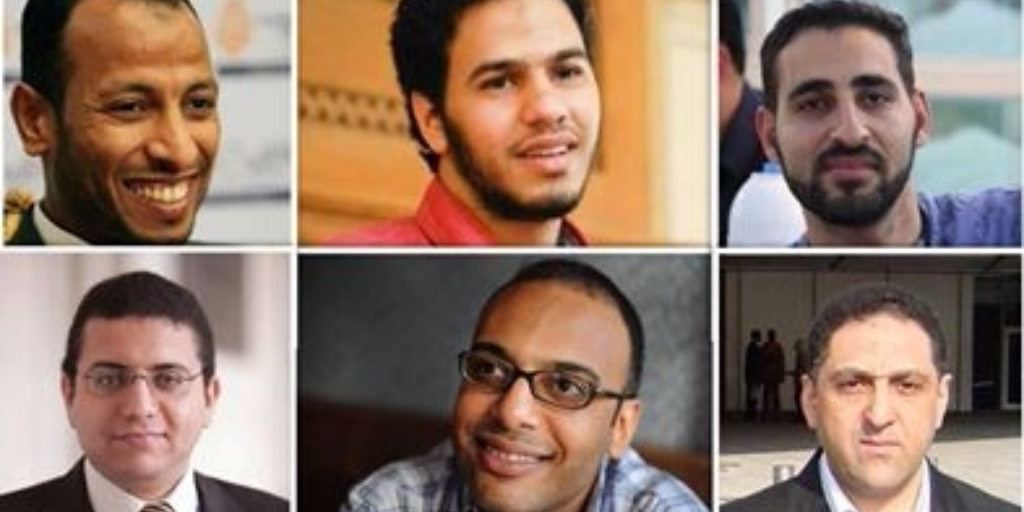 International reports on press freedoms from Reporters Without Borders and the Committee to Protect Journalists (CPJ) have ranked Egypt as the country with the second-highest number of jailed journalists in the world.
As of December, CPJ claims that 23 Egyptian journalists are imprisoned, the highest figure for Egypt since the committee began recording, while the Arabic Network for Human Rights Information (ANHRI) says the figure is as high as 63. The Egyptian Journalists' Syndicate statistics indicate 32 imprisonments, including 18 cases related to journalism.
Ismail Alexandrani
The most recent arrest was on 29 November, when Ismail Alexandrani, a freelance investigative reporter and researcher specializing in jihadi movements in the Sinai Peninsula, was arrested at Hurghada airport. He was detained on his return from Berlin, pending investigations into the alleged charges of spreading "false news and rumors" and belonging to a "terrorist" group.
The 'Operations Room' Six
The "Rabaa operations room" case alone includes six journalists. They are charged with disseminating false news, inciting violence and chaos and being part of an "operations room to direct the terrorist Muslim Brotherhood to defy the government during the Rabaa Al-Adaweya sit-in dispersal and to spread chaos in the country."
Abdullah Alfakharany, one of the founders of the Rassd news website and Samhi Mostafa, the website's executive director, were arrested in August 2013 along with Mohammed Al-Adly, a presenter on religious channel Amgad TV, when security forces raided the house of Muslim Brotherhood official Salah Soltan.
A fourth journalist and editor with Rassd Hassan Al Qabbani was taken from his home in January 2015. Meanwhile, Lebanese security forces arrested Ahrar 25 Channel head Mosaad Elbarbary on 2 April 2014, sending him to Egypt five days later, where security forces took him to Tarhelat al-Giza Prison.
Hany Salah Al-Deen, the former news editor of the pro-Muslim Brotherhood TV channel Misr 25 and former editor of the Youm7 news website, now prisoner at Tora Prison, was arrested in December 2013 at Cairo airport.
The journalists were given life sentences in April, a ruling that was revoked in early December.
Saeed Abuhaj
Imprisoned since November 2013, videographer Saeed Abuhaj was arrested from his day job at a tax agency in the city of Arish in northern Sinai, allegedly because of his coverage of Muslim Brotherhood meetings and protests in the area. He is charged with inciting violence, participating in demonstrations and using arms against police, among other crimes.
Ahmed Fouad
A reporter for the independent news website Karmoz, Ahmed Fouad was arrested while covering violent clashes between Muslim Brotherhood demonstrators and security forces in Alexandria governorate on 25 January 2014. Fouad is accused of "joining a group that aims to disrupt the law," "demonstrating without permission," "blocking a road" and "possessing a weapon."
Mohamed El-Battawy
Criticizing the state's violence against anti-government protesters and its crackdown on the media, Mohamed El-Battawy, journalist with the state-owned daily Akhbar al-Youm and independent outlets such as Masr al-Arabia,  was arrested during a security force raid on his house in Qalyubiya governorate.
Aboubakr Khallaf
Aboubakr Khallaf, founder and head of the Electronic Media Syndicate which trains and supports journalists who work online in Egypt, was arrested at the Federation of Egyptian Syndicates in Cairo, to which the Electronic Media Syndicate belongs. His arrest came following accusations published in state-owned newspaper Akhbar Elyoum of belonging to the Muslim Brotherhood and receiving money from the outlawed group.
Hisham Jaafar
Hisham Jaafar, director of the Mada Foundation for Media Development, was arrested on October 21, 2015 when security forces raided his office. He is one of many accused of belonging to the Muslim Brotherhood and receiving bribes from foreign sources.
Others imprisoned include Alaa Abdel Fattah, a prominent blogger and activist who has written for al-Shorouk newspaper and news website Mada Masr, as well as photojournalist Mahmoud Abu Zeid Shawkan.
A number of previously detained journalists were released in 2015. In September, El-Sisi pardoned two al-Jazeera journalists, Mohammed Fahmy and Baher Mohamed, alongside 98 other prisoners. Fahmy and Mohamed had been accused of working without permission, broadcasting "false news" and supporting "terrorism", and were handed a three-year sentence in a case decried as a political charade among human rights circles.
Another investigative journalist and founder of the NGO Egyptian Initiative for Personal Rights Hossam Bahgat spent two days in military detention on charges of "publishing false information that harms national security" and "publishing information that endangers the public well-being". The accusations are based on his investigation, 'A coup busted?'.
Five journalists working at the Egyptian daily newspaper Al-Masry Al-Youm penned an article entitled "The police – martyrs and sinners (the holes in the uniform), which resulted in their facing a criminal investigation for accusing security forces of corruption and committing human rights violations.
Amnesty International said that journalists having to face ongoing criminal investigations is "a practice apparently aimed at intimidating or silencing them".
Egypt ranks 158 out of 180 countries in the 2015 World Press Freedom Index, yet El-Sisi asserted to CNN in September, "I do not want to exaggerate but we have unprecedented freedom of expression in Egypt. No one in Egypt can bar anyone working in media or journalism from expressing their views".
---
Subscribe to our newsletter
---