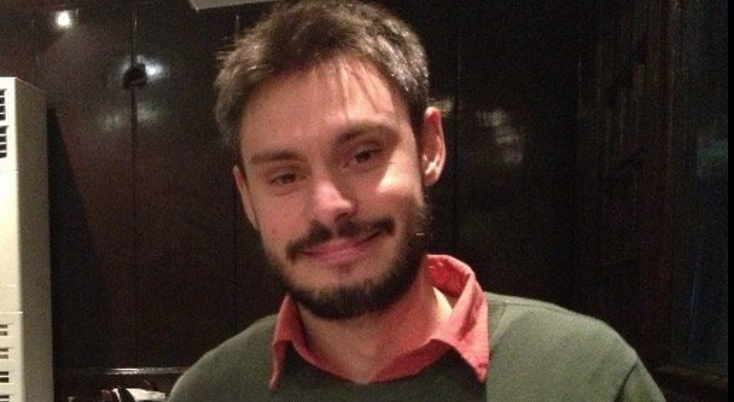 Egyptian police detained Italian PhD student Giulio Regeni "as part of a security sweep" prior to his murder, police and intelligence sources told Reuters.
However, the reports were slammed by the Ministry of Interior as 'unfounded' and 'false'. The Ministry vowed to pursue legal action for the reports, it said in a statement.
The Ministry of Interior said the Reuters report is "devoid of any truth" and that the ministry "holds the right to take legal action against propagators of these rumors and false news."
Egyptian Streets could not independently verify Reuters' report that police were involved in Giulio Regeni's case prior to his death.
According to the news wire's exclusive report, Regeni was picked up near Gamal Abdel Nasser metro station in downtown Cairo by plainclothes police officers on January 25, the day he was reported missing, and taken to Izbakiya police station.
After being held at the police station for 30 minutes, Regeni was transferred to a state security compound run by Homeland Security. The sources did not clarify to Reuters what happened to Regeni following his transfer to the state security compound.
Speaking to three police sources, Reuters said that the Italian student was picked up along with an Egyptian man. It remains unclear whether the Egyptian and Regeni were connected in any way.
The same sources told Reuters that the two men "had not been specifically targeted but were detained as part of a general security sweep."
Egyptian officials have consistently denied that Regeni, who was studying trade unions in Egypt, was detained by police or was under surveillance in any way during his stay in Egypt.
Human rights groups, however, claim the torture marks found on the 28-year-old are reminiscent of methods used by Egyptian security forces.
More than two months after Regeni's tortured body was found in a ditch on the outskirts of Cairo, investigations have yet to determine the true perpetrators of the student's brutal torture and murder.
Last month, Egyptian authorities claimed that a "gang" specializing in kidnapping and scamming foreigners while posing as policemen was responsible for the murder of the Italian student. The interior ministry said that all suspects were killed during a shootout with police and that security forces later found Regeni's belongings in the apartment of a gang members' relative.
Italian investigators rejected the claims, saying there are "inconsistencies" in Egypt's narrative of the events.
Tensions continued to rise between Egypt and Italy after the Egyptian investigative team probing Regeni's murder met with their Italian counterparts in Rome earlier this month, but refused to hand over evidence relating to the investigation.
According to deputy prosecutor Mustafa Suleiman, Italian officials requested requested phone records belonging to as many as one million phone users but, as the request is "unconstitutional," the Egyptian team "reiterated its absolute refusal," despite Italy making this demand as a requirement for further cooperation between the two countries on the case.
Italy subsequently recalled its ambassador to Egypt "for consultations," saying, "urgent decisions are needed on the most proper actions to bolster efforts aimed at finding the truth about the barbaric murder of Giulio Regeni."
---
Subscribe to our newsletter
---