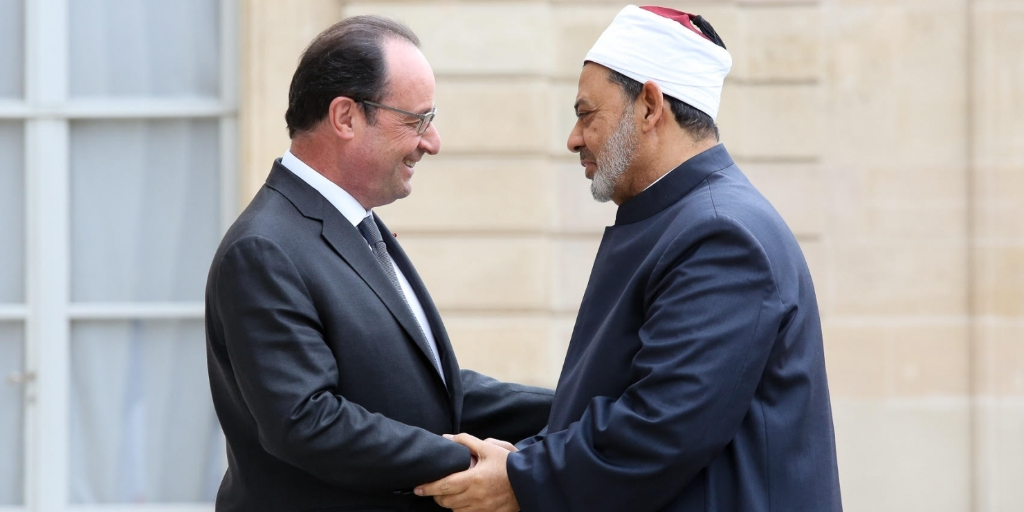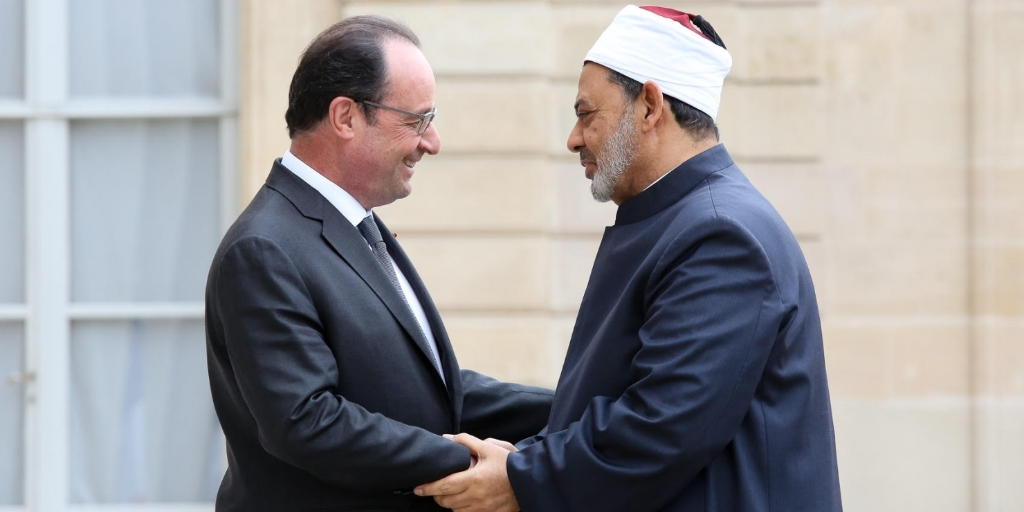 Grand Imam of Al-Azhar Sheikh Ahmed Al-Tayyeb met French President François Hollande in Paris on Tuesday to discuss public perceptions of Islam and ways to combat religious radicalization, state-run Ahram Online reports.
With recent terrorist attacks in Paris and Europe in fresh memory, the two leaders agreed to establish official mechanisms of cooperation between Islamic institutions in France and Al-Azhar as a way to communicate an accurate version of Islam to the next generation of Islamic scholars, Al-Tayyeb said in media statements.
The Grand Imam also condemned the recent terror attacks in France and Belgium.
In a statement released by the Elysée palace, Hollande said that France welcomes the efforts made by Al-Azhar to fight against extremism, as well as the commitment on the part of Islamic leaders in France to prevent radicalization.
The meeting was attended by the French Foreign Minister Jean-Marc Ayrault and Interior Minister Bernard Cazeneuve.
The Grand Imam also attended a forum for eastern and western dialogue, where he held a speech stressing the importance of co-existence and cooperation between religions and cultures across the world. He also urged Muslims in Europe to seek greater integration in their communities.
"I call on all Muslim citizens in Europe that they must know they are native citizens in their communities, and that full citizenship will never contradict the idea of coexistence," said Al-Tayyeb.
Al-Tayyeb's trip to France comes after a visit to the Vatican on Monday, during which he met Pope Francis in what was described as a historic encounter between the two religious authorities. The meeting, the first of its kind between the heads of the Catholic Church and the top authority in Sunni Islam, ended with a hug and kisses, seen as symbolizing the strengthening of relations between Islam and Christianity.
In March, Al-Azhar condemned the terror attacks in Belgium, describing them as going "against Islamic teachings and principles."
Last year, the Grand Imam met with French far-right leader Marine Le Pen, who heads the Front National party and has warned against the "radical islamization" of France. Al-Azhar questioned the party's "hostile opinions towards Islam and Muslims" and urged it to review and correct such opinions.
---
Subscribe to our newsletter
---