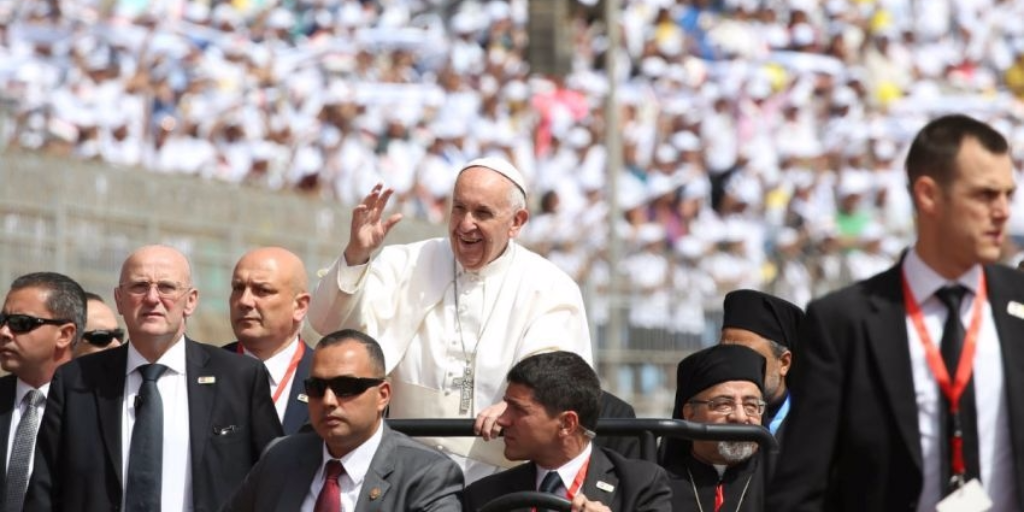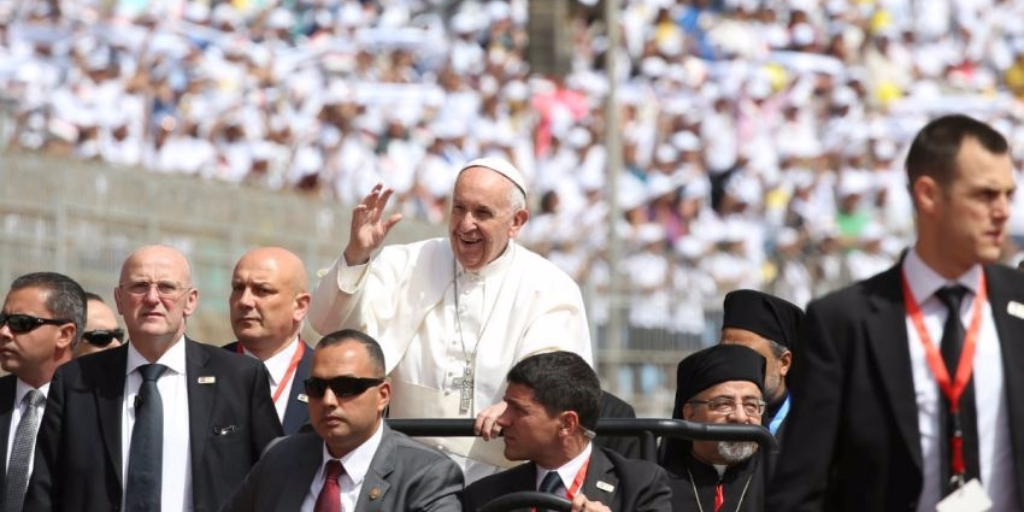 Pope Francis, head of the Roman Catholic Church, celebrated a mass on Saturday in the presence of more than 25,000 Egyptians from six different Catholic sects at the Air Defense stadium, also known as "30 June" stadium.
The prayers were held amid tight security. Entrance was only allowed to those invited to attend the prayers. Members of Parliament and officials also participated in the mass. The worshipers started to arrive early in the morning to the stadium, waving flags of Egypt and the Vatican to welcome the Pope.
Egypt's Armed Force organized celebrations that included documentaries displaying the history of the Vatican and the Pope. Other documentaries depicted the Armed Forces while targeting the terrorists who bombed and burnt churches in Egypt.
Pope Francis had arrived in Egypt on Friday for a brief visit during which he met president Abdel Fattah Al-Sisi and Al-Azhar's Grand Imam Ahmed Al-Tayeb. The Pope also met with Pope Tawadros II to sign a historic agreement whereby the Catholic and Orthodox Churches will recognize the baptism conducted by each other.
Pope Francis' visit comes less than a month after the Islamic State (IS) had bombed two churches in Egypt, leaving 47 killed and more than 100 injured. At a peace conference in Cairo, Pope Francis  urged the Muslim leaders to unite against the militants that kill the Christians in the name of God.
Pope Francis also prayed at St Paul church where a deadly attack had taken place in December 2016, leaving 29 dead.
"Peaceful worshipers were killed here. Your pain is our pain, your holy blood unites us," said the Pope during his visit.
He further refused to ride an armored car, saying that Egypt is a peaceful place.
This is the first official visit of the Pope to Egypt since he assumed the Papacy in 2013. However, it's his second visit to the Middle East after his visit to Jordan and Palestine in 2o14.
---
Subscribe to our newsletter
---