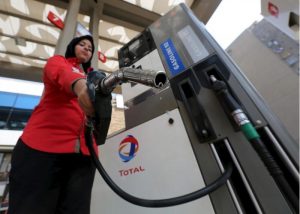 Egypt's government seeks to remove subsidies on petroleum products within the coming years, Oil Minister Tarek El Molla told reporters on Sunday.
While partly keeping subsidies on certain gasoline products, the minister said the government intends to lift gas subsidies altogether within the next five to ten years.
He, however, reiterated that the government is not planning to raise the price of fuel during the current fiscal year, which ends on June 30, 2018.
"There will be no increase in prices of petroleum products during the current fiscal year," he made clear.
The purpose of lifting subsidies is to make sure that they are benefiting only those who are in need of them.
He added that Egypt would stop importing gas before the end of 2018 as the country's recently-discovered giant Zohr gas field is scheduled to start production before the end of this year.
Meanwhile, the cost of petroleum products rose by 68 percent to 23.5 billion Egyptian pounds (US $1.33bn) in the first quarter of the 2017/2018 fiscal year compared to the same period last year.
Egypt began cutting fuel subsidies in November 2016 as part of an IMF-sponsored economic reform program, which, El Molla said, has saved the state LE 4 billion. To secure a US $12 billion loan from the IMF, Egypt was required to implement a number of economic reforms and austerity measures, including floating its currency and lifting decades-old subsidy regimes.
In August, the minister said that the currency float drove the cost of fuel subsidies up by 135.3 percent year-on-year to LE 120 billion percent in 2016/2017 fiscal year from LE 51 billion the previous year.
The government expects the cost of subsidies for the state to reach LE 110 billion during the current fiscal year.
---
Subscribe to our newsletter
---