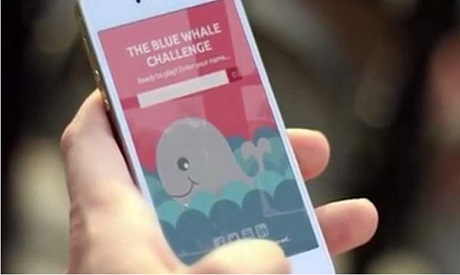 A 17-year-old student, Shahinaz, has reportedly killed both her mother and brother by setting fire to her family home in Sohag governorate after receiving instructions to do so from the 'Blue Whale' suicide game.
Egypt Independent details that the girl's mother, 49-year-old Shameya M., and her son, Mohamed, died in the fire. The second son, 9-year-old Taha, suffered from burns on different areas of his body.
Shahinaz is said to suffer from mental disorders – as do many of the young people that the Blue Whale game targets – and have been arrested.
On the same day, the Egyptian prosecution service stated that it will block dangerous online games, including the notorious  'Blue Whale' suicide game. The country's top prosecutor, Nabil Sadeq, said that "these games are dangerous, as they misguide youngsters to hurt themselves or their family members. They may also lead to committing suicide or murder."
However, the game has proven extremely elusive to track and shut down because it is accessed via emails and private messages via social networking platforms.
Having been linked to suicides and murders across the globe since its inception in 2013, the 'game' has now spread to Egypt, with two young people killing themselves after being ordered to do so as the game's final assigned task. The first, son of former MP Hamdy El-Fakharany, 18-year-old Khaled El-Fakharany, was found to have hung himself in his home in Garbeya governorate at the beginning of April. The second, a sixth grade student from Beheira governorate, died last week from phosphorus poisoning, having ingested poisonous grain-storage tablets.
Egypt's Dar al-Ifta, responsible for issuing fatwas, has declared playing the Blue Whale game religiously forbidden. The fatwa, issued earlier this month, declared that "the users are asked to cut themselves with a sharp weapon such as a needle or a knife, and this act is religiously forbidden. The preservation of a person's life is one of the most important purposes in Islam."
The game, which targets vulnerable young people, often identified and groomed through private online groups, orders its users to undertake 50 tasks. Beginning with seemingly mundane tasks such as waking up very early or watching horror movies (designed to induce sleep deprivation or brainwash with unpleasant images and concepts), the game progresses to assign acts of self-harm, and finishes on the final level with an order to commit suicide, or take the life of a family member. It is known by various pseudonyms, including 'A Silent House', 'A Sea of Whales', and 'Wake Me Up at 4.20am'.
---
Subscribe to our newsletter
---