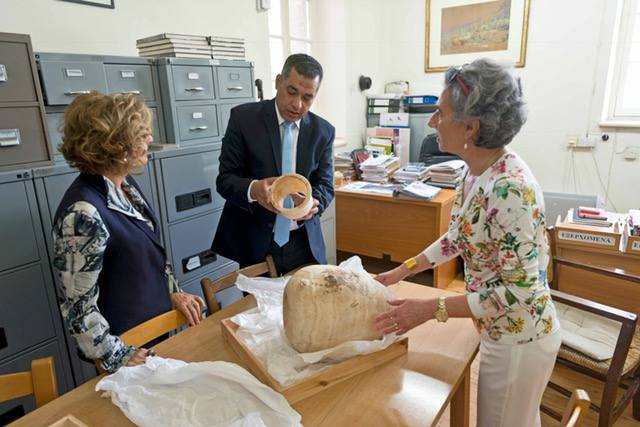 Fourteen ancient artifacts that were stolen and smuggled out of Egypt in the 1980s were returned by Cyprus on Tuesday, according to an official statement by the Ministry of Antiquities.
The items include an alabaster base "decorated with the name of King Ramses II in addition to 13 ushabti figurines and amulets of different shapes, " were seized by Cypriot authorities in the city of Nicosia. Some of the amulets and objects bore representations of goddesses the ancient Egyptian goddesses Sekhmet, Neith and Isis.
Egypt's Minister of Antiquities Khaled Anany praised the Cypriot authorities for their continuous cooperation with Egypt to restore the smuggled artifacts, according to the official statement. Also, the Ministry said that Egypt was informed of the objects' seizure in 2017, and that it succeeded "through diplomatic and legal efforts" to prove its ownership of these artifacts.
According to Shaaban Abdel Gawad, Director General of the Retrieved Antiquities Department of the Ministry, they had been smuggled out of the country after the Antiquities Protection Law was issued in 1983, arriving in Cyprus in 1986.
Following an invitation from the Cypriot authorities, Abdel Gawad travelled to Cyprus to examine the artifacts, which were held at the Cypriot Museum, where he gave a lecture detailing the Ministry of Antiquities' efforts to restore the artifacts and to make the recent archaeological discoveries in Egypt.
The return was timely, occurring shortly after President Abdel Fatah el-Sisi and his Cypriot and Greek counterparts launched the "Nostos: Reviving Roots" initiative in Alexandria on Monday. "Nostos" is a cultural festival being held in Cairo, Alexandria, and Sharm el-Sheikh between 30th April and 6th May, giving Greeks and Cypriots an opportunity to return to their old homes and revive memories of these two communities' historic existence in Egypt.
Sisi highlighted the important place that Alexandria holds in the cultural memory of Egyptians and the peoples of the Mediterranean, noting how Greeks and Cypriots had been settling in the area since Alexander the Great established the city in 332BC.
Sisi also stated that the city remains "an embodiment of the values of tolerance, coexistence and human communication" which "encouraged hundreds of thousands of people in the region to choose to live in Egypt, where they were embraced without discrimination."