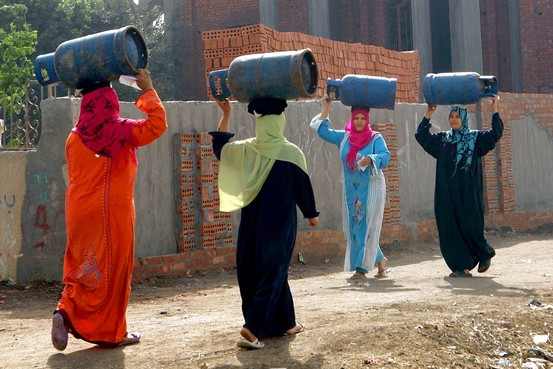 Egypt's cabinet announced on Saturday that natural gas prices for home and commercial use would increase by between 33.3 and 75 percent in August, as stated by the official gazette.
Gas consumption of up to 30 cubic meters was raised by 75 percent, setting its new price at 0.175 Egyptian pounds per cubic meter.
Consumption between 30 cubic meters and 60 cubic meters increased by 42.8 percent, jumping to 0.250 pounds from 0.175, while a 33.3 percent rise for consumption above 60 cubic meters to reach 0.300 pounds.
The news comes amidst a series of tough measures taken last month, which saw Egypt raise fuel prices to meet the IMF loan's reforms that aim to remove fuel subsidies.
Egypt secured a three-year $12 billion bailout loan in 2016 from the International Monetary Fund by taking multiple measures including slashing subsidies, imposing a value-added tax and a currency flotation. Although the economists and business praised the tough austerity measures, poor and middle-class Egyptians find difficulties in adapting to the new prices.
Following the 2011 unrest associated with the ruling of Hosni Mubarak, Egypt's economy is said to be still recovering as Egypt's President Abdel-Fattah el-Sissi declared that Egypt's spending to cover fuel, food and electricity is measured to be $18.6 billion a year.
Prices of new cellular phone lines and monthly cellular phone bills were also raised, as well as charges for issuing passports and car licenses.
While President Abdel Fattah al-Sisi assured the Egyptian population that the country is on "the right track" with its reforms, there are still expectations that these decisions may enflame popular discontent.
"It is without a doubt that the road to true reform is difficult and cruel and that it causes much suffering, but it is also without a doubt that the suffering which comes from the lack of reform is much greater," President El Sisi said in June, on the occasion of the 30th June mass protests anniversary.
---
Subscribe to our newsletter
---