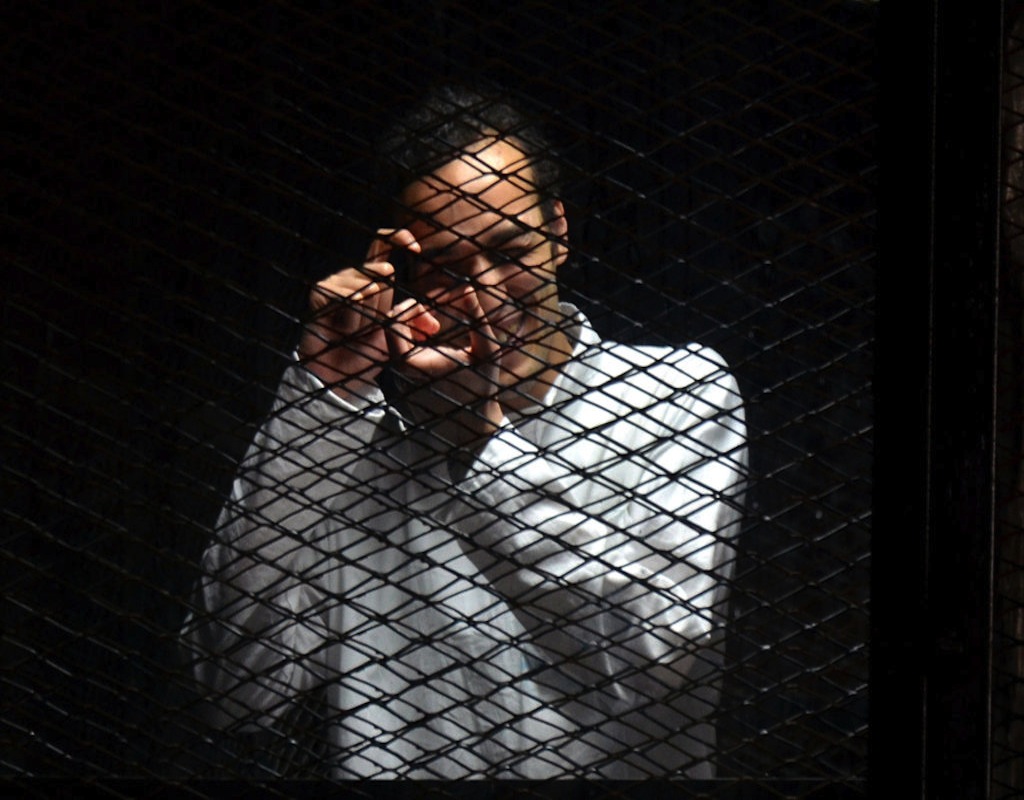 The Cairo Criminal Court sentenced photojournalist Mahmoud Abu Zeid 'Shawkan' to five years in prison over events surrounding the Rabaa Al Adaweya dispersal.
Karim Abdelrady, Shawkan's lawyer, said that he should be able to leave prison in a few days and welcomed the verdict, yet expressed that the sentence was unfair as he was only doing his job.
Shawkan has already spent more than five years in prison, therefore he will not have to spend any longer in prison despite the five year sentence.
Shawkan was accused of launching arson attacks on public utilities, resisting authorities, blocking roads, illegally possessing weapons and organising an armed gathering in Rabaa square.
He has been in prison since August 2013, when he was arrested while covering the clashes between Egypt's security forces and the protesters.
In April, he was awarded the UNESCO Press Freedom Prize, which was criticized by Egypt's Foreign Ministry and the parliament.
Foreign Ministry's Spokesperson Ahmed Abou Zeid said that the accusations against Shawkan are not because of his journalism work, but because of his criminal history.
Nevertheless, the Photojournalists Department at the Press Syndicate in Egypt affirmed its full support to Shawkan in April, adding that there are documents proving that he possessed no weapons, but only his camera.
In an April 2015 letter to Amnesty International, Shawkan wrote,  "I am a photojournalist, not a criminal".
The Committee to Protect Journalists had also started a social media campaign asking people to hold #FreeShawkan placards on Twitter.
Other sentencing
Shawkan was part of a mass trial that on on Saturday saw hundreds of sentences given by the court.
The Cairo Criminal Court sentenced 75 Muslim Brotherhood (MB) members to death on the same day, while former supreme guide Mohamed Badie and 46 other MB members were sentenced to life imprisonment (25 years in jail).
Among those sentenced to death include Safwat Hegazy, Mohamed El Beltagy, Essam El Erian, Abd Al Rahman Al Barr, Assem Abdel Maged and Tarek El Zomor.
Former President Mohamed Morsi was also been sentenced to 10 years in prison,
The prosecution has charged the defendants with numerous charges including the gathering in the Rabaa Al Adaweya Square, illegally possessing weapons, vandalising public property, restriction of the freedom of movement in streets and the murder of citizens.
On August 14 2013, Egyptian security forces and army raided Rabaa Al Adaweya Square, which was occupied by supporters of the former President Mohamed Morsi who was removed from office after the June 30 protests in 2013.
According to the Egyptian Ministry of Health, more than 600 were killed and at least 3,000 were injured, while the Human Rights Watch states that nearly 1,000 died during the dispersal.
---
Subscribe to our newsletter
---