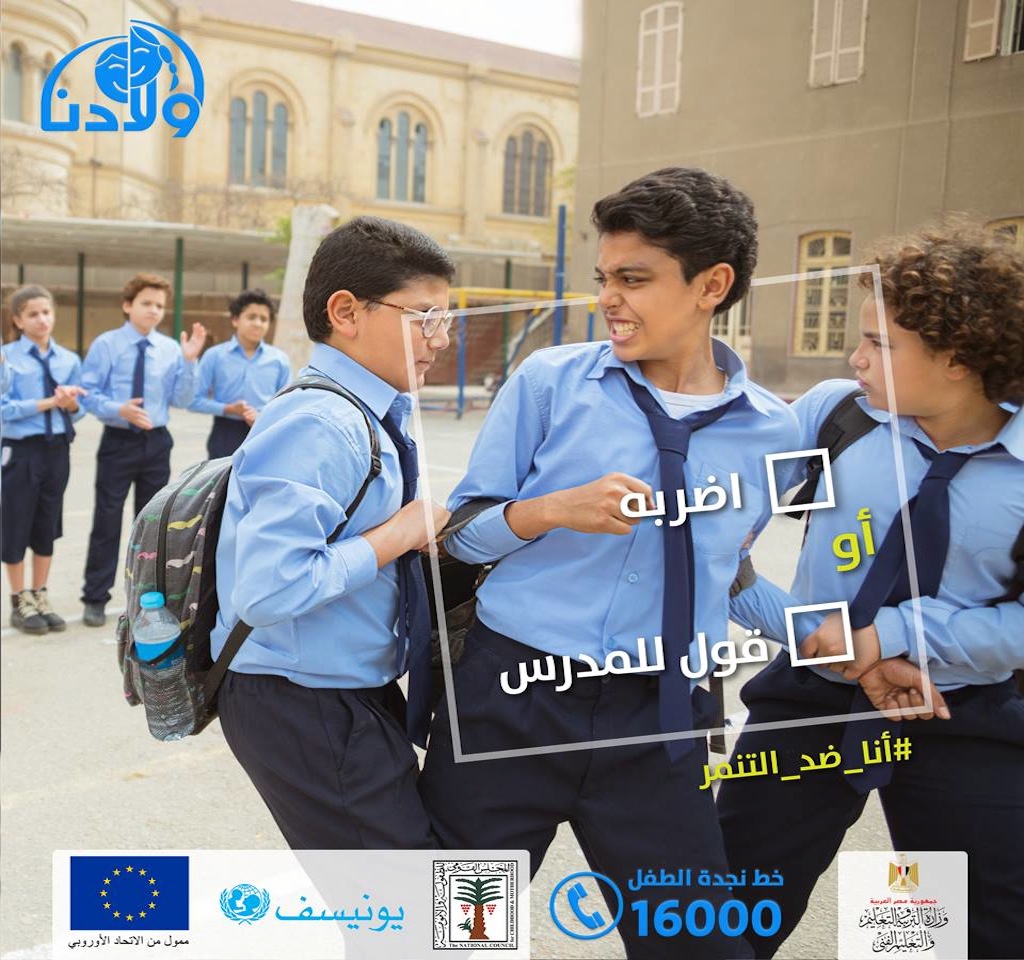 As the school year approaches, Egypt's first national anti-bullying campaign was launched under the auspices of the National Council for Childhood and Motherhood (NCCM) and in partnership with the Ministry of Education and Technical Education (MOETE), with the cooperation of the United Nations Children's Fund (UNICEF) and the funding of the European Union (EU).
The campaign was launched last week and will end in the first week of October, making it a one month campaign that will include regular activity on the campaign's digital platforms to send advice and tips to children, teachers and parents on ways to counter bullying.
It will also involve three public service announcements that will be proclaimed on broadcast and social media as well as several outdoor awareness billboards seen around Egypt.
The step comes after a recent study conducted by UNICEF and NCCM, which revealed that 29-47% of children aged 13-17 reported that physical violence among peers was common.
UNICEF also found that the latest global data showed that 1 in 3 students aged 13-15 around the world experience bullying.
"This campaign urges children, parents, and caregivers to speak up against bullying in educational and non-educational settings and seek guidance from trained professionals through the national Child Helpline 16000 that provides 24/7 support and is an active channel to report severe cases in which the safety of the child is at risk," Secretary General of NCCM Dr Azza Al Ashmawy said.
Dr Tarek Shawky, Minister of Education and Technical Education, affirmed the ministry's full support for this important campaign.
"As Egypt steadily moves towards a full transformation of its education system through Education 2.0, creating a safe and enjoyable learning environment for children is among our priorities," he said.
A number of national celebrities also got involved in the campaign, including UNICEF Egypt Ambassador Actor Ahmed Helmy and Actress Mona Zaki, in which they shared their experiences of bullying on social media and asking people's help to prevent it.
The campaign encourages young people around the country to share their experiences and to suggest ways to stand against bullying using the hashtag #IAmAgainstBullying.
"Bullying disrupts the right of children to play and to learn. All children will benefit from a culture that refuses and speaks up against bullying," said Mr Bruno Maes, UNICEF Representative in Egypt.