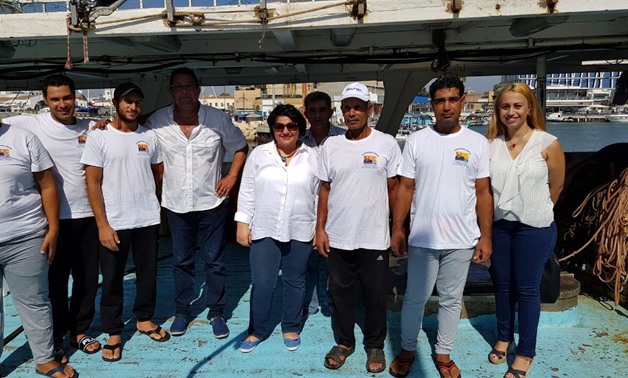 According to an official statement by the Ministry of Foreign Affairs, a number of Egyptian fishermen who had been arrest for breaching North Cyprus' waters were released on Friday.
The five men were received by Egypt's Ambassador Cyprus Mai Taha Mohammed Khali on Saturday, almost a week following their arrest by Turkish forces off the coast of Kyrenia.
Egypt's Foreign Ministry spokesman Ahmed Abu Zeid also stated that the men and their vessel's release followed their payment of a 500 euros fine each (around 10,5000 EGP) by the Cypriot Greek ship owner.
Abu Zeid commended the efforts exerted by the Egyptian Embassy in Nicosia and the Cypriot counterparts.
This year, both parties also collaborated in restoring smuggled Egyptian artifacts.
Fourteen ancient artifacts that were stolen and smuggled out of Egypt in the 1980s were returned by Cyprus in May. 
The return was timely, occurring shortly after President Abdel Fatah el-Sisi and his Cypriot and Greek counterparts launched the "Nostos: Reviving Roots" initiative in Alexandria on Monday. "Nostos" is a cultural festival being held in Cairo, Alexandria, and Sharm el-Sheikh between 30th April and 6th May, giving Greeks and Cypriots an opportunity to return to their old homes and revive memories of these two communities' historic existence in Egypt.
---
Subscribe to our newsletter
---