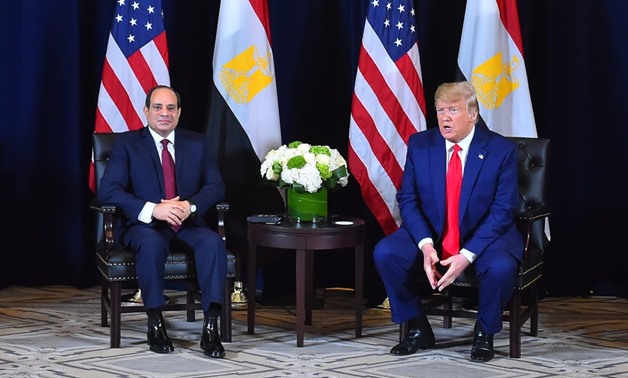 US President Donald Trump reaffirmed his support for his Egyptian counterpart, President Abdel Fattah El-Sisi, in a meeting the two leaders had on the sidelines of the 74th UN General Assembly in New York this week.
When reporters asked whether the US President was concerned about the demonstrations demanding the departure of Sisi. Trump replied, "I think everybody has demonstrations, even your best friend in the whole world, President [Barack] Obama, he had a lot of demonstrations," and called Sisi "a great leader who has eliminated chaos."
On the other hand, Sisi attributed the cause of protests to "political Islam." He said that as long as political Islam craves power, the country will be in a state of  instability. "And public opinion does not accept for political Islam to rule in Egypt again," Sisi explained.
"It is an honor for me to be with my friend the President of Egypt, a real leader, who did really amazing things in a short period of time," Trump said during the joint meeting with his Egyptian counterpart. "There was chaos, and now there is no longer chaos."
During the meeting, Trump revealed that his administration wants to boost cooperation, coordination, and strategic consultation with Cairo in the coming period due to Egypt's pivotal role in the Middle East, according to a statement by Sisi's spokesperson Bassam Rady.
Trump assured that US relations with Egypt are "better than ever," while Sisi highlighted how cooperation between the two countries is important to ensure peace and stability in the region.
The UN General Assembly began yesterday and will run until September 30th. The Egyptian President is currently partaking in several bilateral talks with presidents and government representatives of other UN member states.
---
Subscribe to our newsletter
---