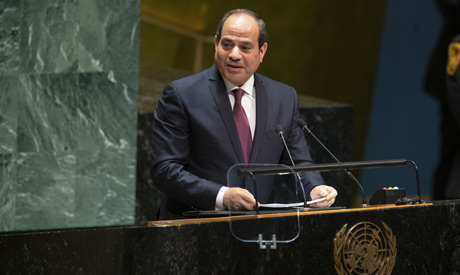 In his speech during the 74th UN General Assembly, Egyptian President Abdel Fattah El-Sisi focused on the importance of each African country finding national solutions to its problems without international interference.
El- Sisi began his speech establishing Egypt's role and vision as a founding member of the UN and a number of regional organizations including the African Union.
"Respecting the principle of national ownership of solutions to national problems is imperative to ensure the effectiveness of the multilateral system. Egypt has a pioneering experience in this regard," El-Sisi said.
As the Chair of the African Union 2019, Egypt's national ownership approach highly benefited several African countries such as the peace agreement in Central Africa and Sudan's power-sharing deal.
El-Sisi urged the removal of Sudan from the states sponsoring terrorism list to allow the country to overcome the upcoming economic challenges with the help of the international economic community.
"Based on the principle of national ownership, African country are fully cognizant with the importance of formulating genuine and effective partnerships in order to address the political and economic challenges they face."
Egypt's president noted that "access to knowledge and technology and develop African human resources as well as mobilize the necessary financing and political support," will allow the African Union achieve its 2063 agenda.
"Africa is a continent of promising opportunities," El-Sisi highlighted in his speech. Africa has potential to become the "new engine of growth for the entire global economy" especially after inaugurating its continental free-trade area.
In order to facilitate communication between international and regional actors, Egypt will host a forum in Aswan in December to "implement international and regional initiatives and mechanisms targeting Africa."
"We must work to rectify the historical injustice our continent has been subjected to."
El-Sisi arrived to the US last weekend to attend the 74th UN General Assembly. Since then, he met with several presidents and political leader including President Trump.
The UN General Assembly began on September 24th  and will run until September 30th. The Egyptian President is currently partaking in several bilateral talks with presidents and government representatives of other UN member states.
---
Subscribe to our newsletter
---