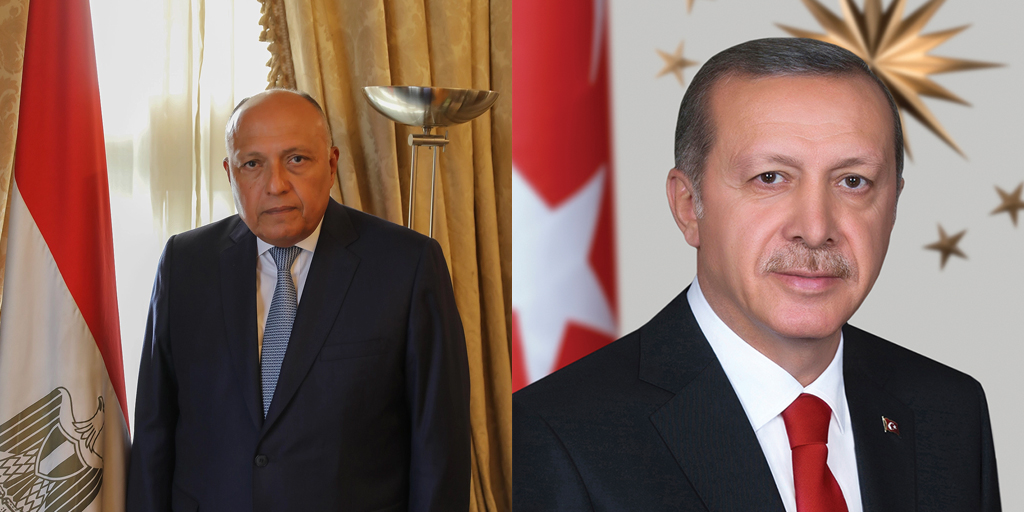 Egypt's Foreign Minister Sameh Shoukry will be travelling to Ankara on 3 June to attend Turkish President Recep Tayyip Erdoğan's inauguration ceremony on behalf of President Abdel Fattah Al-Sisi, according to a press statement on the ministry's Facebook page.
The foreign minister's invitation and visit mark the positive diplomatic momentum between the two countries over the past months.
"The visit is a reflection of the progress in Egyptian-Turkish relations in recent times, as both countries have demonstrated a keenness for fully restoring their bilateral relations to a normal state," stated Shoukry ahead of his attendance.
Shoukry's visit comes after Al-Sisi and Erdoğan swiftly agreed to upgrade diplomatic relations and exchange ambassadors during a call in which the former congratulated the latter on his re-election.
Economic cooperation and coordination on regional matters, such as Palestine, Libya, and Syria, were also discussed during a phone call between the two presidents, according to Egypt's Presidential Spokesperson, who indicated that fostering collaboration in these areas further reinforces the revived rapport between Egypt and Turkey.
Egypt and Turkey's gradual reconciliation progress dates back to a symbolic handshake between Al-Sisi Erdoğan at the sidelines of the 2022 World Cup in Qatar last November, signifying a willingness to thaw tensions.
In a display of solidarity, Shoukry paid a visit to his Turkish counterpart Mevlüt Çavuşoğlu in February after a devastating earthquake shook Turkey and Syria, with Egypt providing assistance and resources to both nations during that time.
The strained relations between the two nations date back to 2013 when President and Muslim Brotherhood member, Mohamed Morsi, was removed from power by the military after a massive popular uprising. Turkey has since served as a regional haven for escaped Brotherhood members, following the Al-Sisi administration's decision to designate it as a terrorist organization in 2013.
President Erdoğan publicly endorsed the group on multiple occasions after their removal from power. His ongoing reconciliation with Egypt, however, marks a shift to a more cooperative foreign policy with the Al-Sisi administration.
---
Subscribe to our newsletter
---