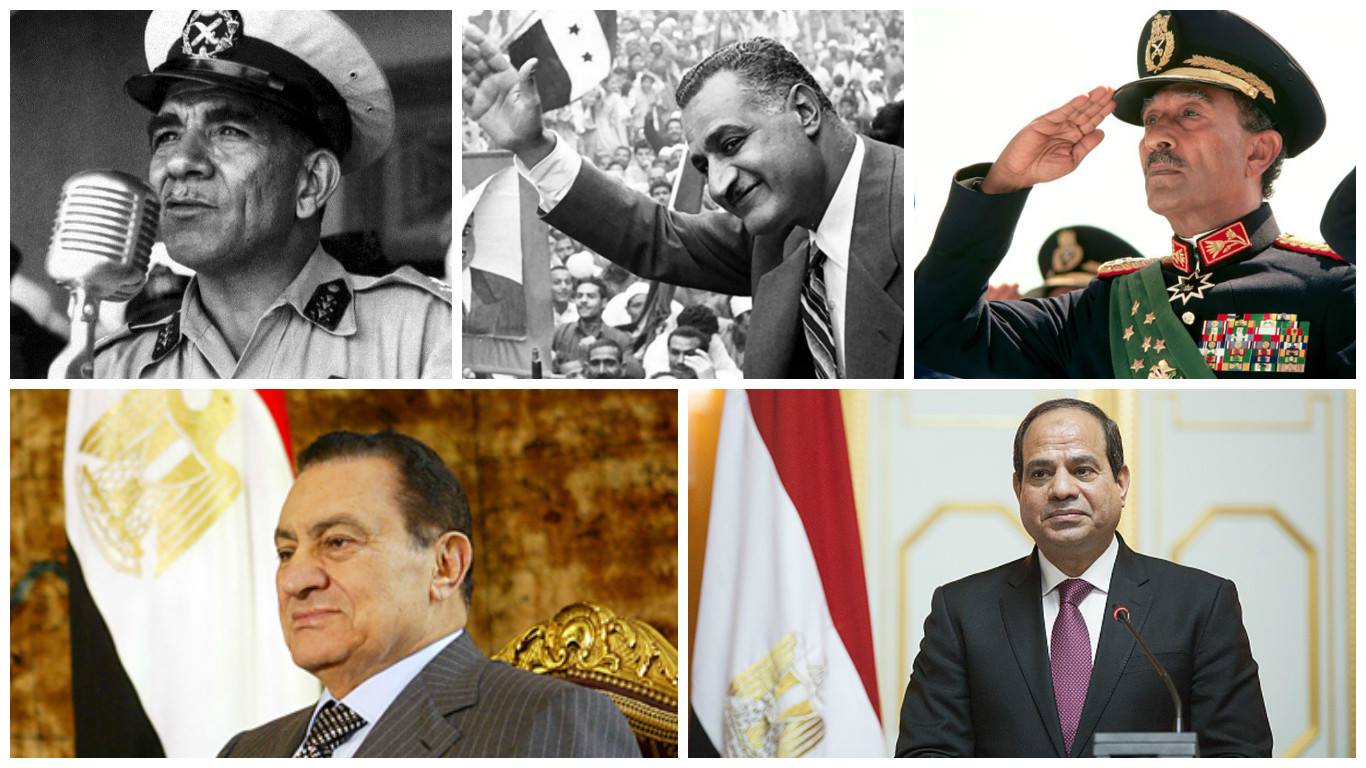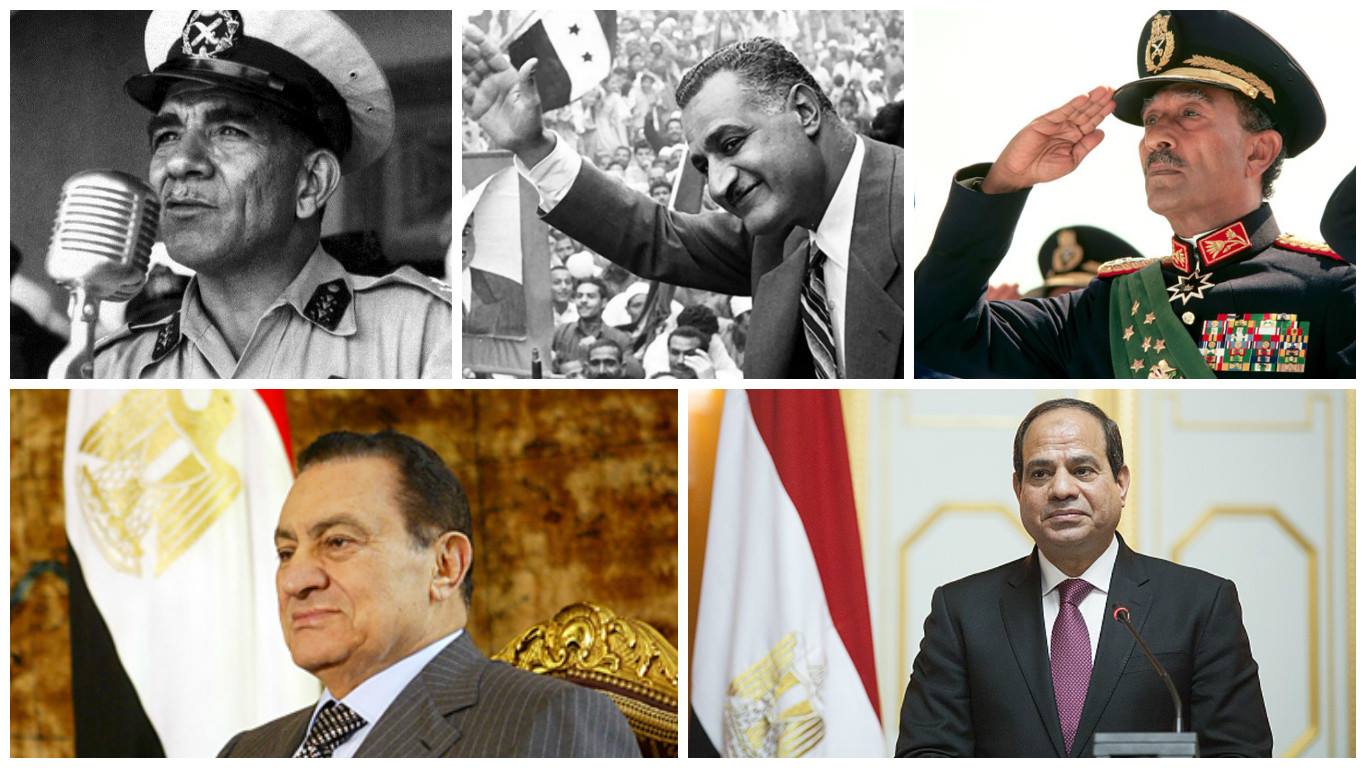 In Egypt, presidents last until further notice. They tend to stay in power beyond their tenure, as if they have an instinct for it.
In an attempt to initiate an era of democracy, by embracing a multi-party system under civilian rule and with no army intervention, the first Egyptian President, Mohamed Naguib (1953-1954), was overthrown by a coup d'état. Accordingly, Egypt's first democratic thinking president, who could have paved a distinct path, ruled for no more than a year. Naguib was later confined to an isolated house until 1972, when Egypt's third president, Anwar El Sadat, freed him.
With Naguib out of the picture came Gamal Abdel Nasser who governed the country for 14 years, exhausting everything in his power to establish an absolute system of one-man rule. He announced a new constitution, which allowed him to appoint and dismiss officials under a single party presidential system. He was nominated as both president and prime minister. And he was warranted authority to dissolve the People's Assembly. Following Egypt's scandalous defeat against Israel in the Six-Day War of 1967, Nasser stepped down to the dismay of the people chanting his name in the streets and begging him to stay. Returning to power, Nasser remained as President until his death on 28 September 1970.
Egyptian Presidents' tendency to hold on to their chairs carried on with El Sadat's 11-year rule, and Hosni Mubarak's lion share of 30 years in power. Each president would replace his predecessor without fair or monitored elections; and the Egyptian people largely remained silent.
This political conundrum is not a unique experience in Egypt. On the top of the list, for instance, is the world's longest serving leader, President Teodoro Mbasogo of Equatorial Guinea. President Mbasogo has been in office for 36 years.
We, as in any pro-democracy person, do not want to experience this anymore.
Egypt's current President Abdel Fattah Al-Sisi managed to jump on top through a so-called "revolution." However, promises of a better Egypt have not been fulfilled. Moreover, our lie detector tool, time, has already proven the president wrong.
Presidential decisions and actions, such the declaring  of the Red Sea islands of Tiran and Sanafir as Saudi Arabian without the consent of neither the Parliament nor the Egyptian people, the rapid increase in prices, and the case of Giulio Regeni call for an elaborate explanation. Promised laws that would combat police brutality and protect the rights of the press remain unfulfilled, while thousands of detainees remain behind bars. The dilemma of the Ethiopian Dam and the country's economic deterioration are yet to be resolved. The democratic dream, envisioning freedom of expression, independence of the judiciary and devolution of power, seems to have been smashed. No one would doubt this. But we feel so apprehensive to speak up.
On the 8th of June 2014, Sisi was officially sworn as Egypt's 6th president. For two years, he has been promising the public a bright-unseen future. But nothing much has been done so far.
It is not merely his authoritative power that is keeping Sisi from failing but more remarkably, the votes he controls and the minds he manipulates. The issue here is that he could stick to the position he fought for; he could request or order a constitutional amendment after his term is over and he could very well remain in office until God knows when.
In a typical democratic atmosphere, after two terms, the ruler should pass on his place to another. But in our case, I am afraid that this will not happen. Even if he pulled out, the successor would probably be another military official: A different person with the same underlying ideology.
Who can stop this from happening? We can.
A very serious matter that I have noticed in this unbalanced period of power between the people and the leadership was that at the end of the day, we are not really afraid of anything. We simply do not speak up unless guns are pointed straight to our own heads.
The Doctors Syndicate only revolted when clashes took off between some doctors and the police. The Journalists Syndicate started a strike when two journalists were arrested for the first time in Egyptian history from inside the Syndicate's headquarters. The Thanaweya Amma students marched onto the streets when their exam dates were changed. Every one of us lives peacefully unless something affects us directly; only then do we start to act. We are not so terrified, but we need to stand up a little bit for each other.
The people are why revolutions succeeded and why coups fail. Why do presidents last beyond their expiration dates? Because we let them.
---
Subscribe to our newsletter
---