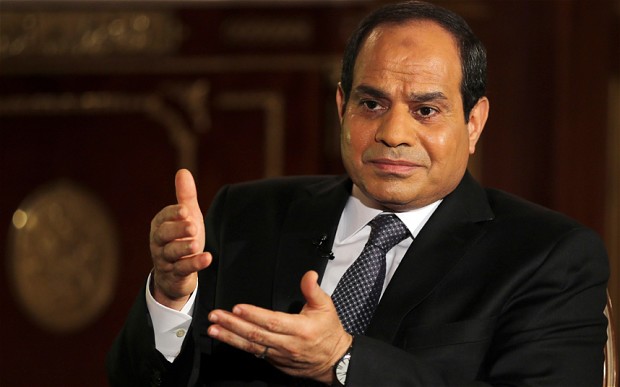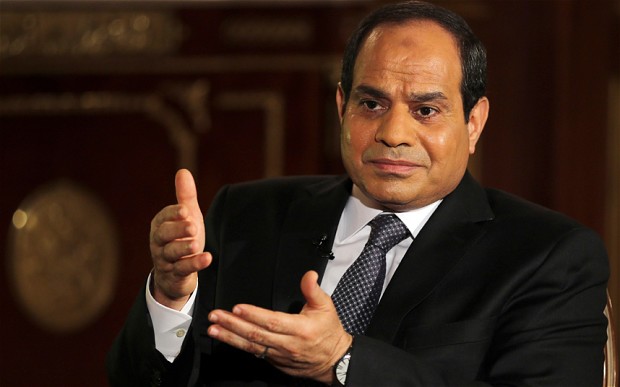 Egyptian president Abdel Fattah al-Sisi said during a visit to France on Tuesday that there are no political prisoners in Egypt.
"We have no political prisoners," the president told France24 in a televised interview, stressing that "everything has been done according to the law within its jurisdiction".
"A person placed under arrest is one who has been arrested on certain charges that will see them put on trial," the president said, adding "either he is acquitted or convicted."
Egypt has been accused by local and international rights group for carrying out sweeping rights violations, including the imprisonment of up to 60.000 citizens on political grounds.
The country's National Security authorities are not only imprisoning people on unprecedented levels, but are also carrying out systematic torture of political prisoners, deemed by Human Rights Watch as "probably amounting to a crime against humanity".
According to the Cairo Institute for Human Rights Studies, Egyptian authorities under president Sisi have taken a series of legal and security measures "to eliminate opposition voices, stifle freedom of expression, harass journalists, and crush independent worker's movements."
Fair and free judicial trials, the right to life and freedoms of assembly and association "have been systematically violated," a recent report stated.
President Sisi's visit to France is his third since assuming the presidency in 2014. He will spend three days in the country during which he will meet with his French counterpart Emmanuel Macron in addition to other senior officials and high-ranking businessmen, a statement by the presidency read.
According to the statement, the visit is also expected to boost economic cooperation between the countries.
Bilateral trade between Egypt and France increased in the first eight months of 2017, with French exports rising 9.2 percent while imports of Egyptian products saw a 21 percent rise.
On its part, the French Élysée Palace said in a statement that the presidents would also discuss ways of enhancing cultural, education and military relations between the nations.
Ahead of Sisi's visit, French and international rights groups called on the European nation to highlight rights violations in Egypt.
Human Rights Watch urged President Macron to end France's "disgraceful policies of indulgence" towards the Egyptian president.
"The French government should ensure that human rights are central to its relationship with Egypt," the NGO said in a statement.
Money will, however, most likely trump issues of human rights. Egypt has in the past years turned into a key market for French exports.
On the military front, a number of major arms deals have been signed between the countries. In 2015, Egypt signed a deal worth EUR 950 million to buy two Mistral warships from France while three Rafael fighter jets were delivered to Egypt following a deal signed earlier in the year.
During former French President Francois Hollande's visit to Egypt in April 2016, the two countries signed agreements worth over $US 2 billion, including deals in the fields of energy, defense and security.
French investments in Egypt exceed $US 4 billion, making France the sixth largest foreign investor in the country. Egypt also represents France's primary market in the Middle East.
Commenting on the human rights situation in the country, President Sisi told France24 that rights groups "have to be better informed of the Egyptian situation, especially as sometimes information is spread around incorrectly".
He also underscored that Egypt is subject to deliberate meddling from external actors.
"There is a systematic campaign against Egypt that we have talked about before."
The interview also discussed several other issues.
On terrorism, Sisi said that it poses a "threat not only to Egypt and Arab states, but to the whole MENA region and Europe," adding, "we all have to move together, not just Egypt and France, but all the countries of the world should take note, because it is the real challenge for humanity and the security and stability of the whole world."
Commenting on Friday's attack in Egypt's Wahat, which according to official Egyptian sources killed 16 members of the security forces, Sisi said he did not want to name any particular countries who may have been behind the operation.
"I don't name specific countries, but there are countries that fund terrorism by way of money and weaponry, while providing support to fighters through media and political support," he said.
On the diplomatic crisis with Qatar, the president was asked whether the boycott of the tiny Gulf nation was in reality due to its ties to the now-banned Muslim Brotherhood.
"The 14 demands stipulated by the boycotting Arab countries include this, as well as suspending support to such groups, and the non-interference in the domestic affairs of other countries."
"We have the right to reject any country interfering in our domestic affairs," Sisi said.
Alluding to Qatar's supposed support for terrorism, Sisi said, "we're not making strange demands. We're just asking to live without other states interfering, or supporting terrorism or extremists through such countries".
Critics have lamented that Egypt's hardline approach to domestic oppositionists may in fact contribute to the increase in terrorist activities.
"Egypt's counterterrorism policy, shadowed by grave abuses and used as a pretext to stifle all forms of peaceful dissent, maybe cultivating an environment of radicalisation," HRW said in its statement.
"Young people are left with no means to peacefully express their opposition […] Violent attacks have been generally on the rise. Several studies have shown that prisons in Egypt are becoming a fertile environment for radicalization," the NGO continued.
Urging Macron to take concrete steps to alleviate the human rights situation in Eygpt, HRW commented, "Saying that issues are discussed but continuing to take no action would be like sweeping the grievances and pains of Egyptians under the carpet."
---
Subscribe to our newsletter
---