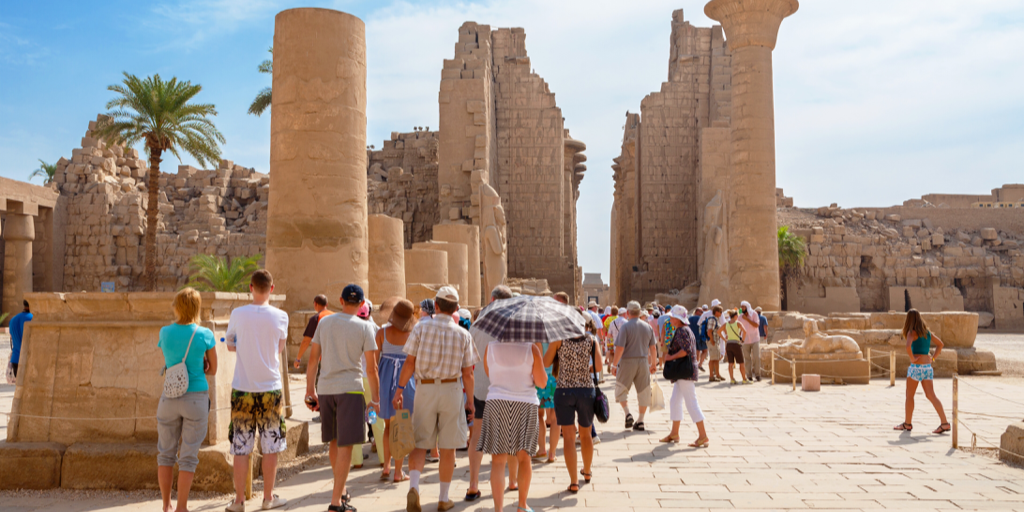 Egypt's Minister of Tourism and Antiquities, Ahmed Issa Taha announced on Wednesday, 15 March during a cabinet meeting with Egyptian Prime Minister Mostafa Madbouly, that Egypt saw 11.7 million tourists in 2022 with an expected increase of 28 percent in 2023.
The statement, which was shared on the Cabinet's Facebook page, also highlighted a 35 percent growth rate which the tourism sector witnessed during the months of January and February, in comparison to the same period last year.
The increase comes after a series of directives were set in place by the Egyptian government to boost tourism, one of which was facilitating the process of obtaining a tourist visa. Taha also expressed that Egypt needed to increase its hotel capacities and continue collaboration with travel operators and international airlines.
By September 2022, hotels in Egypt had seen an increase of 63.3 percent from the year before, with the number of nights spent by tourists amounting to 52.6 million.
Egypt's inbound tourism has been increasing steadily since 2021, with the first half of 2022 seeing an influx of 4.9 million tourists, an increase from the year before which welcomed 2.6 million, according to a report by the Central Agency for Public Mobilization and Statistics (CAPMAS).
Over the past few years, the Egyptian government has been capitalising on international events to promote tourism within the country. In 2022, for the FIFA World Cup, which took place between 20 November to 18 December in Qatar, Egypt put in place a plan to facilitate visa procedures for those holding the Hayya card, a digital identification card granted to ticket holders for the world cup. The digital card grants its holder entry into Qatar, along with access to a number of services. In addition, hotels in Hurghada and Sharm El-Sheikh were directed to apply reductions to their rates online.
During another meeting that took place on the same day, Prime Minister Mostafa Madbouly discussed the remaining work plan on the Grand Egyptian Museum (GEM) and its surroundings, prior to its official opening. Egypt's government intends to turn the Giza plateau into a prime tourist destination, complemented by the Sphinx International Airport.
---
Subscribe to our newsletter
---