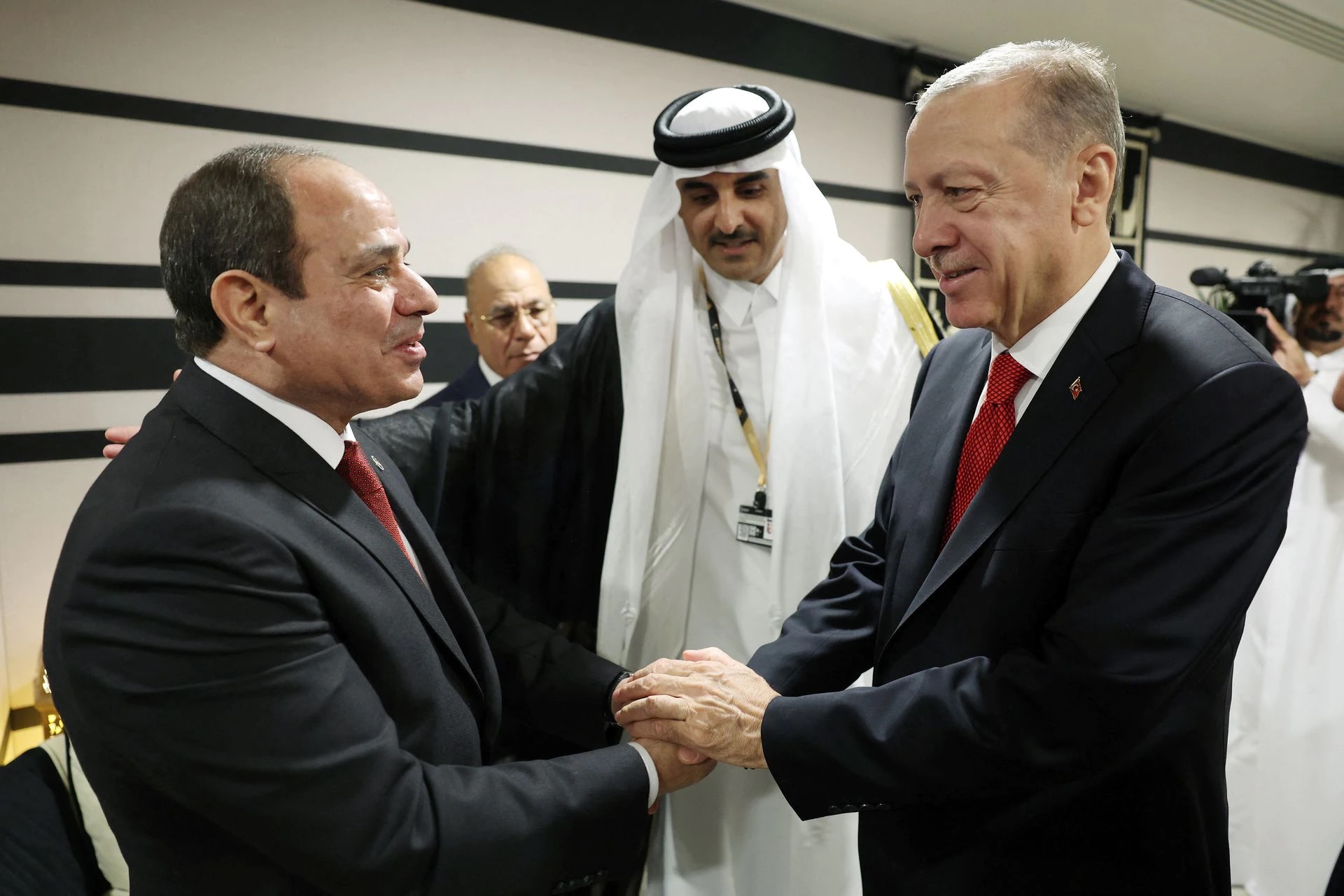 Egypt's President Abdel Fattah Al-Sisi and his Turkish counterpart Recep Tayyip Erdoğan have agreed to strengthen diplomatic relations and cooperation between the two countries, said Presidential Spokesperson Ahmed Fahmy in a statement released on Monday, 29 May.
The agreement came after Al-Sisi called Erdogan to congratulate him on his reelection for a new presidential term.
During the phone call, the two presidents agreed on reinstating ambassadors. Both parties also reiterated the historical ties between the two countries and their commitment to promoting cooperation between them, the spokesperson added.
Since November of last year, reconciliation efforts between Egypt and Turkey have been gradually progressing, after a symbolic handshake between Al-Sisi and Erdogan at the sidelines of the 2022 World Cup in Qatar marked the beginning of thawing tensions.
In February, Egyptian Minister of Foreign Affairs Sameh Shoukry visited Turkey in a show of solidarity following the devastating earthquake that shook both Syria and Turkey early this year. Egypt had sent aid and resources to Turkey at the time.
The two countries have not seen eye to eye since 2013, when former Muslim Brotherhood-aligned president Mohammed Morsi was ousted. Turkey has long been known as the regional hub for the Muslim Brotherhood's international organization, and Erdogan has defended the Muslim Brotherhood publicly several times. The Muslim Brotherhood has been designated a terrorist organization in 2013.
This is one of the many reconciliation efforts happening throughout the region. In September of last year, Al-Sisi visited Qatar following the diplomatic reconciliation between the two countries. Moreover, the Arab League allowed Syria back into its fold earlier this month after twelve years of exclusion due to its crackdown against civilians following the 2012 uprising, and its failure to implement terms of a peace deal to stop its internal crisis.
---
Subscribe to our newsletter
---