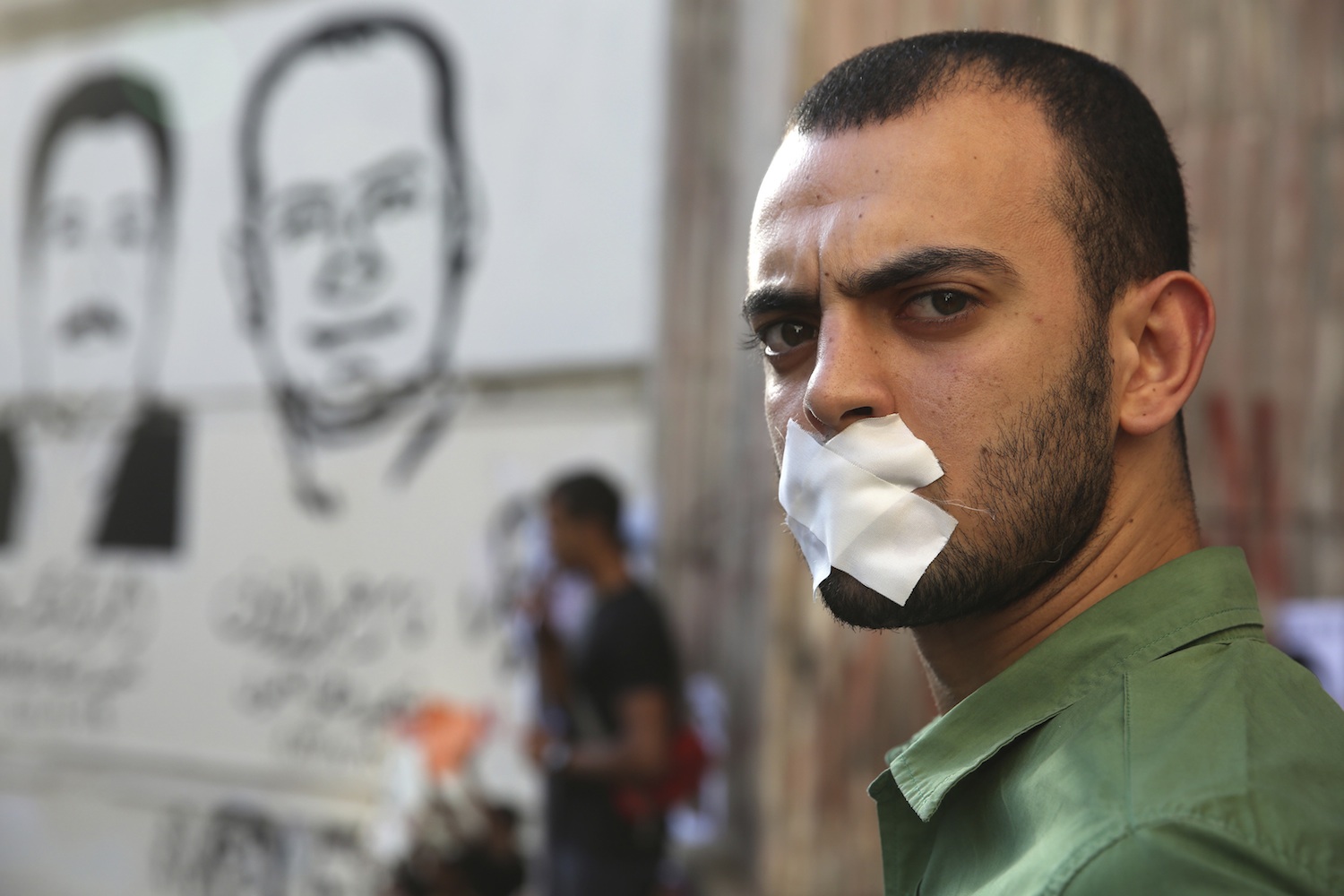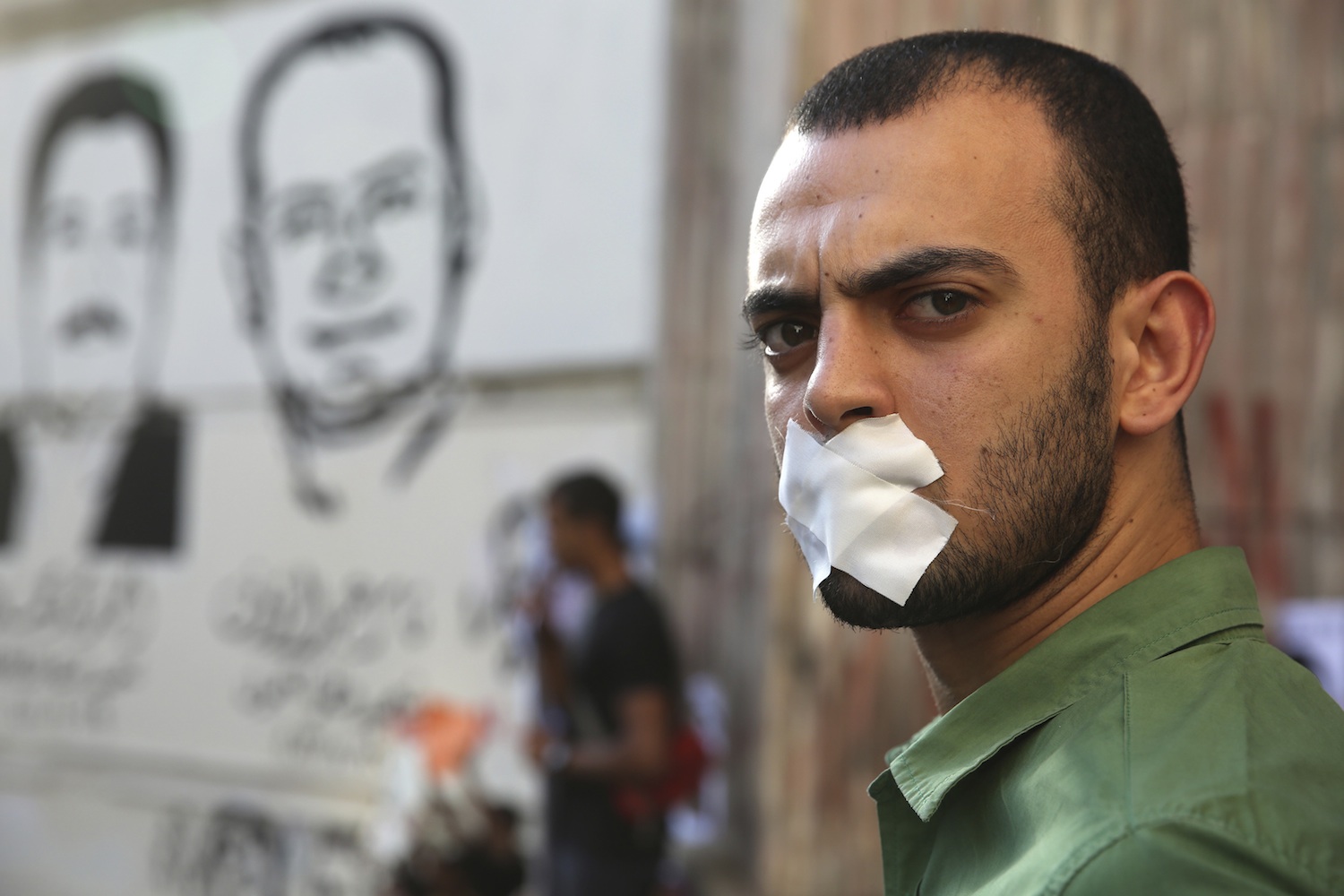 A number of international human rights organizations issued statements on Wednesday harshly criticizing the renewed uptick in repression by Egyptian authorities against pro-democracy activists in Egypt.
In recent weeks, authorities have banned human rights workers from travel, interrogated them and frozen their assets, in addition to ordering several organizations to be dissolved.
Egypt has recently decided to reopen a legal case dating back to 2011 against a number of NGOs over allegations that they receive unlicensed funding from foreign countries. The original case from 2011 – which was opened five months after the ouster of then-president Hosni Mubarak – included the raiding of 16 NGOs in Cairo in December of that year, which led to the prosecution and sentencing to prison of 43 employees of Egyptian and foreign NGOs.
The defendants of the reopened case include the founder of the Egyptian Initiative for Personal Rights Hossam Bahgat and the CEO of the Egyptian Democratic Academy Gamal Eid, whose assets have been frozen. Last month, Bahgat and Eid were both barred in separate instances by Egyptian authorities from traveling abroad from Cairo International Airport.
Negad El-Borai, director of the leading civil society organization United Group, was interrogated for several hours on March 3, 2016, while facing charges that include "establishing an unlicensed entity… with the intent of inciting resistance to the authorities, implementing human rights activities without a license… and deliberately spreading false information with the purpose of harming public order or public interest."
Employees and the director of the prominent feminist organization Nazra for Feminist Studies have also been summoned by Egyptian authorities for questioning over receiving funding from abroad.
In February, the Nadeem Center for the Rehabilitation for Victims of Violence and Torture was ordered to be closed, with authorities claiming they "conducted activities beyond their mandate, such as the publication of torture reports," according to the NGO.
Meanwhile, Egyptian high school student Mahmoud Mohamed Hussein was released on bail after spending over two years in pre-trial detention for wearing a wearing a campaign shirt for anti-torture group "Nation Without Torture." Although his pre-trial detention had exceeded the two-year maximum, the prosecution appealed the decision to release him. However, a court upheld the decision and Hussein has since been released.
Following the recent crackdown, a number of international human rights groups, in addition to the American and German governments, have expressed criticism over Egypt's renewed crackdown.
United Nations High Commissioner for Human Rights Zeid Ra'ad Al Hussein expressed on Wednesday his concern over the closure of hundreds of civil society organizations and the arrest and prosecution of human rights defenders.
"This looks like a clampdown on sections of Egyptian civil society and it must stop," said Zeid. "NGOs who have played a valuable role in documenting violations and supporting victims will see their activities completely crippled if this continues. This will stifle the voices of those who advocate for victims."
He went on to say, "Everyone has the right to receive funds to promote human rights through peaceful means. The Egyptian authorities must stop all prosecutions targeting legitimate human rights activities and in particular terminate the cases against Hossam Bahgat and Gamal Eid, who by international standards have clearly not committed any crime."
Human Rights Watch urged Egypt to stop targeting human rights groups and end the investigations against them.
"The authorities should halt their persecution of these groups and drop the investigation, which could threaten human rights defenders with up to 25 years in prison, the organizations said," a statement signed by 14 organizations, including HRW, read.
HRW's Deputy Middle East Director Nadim Houry said that Egypt has "moved beyond scaremongering" and is moving towards shutting down "the last critical voices in the country's human rights community."
On his part, Said Boumedouha, Deputy Director of Amnesty International's Middle East and North Africa Program, underscored that "Egypt's civil society is being treated like an enemy of the state, rather than a partner for reform and progress."
The German and American governments have also made remarks with regards to Egypt's increased repression.
In an official statement released on Tuesday, the German Foreign Office expressed its "great concern" over the measures taken by Egyptian authorities in recent weeks, adding that "these steps not only contravene international human rights standards, but also the Egyptian Constitution."
Last week, the U.S. Secretary of State John Kerry said that he is deeply concerned "by the deterioration in the human rights situation in Egypt in recent weeks and months, including the reported decision this week by the Egyptian government to reopen an investigation of Egyptian non-governmental organizations (NGOs) documenting human rights abuses and defending the freedoms enshrined in Egypt's constitution."
Egypt denies that it is violating human rights; in an interview with Foreign Policy last month, Foreign Minister Sameh Shoukry denied that Egypt has 40,000 political prisoners, maintaining that this number is inaccurate. He also said that the West's focus on Egypt's human rights record is "unfair" in light of its lack of support for Egypt in its fight against terrorism.
---
Subscribe to our newsletter
---