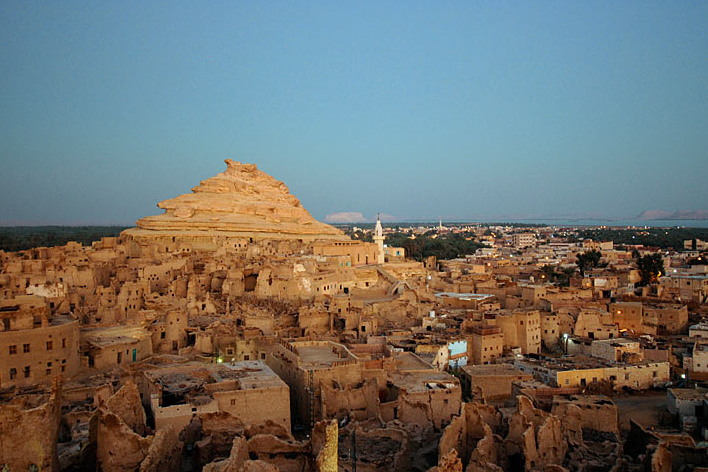 Following an official visit by the Minister of Antiquities Khaled El Enany, Minister of Tourism Rania Al-Mashat, Head of the European Union Delegation to Egypt Ivan Surkoš along with 14 foreign ambassadors to Cairo in Siwa, a new conservation and restoration project targeting the oasis' ancient remains was announced.
The ambitious European Union-funded conservation project of Shali village, located at the heart of the oasis, is set to be completed in 2020 . It aims at not only reviving the local economy of the site but also setting the location as a eco-tourism destination, strengthening the idea once proposed by Marsa Matruh's governor in 2017.
The news was announced following the re-opening of the Shali's old mosque, Tatnady, to the public after restoration work which began in 2017.
Surkoš revealed that Siwa was among his favourite destinations in Egypt according to Egypt Today. He also revealed that the EU will finance the Shali Castle restoration and  a medical center for Siwa's inhabitants.
Siwa's inhabitants are largely known as Siwis; they are mostly from Berber origin and have a strong cultural link with Morocco. The inhabitants mainly gain an income from agricultural activities involving dates and olives, crafts and tourism.
Locals, namely men, often prioritize touristic activities for an income and they are known for being apt desert navigators.
Shali village is currently abandoned. Heavy rains at the beginning of the 20th century left the village uninhabitable. However, the site is still an object of curiosity to the oasis' perpetual tourists and travelers.
The oasis' proximity with the Libyan border has made the destination one that many are afraid to venture to, nonetheless, it remains as one of Egypt's best kept and historically significant sites.
Last year, archaeological discoveries were made in the region: one of a Greco-Roman temple and the other of a Roman temple remains near the village.
---
Subscribe to our newsletter
---