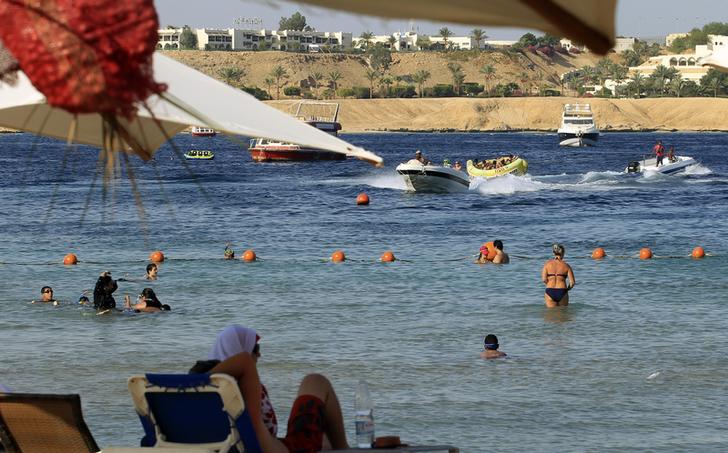 British travel agency Thomas Cook has announced an extension on its cancellation of all flights and holiday packages from the United Kingdom to Egypt's resort town of Sharm El Sheikh up to and including March 23, 2016.
Days after a Russian passenger plane crashed over Egypt's Sinai, killing all 224 onboard, the British government suspended flights between the UK and Sharm El Sheikh due to the "strong possibility" that the plane was brought down by a bomb.
Despite Russian officials claiming the plane was brought down by a bomb, Egyptian investigators have said there is no evidence so far of terrorism linked to the crash.
Thomas Cook's extension comes weeks after the British Ambassador in Cairo John Casson announced that Egypt and the United Kingdom had "finalized" a "joint action plan" to resume flights between the two countries "as soon as possible."
Casson said that, as the British government was the first to "take precautionary action" towards the situation in Sharm El-Sheikh, it is working to be the first to find a solution.
On Tuesday, Egypt's Minister of Tourism Hesham Zaazou announced the decision to hire a British consultancy firm to review security at some of Egypt's airports, in hopes of restoring tourists' trust in the country's safety.
Earlier this month, Samy Mahmoud, the Head of Egypt's General Authority for Tourism Promotion said nine million tourists visited Egypt in 2015, a number which fell short of the Ministry of Tourism's hopes of attracting up to 18 million tourists this year.
According to Mahmoud, the dip in tourism has led to Egypt's loss of EGP 2 billion in monthly revenue.
Since the January 25 revolution, Egypt has faced difficulties attracting tourists to the country. In 2010, 14.7 million tourists visited Egypt.
Tourists are not the only ones who have avoided Egypt. Recently, a world squash championship that was due to be held in Cairo was cancelled amid 'security concerns'. Meanwhile, several international corporations have shut down their offices in Egypt.
The decline in the number of tourists has negatively impacted the four million Egyptians who work in the tourism sector. Tourism accounts for 12.6 percent of total employment in Egypt and for about 12 percent of the economy.
---
Subscribe to our newsletter
---