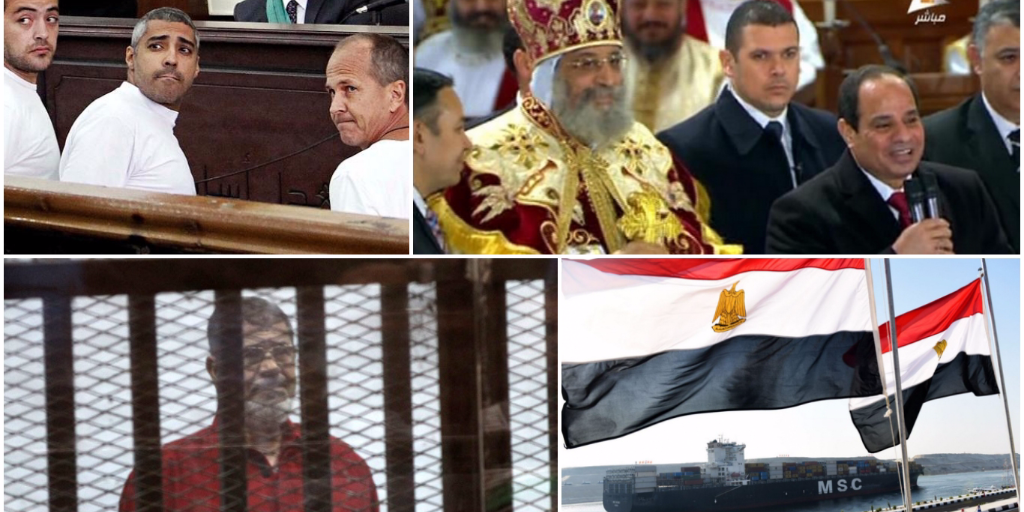 From massive economic projects to international disputes and accords to downing of the Russian plane: A review of major events that took place in and to the country over the course of the year.
Egypt's Sisi Visits Christmas Mass, Marking First Time for an Egyptian President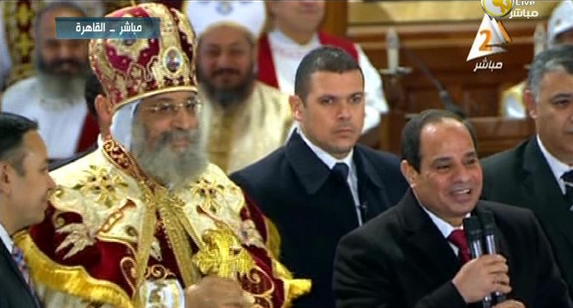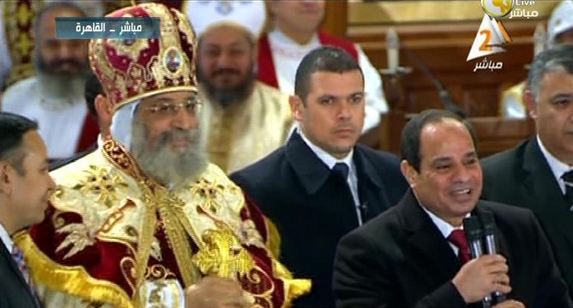 Egypt's President Abdel Fattah El-Sisi became the first Egyptian head of state to visit a Christmas ceremony when he attended a mass in the Abbasiya Cathedral on January 7. El-Sisi interrupted the mass and delivered a speech amid cheers and applause.
Egypt Launches Airstrikes Against Islamic State Fighters in Libya
The Egyptian armed forces carried out airstrikes against ISIS in Libya after 21 Coptic Egyptians were kidnapped and killed in the city of Sirte in February. The strike hit camps, training sites and ammunition and weaponry warehouses, killing 64 ISIS fighters in Egypt's western neighbor.
Russia and Egypt Announce Plans to Build Egypt's First Nuclear Plant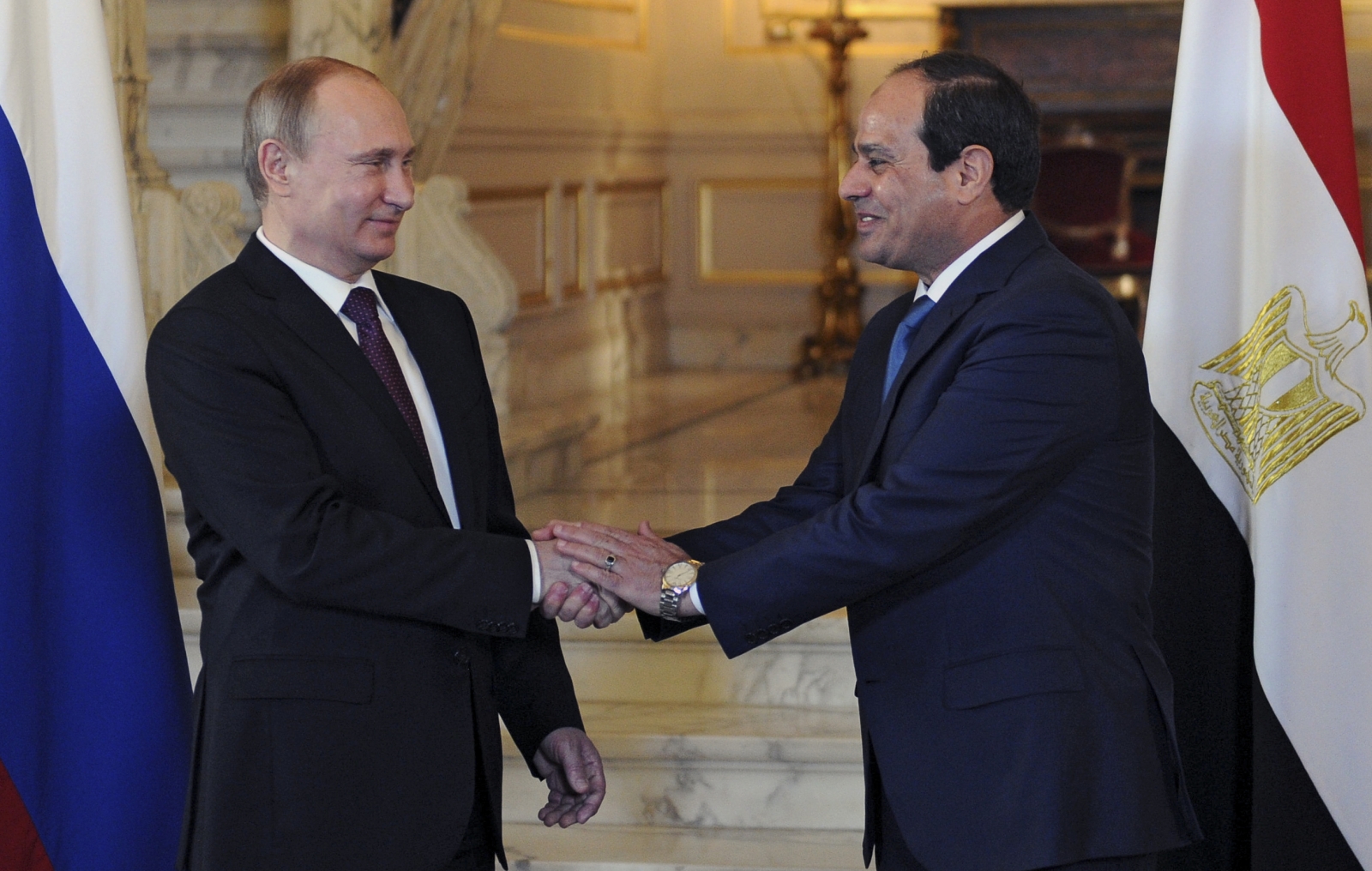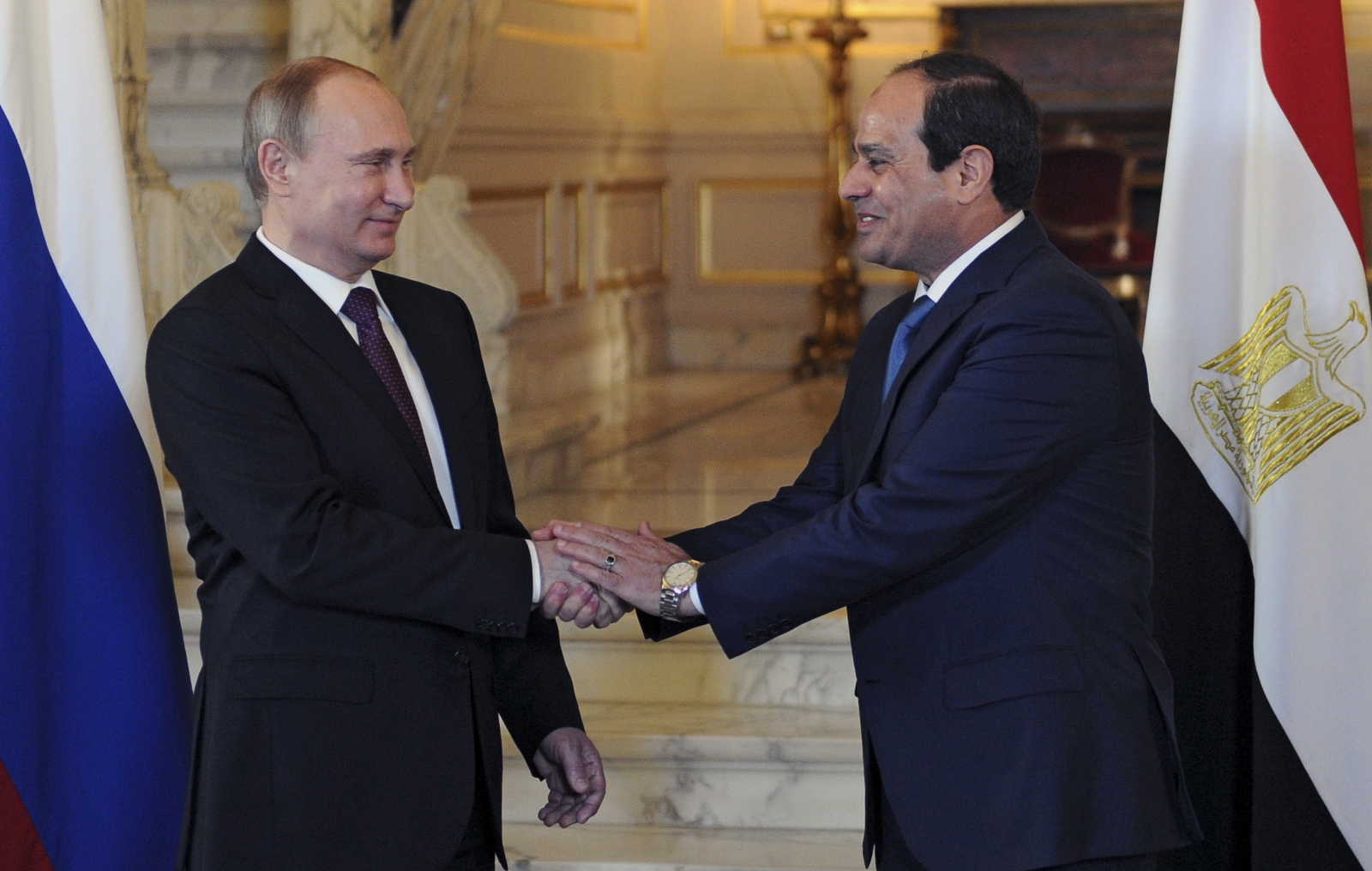 El-Sisi and his Russian counterpart Vladimir Putin agreed on a nuclear cooperation deal during the latter's visit to Egypt in February. Both countries' nuclear authorities signed the agreement to establish the Dabaa nuclear power plant later in November, setting the foundation for the construction of two nuclear power units, while a total of four units will be constructed.
22 Football Fans Killed in 'Stampede' After Police Use 'Excessive Force'
At least 22 football fans were killed in February after police attempted to disperse the crowds of spectators entering the Air Force Stadium in Cairo. Hardcore fan group Ultras White Knights described the violence against Zamalek Club fans as a "deliberate massacre" at the sporting event marking fans' returns to stadiums after a yearlong ban on attending all domestic matches was lifted. The ban was implemented following the death of 74 supporters of Al-Ahly club in February 2012.
Egypt Attracts Billions in Aid and Investments Through Economic Development Conference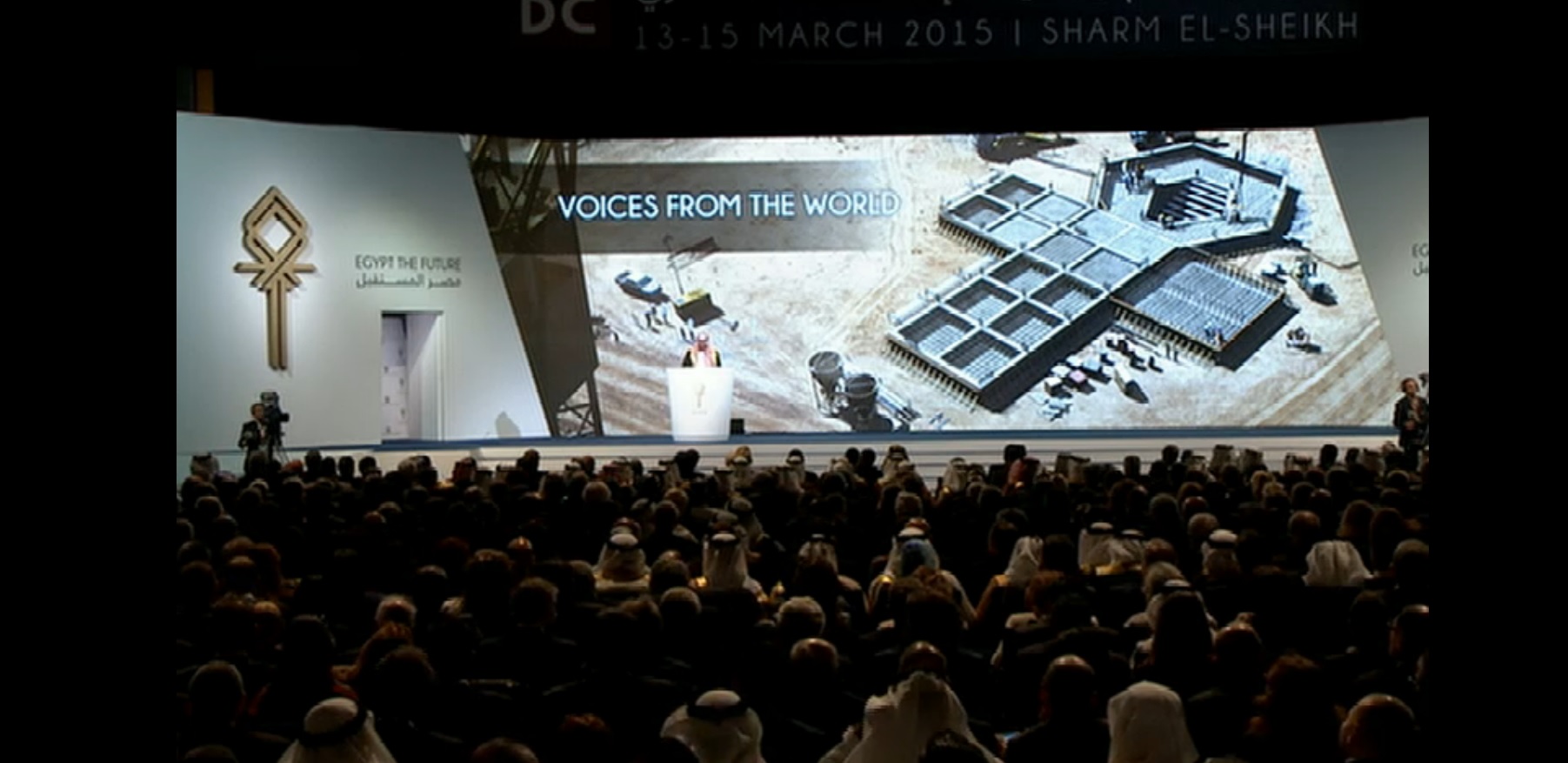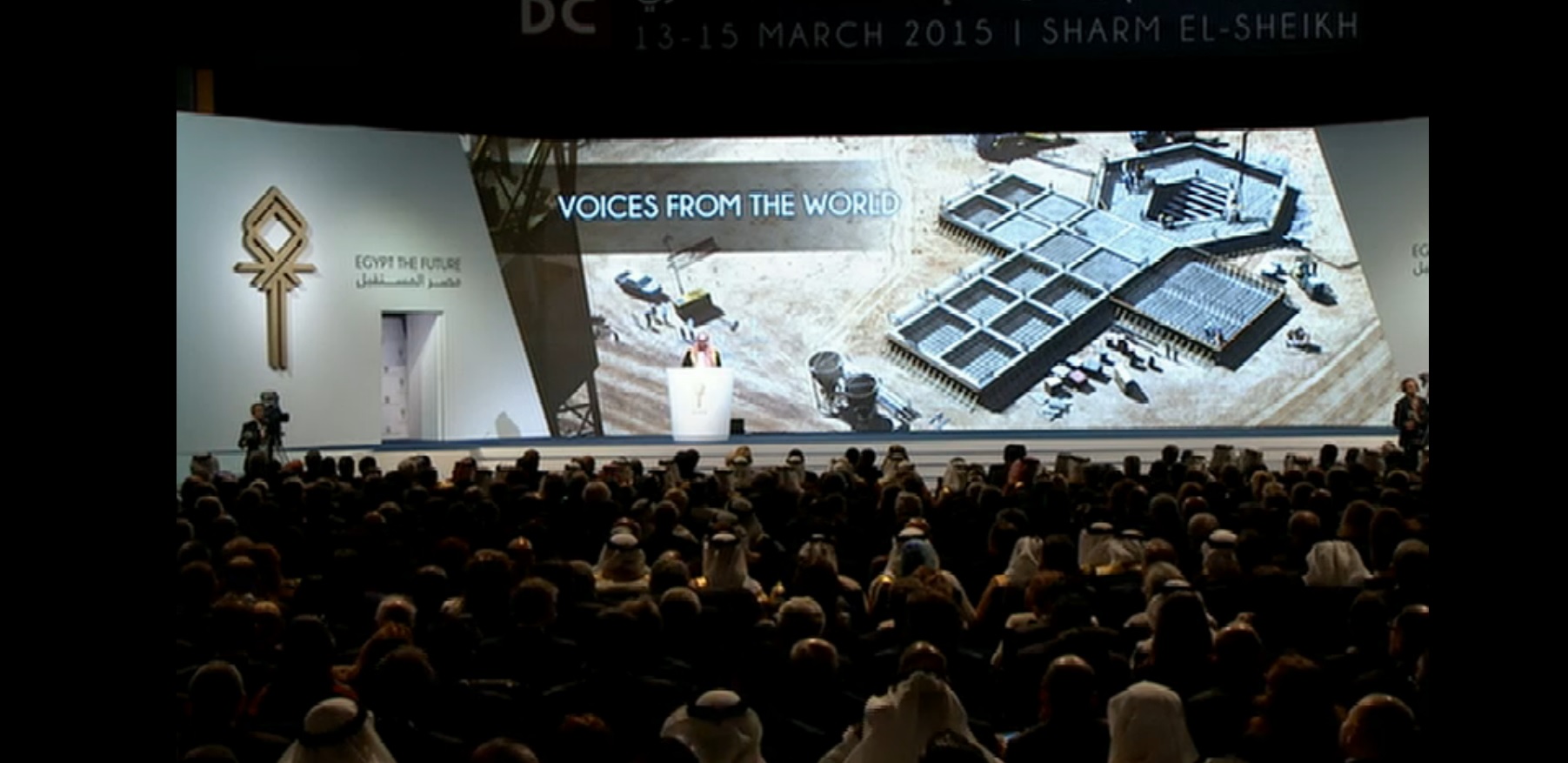 The highly publicized three-day Egypt Economic Development Conference took place in Sharm-El Sheikh in March, landing Egypt USD 12.5 billion in aid from Gulf countries and USD 60 billion worth of investments. El-Sisi declared the summit should be held annually to support the Egyptian economy, which he claimed is in need of USD 200 billion to USD 300 billion to recover.
Egypt, Ethiopia, Sudan Negotiate Terms of Grand Ethiopian Renaissance Dam
Egypt, Ethiopia and Sudan reached an accord regarding the Grand Ethiopian Renaissance Dam after being locked in years of political dispute. Egyptian President El Sisi, Ethiopian Prime Minister Hailemariam Desalegn and Sudanese President Omar Al-Bashir signed a preliminary agreement to regulate the dam usage in March but tension has started to arise again in recent months over the water conflict.
Egypt Participates in Anti-Houthi Military Intervention in Yemen
Egypt joined the Saudi-led coalition against the Houthis "to restore stability and legitimacy in Yemen through returning Yemeni President Abd Rabbuh Mansur Hadi to power" after the Shia rebel movement made advances onto the Yemeni south. The military operation left thousands dead, injured and displaced.
Ousted Egyptian President Morsi Receives Two Death Sentences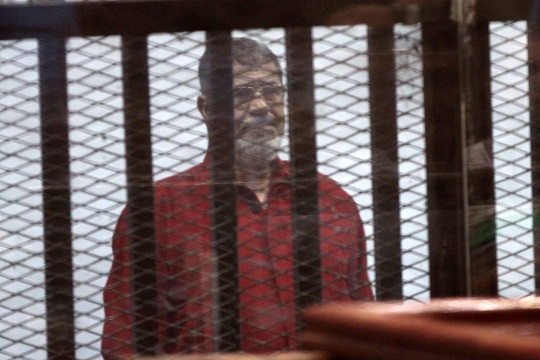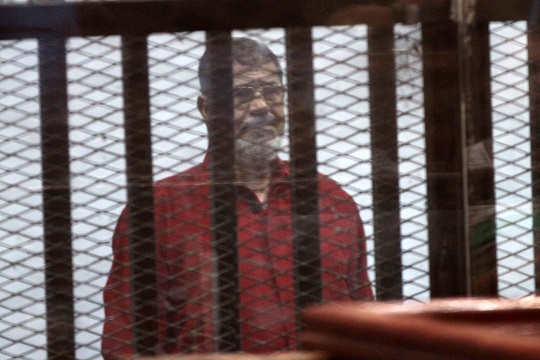 The Cairo Criminal Court handed former Egyptian President Mohamed Morsi, alongside prominent Muslim Brotherhood members, his first death sentence in a trial with the joint cases of espionage and breaking out of prison. The ruling was met with local and international condemning. Morsi's second death sentence came in July when the same court handed down the ruling on charges of participating in storming Egyptian prisons, attacking police facilities and killing security personnel.
Egyptian Prosecutor General Assassinated in Car Bomb Attack
Egypt's Prosecutor General, Hisham Barakat, was assassinated in June, marking the most high-profile attack on a government official since the 2013 attempt on the life of then-interior minister Mohamed Ibrahim. A bomb targeted Barakat's convoy shortly before the second anniversary of the protests that led to the toppling of Morsi.
Suicide Bombers Target Luxor's Karnak Temple
A suicide attack was attempted at the ancient city of Luxor's Karnak Temple in June, injuring local vendors and one police officer. Police officers opened fire on three men after refusing to undergo security screening, killing one and seriously wounding another. A third attacker managed to detonate a bomb he was carrying and died but tourists at the temple went unscathed. An Egyptian military court sentenced eleven individuals to prison in December for their connection to the attack.
Egypt Unveils 'New Suez Canal' With Lavish Celebrations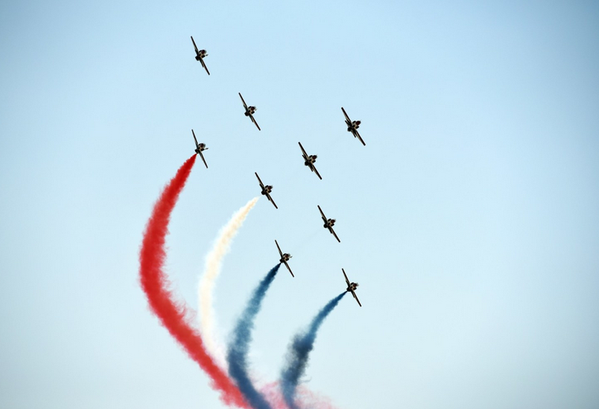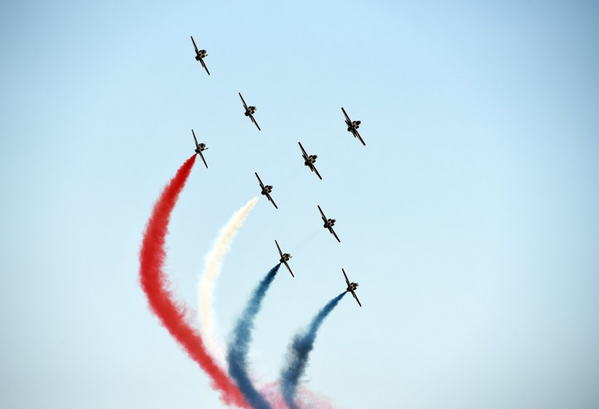 Dubbed the "New Suez Canal," a 35 km expansion to the international waterway to increase traffic was unveiled in August. The construction of the "national project" took one year with the total cost of USD 8.2 billion, despite initial projections placing the required time for completion at three years. Although the government claimed the expansion project would boost ship traffic and give a leg to the country's ailing economy, the Suez Canal witnessed a 4 percent revenue decline between January and November.
Egypt Ratifies Anti-Terror Law Despite Pushback
An anti-terror law came into effect in Egypt to punish anyone who strays from government statements in publishing or spreading "false" reports on attacks or security operations against militants. Amid right groups' dissent, El-Sisi ratified the law, which sets a minimum fine of EGP 200,000 (about USD 25,000).
'Supergiant' Natural Gas Field Discovered Off Egypt's Mediterranean Coast
Italian energy group Eni found the largest natural gas field in the Mediterranean Sea within Egypt's maritime territory. Covering 100 sq km (39 sq miles), the field is believed to potentially hold up to 30 trillion cubic feet of lean gas.
Egypt's Sisi Pardons Al-Jazeera Journalists, 98 Other Political Prisoners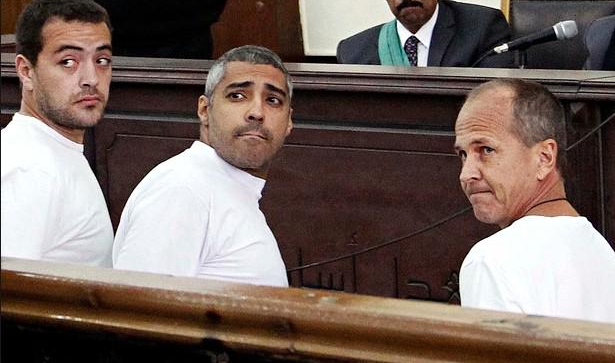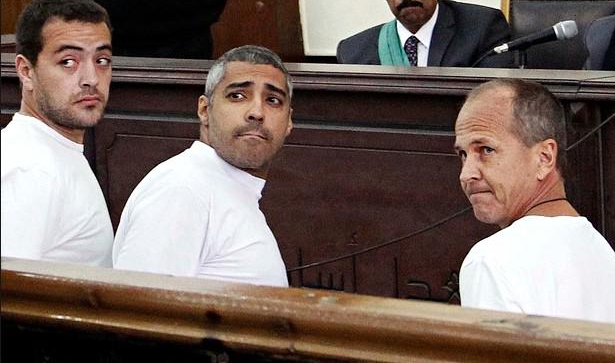 After spending almost two years in detention, Al-Jazeera journalists Mohamed Fadel Fahmy and Baher Mohamed were released in a presidency pardon, along with 98 other political prisoners. The case, named "Mariott Cell," has been ongoing since December 2013 and has received massive international condemnation and campaigning.
Fahmy and his colleague Peter Greste – who was deported to Australia earlier this year – were initially sentenced to seven years of imprisonment each on charges of promoting terrorism and working with the banned Muslim Brotherhood. Baher was sentenced to 10 years.
Other defendants in the same case received three-year imprisonment sentences, except two individuals who were acquitted.
Egyptian Security Forces Kill Mexican Tourists 'Misidentified' As Terrorists
Egyptian security forces killed seven Mexicans and five Egyptians "by accident" after mistakenly identifying a tourist convoy as militants during an "anti-terror operation" in the Western desert. The group was bombed five times during a period of three hours.
Egyptians Elect First Parliament in Three Years, Marking Final Pillar in Democracy Roadmap
For the first time in three years, since the ouster of Morsi, Egypt underwent parliamentary elections. Elections were formerly scheduled to be held in March but were postponed when the Supreme Constitutional Court ruled for the unconstitutionality of two key election laws. In contrast with the lengthy queues that formed in the 2012 election, the long awaited 2015 elections witnessed low turnout, with no opposition competing. The polls are the third and final pillar of the "roadmap" to democracy announced when El-Sisi ascended to power.
Egypt Secures Position in UN Security Council, Counter-Terrorism Committee
Egypt won a non-permanent UN Security Council seat for the fifth time in its history and is set to assume its two-year tenure in the council starting January 1, 2016. In December, the Human Rights Council appointed Egypt has the head of the Counter-Terrorism Committee. Egypt is also to preside over two sanctions committees, one on Iraq and another on Congo, based on resolutions for the years 2003 and 2004, respectively.
Alexandria 'Drowned' After Heavy Rainfall, Governor Resigns Amid Controversy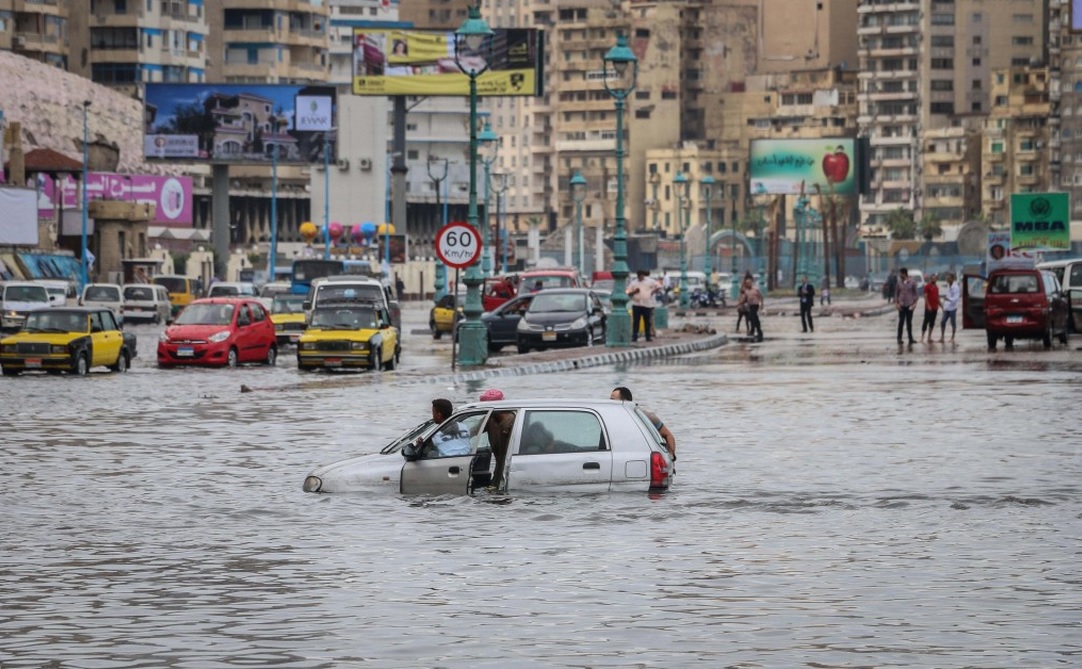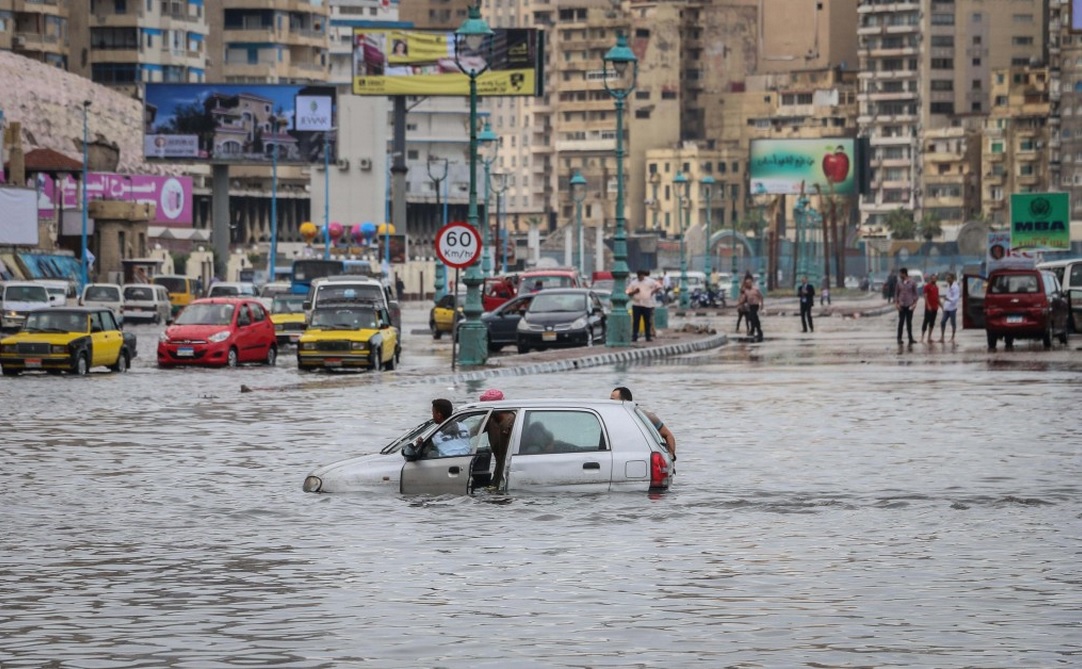 The coastal city of Alexandria was flooded into paralysis after a period of heavy rainfall, resulting in the death of seven people and a horse. Governor Hany Elmessiry resigned following the crisis but he was later cleared of responsibility, as he had previously called for renovations to the city's poor infrastructure.
Russian Passenger Plane Crashes Over Sharm El-Sheikh, Killing All 224 Onboard
A Russian plane crashed over Egypt's Sinai Peninsula, leaving no survivors after a bomb detonated aboard. Egypt continues to deny any terrorism-related signs in its investigation, while Russia confirms the crash was the result of a terrorist attack. ISIS claimed responsibility for downing the plane hours after the news initially broke. While the "war on terror" is packed in Northern Sinai, notably the city of Al-Arish, the plane incident was the first to take place in the southern town of Sharm El-Sheikh, leaving the popular tourist destination devoid of business.
Detained Egyptian Photojournalist 'Shawkan' Goes on Trial
Photojournalist Mahmoud Abu Zeid "Shawkan" received his first trial after more than two years of pretrial detention, the longest any journalist has endured. The trial was postponed to Febraury. Shawkan and around 740 other defendants are accused of possessing weapons, attempted murder and terrorizing citizens alongside Muslim Brotherhood Supreme Guide Mohamed Badie and other leaders.
Young Egyptian Photojournalist Esraa El Taweel Released After Months in Detention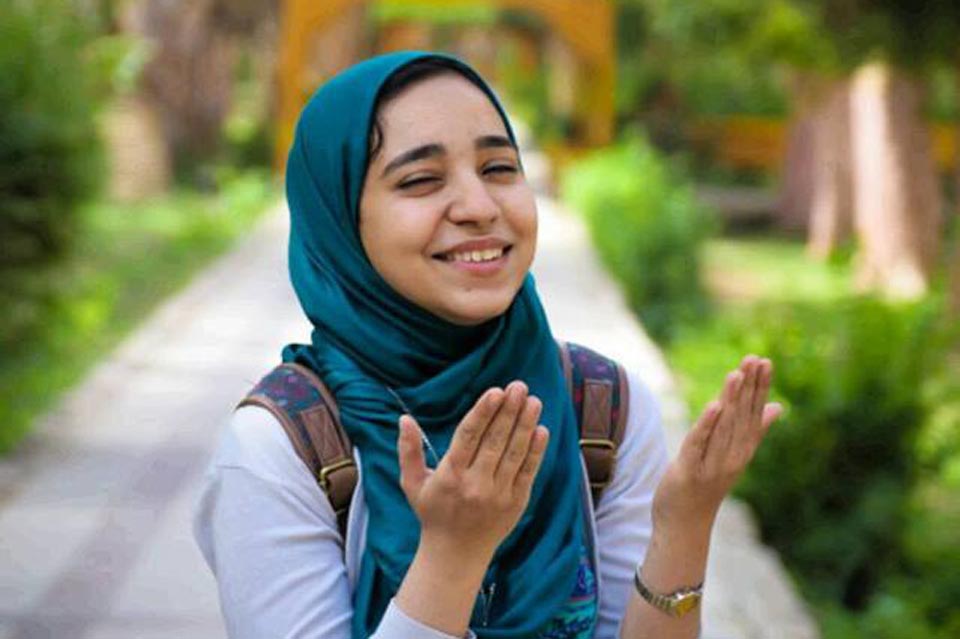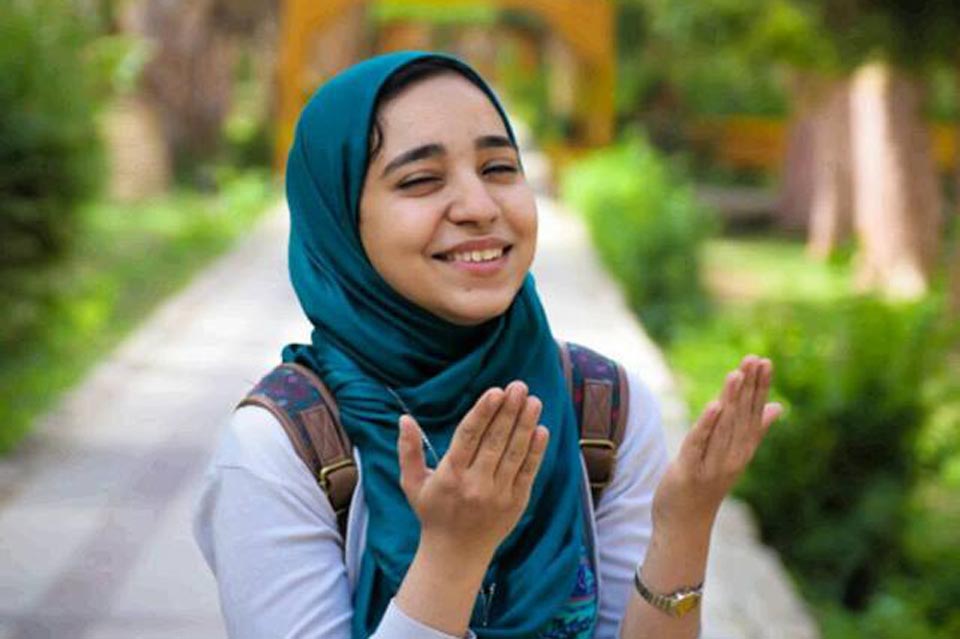 After being forcibly disappeared for 16 days and reappearing in June, photojournalist Esraa El-Taweel was released in December. She had been detained on grounds of belonging to a terrorist organization and preventing state institutions from operating, among other accusations. El-Taweel is one among dozens who have been forcibly disappeared, with some reappearing and others not. Forced disappearance has become an escalating phenomenon in Egypt the past year, with at least 1400 cases announced by NGOs.
---
Subscribe to our newsletter
---